Championship Division Scorecards
Junior-Junior Division Scorecards
Erhardt Takes 61st Junior Championship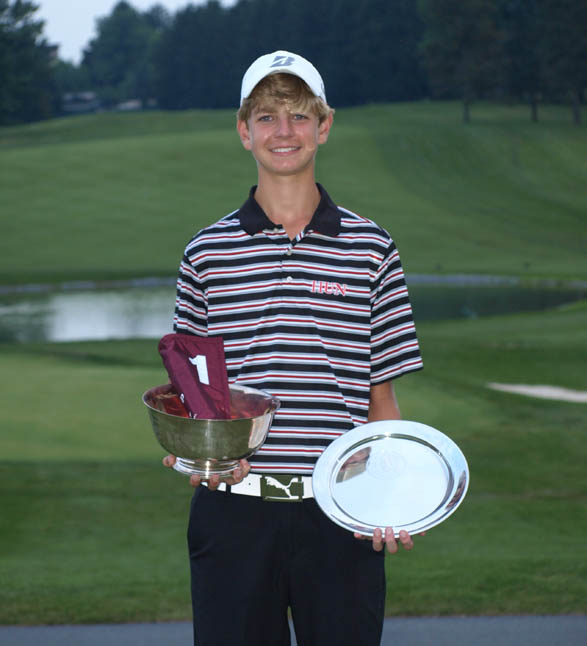 Reilly Erhardt
Hershey, PA; After the first round had concluded, everyone knew that it would be an action packed final round, with eight players within 3 shots of the leaders. Hershey's East Course was in magnificent shape and the fast and firm conditions made for some difficult golf. The Junior Championship benefitted from the PNC PGA Club Professionals Championship, which was played just a week earlier at Hershey.
Jesse Hazam, West Shore Country Club, was the first to post a score of even-par, 71, in the first round, but it didn't take long for him to get some company. Three players followed suit, including Chris Crawford, Spring Mill Country Club, Will Wears, Latrobe Country Club, and Danny Myers, French Creek Country Club. Kyle Martin, Commonwealth National Golf Club, finished the first round one shot back, with a score of 72, and another group of contenders came in at two-over-par, 73.
Then there were the wild cards in the field. Zach Herr, Jericho National Golf Club, had high expectations coming into this year's Championship after playing very well in a number of AJGA events, and also finishing second in the 2009 PA Junior Championship. Herr posted a first round score of 5-over-par, 76, but was still within striking distance.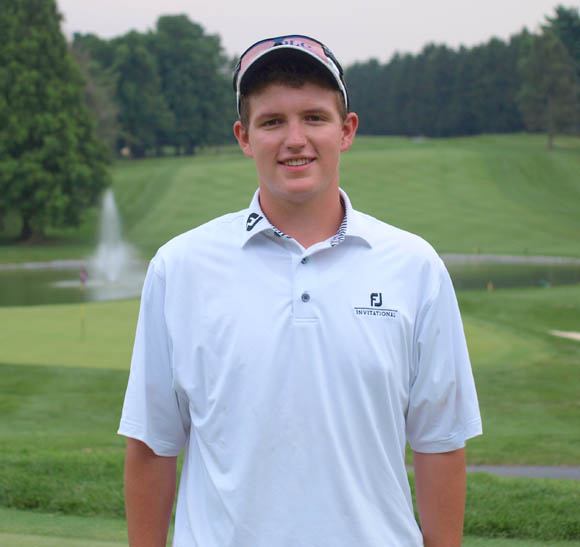 Zach Herr, Jericho Naitonal Golf Club
Reilly Erhardt, Trenton Country Club and PGA Individual Member, recently proved he belongs in the category of the "best juniors in the state" after finishing runner-up in the Golf Association of Philadelphia Junior Championship. He was also the stroke play medalist and the number one seed for the match play portion of the event.
The theme of the 2011 golf season is proving to be the weather. An hour and a half lightning delay brought the afternoon wave to a halt at 3:30pm. Once the field was able to get back on the course, Erhardt took advantage. He knew that if he could post a number, that maybe he could scare the leaders into some bogeys. Before you knew it, that is exactly what happened.
Erhardt began the second round at 3-over-par, but gained a shot back with a front nine score of 35, which included a phenomenal hole out from the fairway on the 420 yard, par 4, 9th hole.
"I had about 130 yards, uphill to the green. My caddie, Regan (his brother), told me to just hit a nice full 9-iron. It took one hop and then I saw my dad raise his arms and then point down, to say that it went in. At that point, I knew that if I kept hitting good shots, that I'd have a shot at it," said Erhardt.
The ninth hole was the most difficult hole on the course for both days of the competition. It features a difficult driving area with water on the right and high fescue on the left, a dog leg left, and has an elevated, tiered green.
He was then able to birdie the 420 yard, par 4, 11th hole, and also the 540 yard, par 4, 14th hole. A final score of 144, 2-over-par, proved to be a great score on a very difficult course. However, there were still some very competent golfers on the course.
Erhardt said, "I felt like the rain delay would probably be a bad thing for most of the guys. Although, I thought it really helped me to slow down and concentrate more. I was kind of getting a little quick with my swing, and the break really calmed me down."
At that point, Herr had just posted his final score of 145, 3-over-par, which included a sensational final nine score of 30. Five birdies in his last nine holes was good enough for second.
Will Wears held the lead for much of the second round. He made the turn at 1-over-par and sat in the driver's seat with his playing partners having some trouble. Wears was unable to hold on to the lead with bogeys on his final two holes. However, he was able to contribute to a Junior Team Championship win for Latrobe Country Club.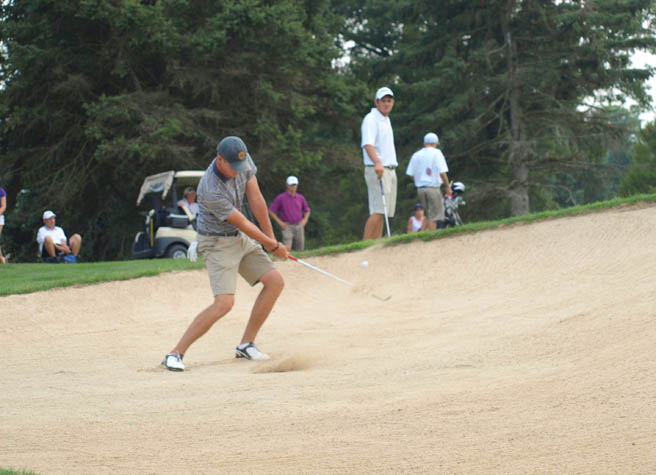 Will Wears, Latrobe Country Club
Jimmy Lasher, Lake Shore Country Club, hung around the top of the leaderboard for much of the final round as well. He played some very steady golf throughout the final round, but was unable to get any putts to drop. He was able to birdie the 414-yard, par 4, 12th hole, and followed that up with pars on the rest of his final nine to post a score of 145, and a tie for second.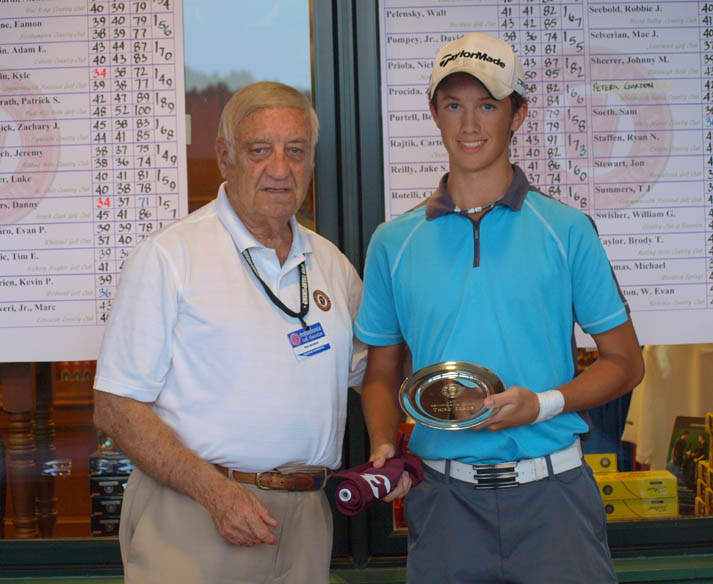 Jimmy Lasher, Lake Shore Country Club
In the end Erhardt's 144 was too much to overcome for the field and he was able to get redemption for his runner-up finish just a week earlier. He also celebrated his 15th birthday the day before. Happy Birthday Reilly!
A few days after the biggest win of his young career, Erhardt mentioned that "the state Junior Championship is like a 'Junior Major'. You don't get a chance to play against the best of the best very often. It's just a great feeling."
TEAM CHAMPIONSHIP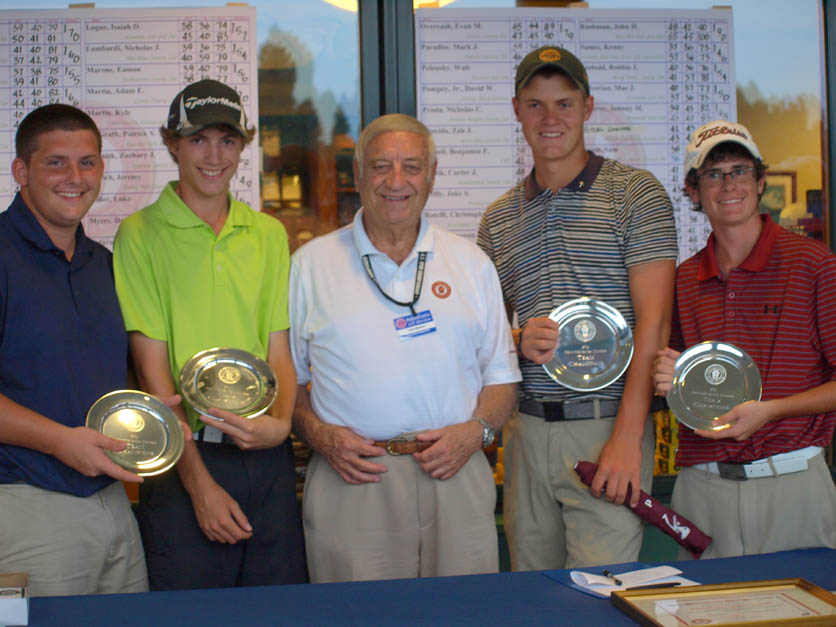 Latrobe Country Club was victorious in the Team portion of the Junior Championship. The team competition is based on a best three scores of four, and all members must be from the same club. Latrobe's team consisted of Will Wears (71-75), Ryan Staffen (81-80), Cameron Roth (79-86), and Adam Martin (87-83).
JUNIOR-JUNIOR DIVISION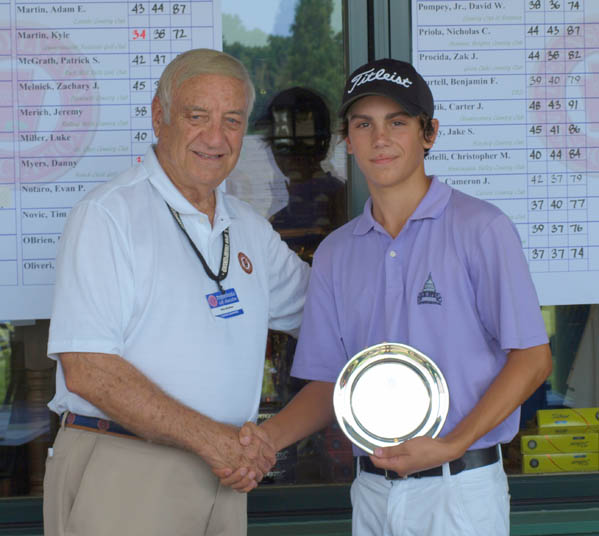 Walker Kirk is presented the 1st place trophy by
Association President, Pete Richter
Walker Kirk, Lancaster Country Club, played extremely consistent golf this week to win the Junior-Junior Championship. He held a two shot lead following the first round of play. Kirk was able to better his first round score by one shot, posting 77-76 to win the event by 10 shots. He was being chased by Timothy Cooper, Sportsman's Golf Course, and Mark Goetz, Greensburg Country Club. Kirk placed fourth in 2010. He will be playing against the "big boys" next year, as he will be 14 years old.
The Junior-Junior Division is available for players that are 13 years of age, or younger.
A special "Thank You" to Ned Graff, Golf Professional, Matt Malone, Assistant Golf Professional, Mark Malasavage, Course Superintendant, and their fantastic staff for a phenomenal job making this event a success!
[ Back ]