Eric Williams Captures 18th Middle-Amateur Title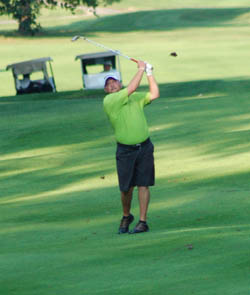 Eric Williams, Honesdale Golf Club, hits this approach
shot from the 17th fairway on his way to the title
State College, PA; The 18th Middle-Amateur Championship was slated to be held at Williamsport Country Club until Tropical Storm Lee devastated the region. Luckily, Toftrees Golf Club and Resort was right there to step in and host the event.
Eric Williams, Honesdale Golf Club, took the lead after round 1, with a stellar 4-under-par, 68. His five birdies and one bogey was good enough for a two-shot buffer between he and the field. Williams is not what you would call a "new comer" to Championship golf in the state of Pennsylvania. He has made his mark in the top 10's and final matches over the years, but has never come out on top.
"We'll see how it goes," he said before teeing off on Tuesday.
Patrick Phillips, Spring Ford Country Club, posted a 2-under-par, 70, to solidify his spot in the final group on day 2. Then there was a host of familiar faces 3-shots off of the lead and ready to pounce on any opportunity that Williams would afford them.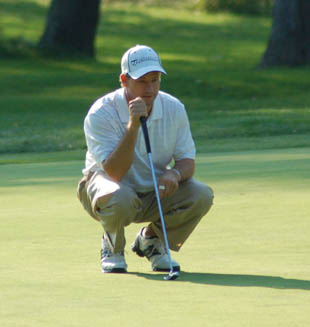 William Smith, Chambersburg Country Club
One of those competitors was William Smith, Chambersburg Country Club. Smith, 2008 Middle-Amateur Champion, knows what it takes to win this event and gave it his best shot. While trying to put pressure on the leader, he went for the green on the 506 yard, par 5, 17th hole, but found his ball out of bounds. Bogeys on both back nine par 5's were not going to help his cause, but a T-3 finish is a fine way to go out.
Frank Fairman, Punxsutawney Country Club, seems to be in the mix at every Championship. However, his four birdies in the first round and two birdies in the second round were not enough to overcome Williams's lead on this day.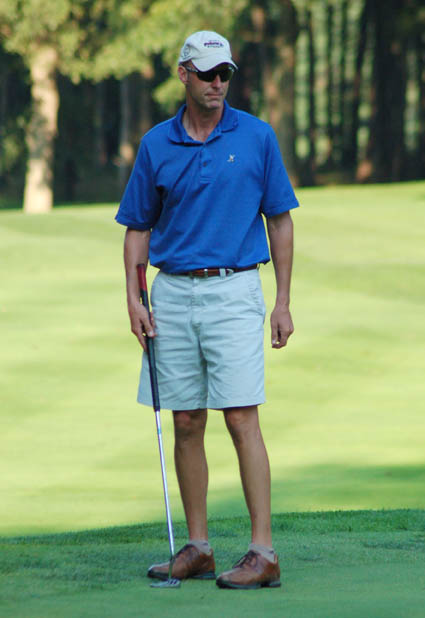 Frank Fairman, Punxsutawney Country Club
Glenn Smeraglio, PGA Individual Member, played steady golf over the two days of the event, but was unable to gain any ground on the leader. He finished at one-over-par and a tie for third.
Williams was not going to give any one an easy run at the title. He was able to post an even-par front nine in the second round that included a birdie on the 371 yard, par 4, 4th hole, and a bogey on the 402 yard, par 4, 5th hole. With a 3-shot lead, he could be defensive and just hold his lead while watching the leaderboards. A three putt bogey on the final hole was all he needed to walk away with his first Pennsyvlania Golf Association Championship.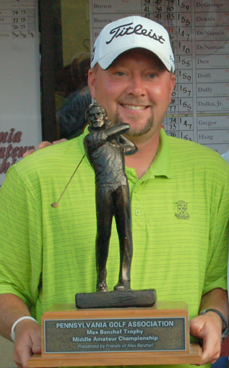 Eric Williams rolls in this par putt on the 17th green
We would like to send a special "Thank you" to Williamsport Country Club for working diligently to get ready to host the event, before the weather took the chance away from them. And also to Toftrees Golf Club and Resort for making themselves available at very short notice. Thank you to Tom Katancik, Director of Golf, Derrick Strub, Golf Proffesional, Lou Morgan, Golf Course Superintendant, and Jim Shideler, Events Coordinator.
[ Back ]