Schlachter Wins His 3rd Sigel Championship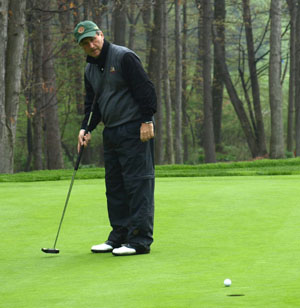 Schlachter made putts like this in bunches on his
way to a third Sigel Senior Title
Indiana, PA - Golfers in the Western region of Pennsylvania have hardly begun to play golf in 2011, due to the extremely soggy spring they have experienced thus far. Nathan Smith (Amateur Division) and Paul Schlachter apparently haven't noticed. They were in peak form, and proved it to their opponents this week.
Paul Schlachter began his fifth R. Jay Sigel Senior Match Play Championship with a match against the senior club champion from Westmoreland Country Club, Richard Brourman. He got off to a good start going 4-up through nine holes and finished with a 5 & 4 win. He then faced off with Fred Stern, of Totteridge Golf Club, who gave him a run for his money. Schlachter began strong and held a 3-up advantage through nine holes, but then Stern made a charge and got the match back to 1-up through sixteen holes before a bogey on the 17th hole, which gave the match to Schlachter.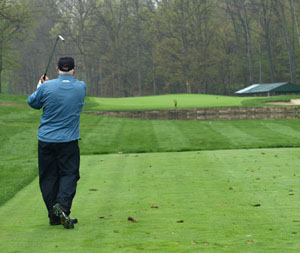 Don Erickson hits his tee shot on the 7th hole
The semifinals made for some fireworks against Don Erickson, playing at his home course. Schlachter came out on fire, with birdies on the first three holes to take a quick lead. Then Erickson shot back with a couple birdies of his own. The pair combined for 8-under-par through seven holes! Schlachter shot 8-under-par on his own ball for sixteen holes. It was just too much phenomenal golf for Erickson to withstand, even though he shot 4-under-par on his ball.
Schlachter faced off with Chick Wagner, of Oakmont Country Club, in the final. Wagner's road to the final pairing began with a hard fought match against Tom Bartolacci, of Saucon Valley Country Club. Wagner never trailed in this match, but the lead was never more than 2-up. He had to make a birdie on the final hole to win 1-up. He then had to play another Saucon Valley CC member, in Gary Daniels. Wagner took an early 1-up lead, but gave a few back to Daniels, who held a 2-up lead through nine holes. Although, Wagner was able to birdie the sixteeth and eighteenth holes to steal the victory at 2-up.
John Benson, of Punxsutawney Country Club, was next for Wagner. He never trailed in this match after starting with two birdies and finishing with some great par saves, to move on with a 3 & 2 victory.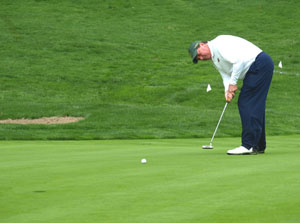 Chick Wagner hits a putt on the 7th green
Wagner began every match with a birdie on the 519 yard, par 5, 1st hole, and took the early lead in the final match. Then a few bogeys caught up with Wagner and Schlachter took the lead at 3-up through 14 holes. The gas tanks were beginning to show signs of running empty after these competitors had played 68 holes in about 36 hours. Both players three putted the 15th green and Wagner's bogey was enough to win the hole. Schlachter left his approach short on the sixteenth and was unable to get up and down to leave the match at 1-up on the 17th tee. Both player's made pars, and on to the 18th tee they went.
Wagner's drive ended up in the rough off of the tee and Schlachter placed his second shot 60 yards short of the up hill 488 yard, par 5. "It's all or nothing," said Wagner prior to his approach shot. Unfortunately for Wagner, the heavy, wet rough was too much, and his shot came up short right in the rough, short-sided. Schlachter placed a beautifully executed wedge to 3 feet and that was the end of the line for Wagner. Schlachter tapped in and walked away with a 2-up victory.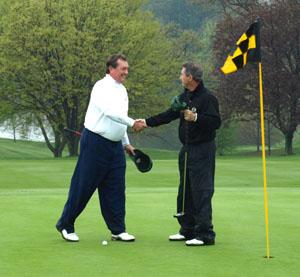 Chick Wagner (left) congratulates Schlachter on the 18th green
A special "Thank You" to Indiana Country Club for hosting the event on short notice. Our appreciation goes out to Dan Braun, Golf Professional, Mark Leppert, Greens Superintendent, TR Gatti, Club President, and also the Board of Governors at Indiana CC.
[ Back ]