Lutz Takes Charge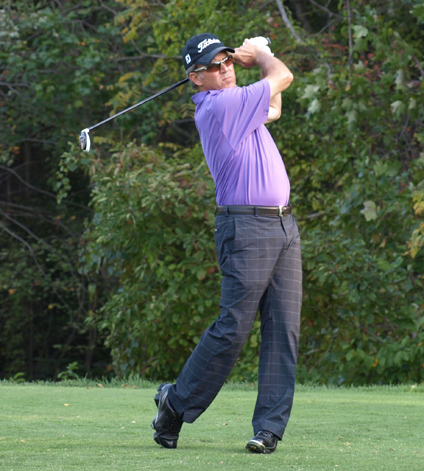 Chip Lutz tees off on the 17th tee
Mohnton, PA; The wind died down for the final day of the 8th Art Wall, Jr. Memorial, but Chip Lutz still swept in to steal the stage.
LedgeRock Golf Club played host to 110 players this week for the final event of the 2012 Pennsylvania Golf Association season. The conclusion would not be without fireworks.
Rick Stimmel, Diamond Run Golf Club, was the star of the first round, with a brilliant score of 7-under-par, 65. His opening round included nine birdies, four of which were in the final five holes.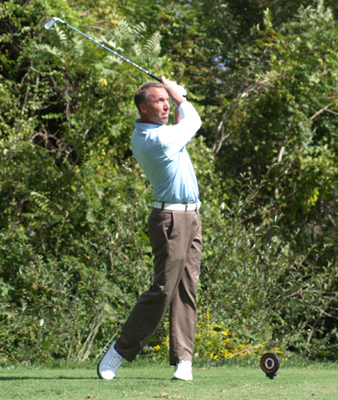 Rick Stimmel on the 10th tee
Doug Fedoryshyn, Concord Country Club, also placed himself in the final pairing for the final day with an opening score of 68, after beginning his round with a double-bogey at the first hole. His seven birdies were enough to put him within three shots of the leader.
Kevin Haag, Deer Run Golf Club, has played in eight PAGA Championships this summer. He kept his solid play going with a 1-under-par, 71, showing in the first round to place himself in the final group.
Lutz began the tournament with three birdies and three bogeys in his first 18 holes (although, the bogeys were in his final 5 holes). Lutz had higher hopes for the opening round, but he new that there was more golf to be played.
Unfortunately for the final pairing, Chip Lutz was on the scene and determined to defend the ground that he helped sculpt. Lutz has been a member of LedgeRock since it opened it's fairways in 2006.
A steady start left Lutz four shots back of Stimmel at the turn, but it all started to slide into Lutz's favor as the leaders began to give shots back. Stimmel made double-bogey on the 10th (166 yard, par 3), and a bogey on the 13th (527 yard, par 5) to squander his lead and would then be a shot back to Lutz as he stood on the 14th tee.
Lutz had just flighted a perfect shot to 6 feet on the picturesque 14th (172 yard, par 3), and rolled in his birdie putt to take the lead with four holes to play.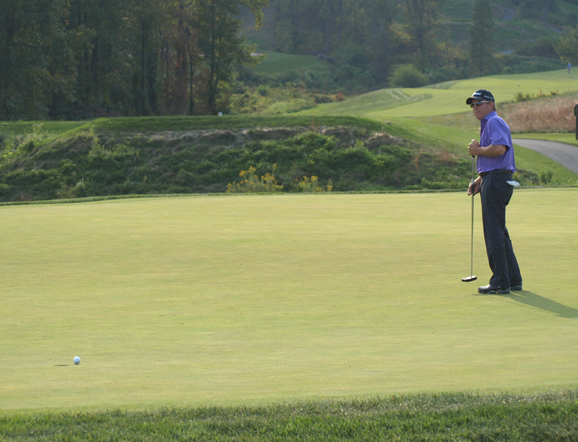 Lutz then rolled in an eighteen-foot birdie putt (pictured above) on 16 (339 yard, par 4) while Stimmel bogied 15 (425 yard, par 4).
Lutz stood on the 17th tee with a two shot lead and two of the hardest holes imagined by Rees Jones left on the course. The 17th is one of the longest 379 yards you will ever play, and the 18th has a very demanding down hill tee shot (approximately 75 feet down from tee to fairway), with a tough layup to boot. Lutz has played these holes hundreds of times and the trophy was all but his.
Lutz was able to get up-and-down from the greenside bunker on 17, and perfectly played the 18th for par. A three-shot lead was the redemption he needed to soothe the pain of a tough loss the week prior in a playoff at the Golf Association of Philadelphia Senior Championship.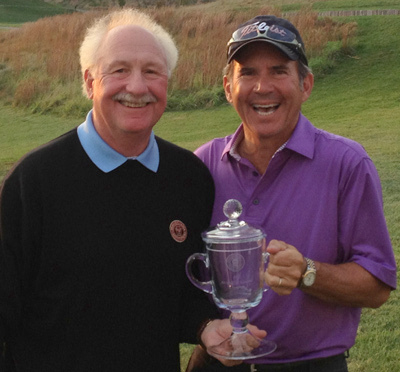 Chip Lutz is currently the #1 ranked senior player in the country and will take his talents to Mountain Ridge Country Club, in West Caldwell, NJ, for the USGA Senior Amateur Championship next week. He will try to complete a rare feat in senior amateur golf. He has successfully won the 2012 British Senior Amateur Open and 2012 Canadian Senior Amateur. Only one other person, Paul Simson, of South Carolina, has won the "three-peat" in the same year.
The Senior Flight (55 - 64 years old) would have been won by Lutz, but we do not allow a player to take two awards. Therefore there was a tie between Roc Irey, Lookaway Golf Club, and Jeffrey Poet, Country Club of York.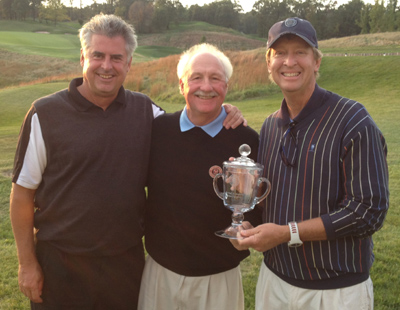 SUPER-SENIOR FLIGHT
Lee Lykens, Clearfield-Curwensville Country Club, is still a youngster in the Super-Senior Flight when you talk to the legends of Pennsylvania golf like Jay Howson (three time champion of the Super-Senior Amateur Championship). Lykens turns 67 in December.
Lykens has stormed onto the 65 and older golfing stage in Pennsylvania. The past 18 months of golf have afforded Lykens six Championships and two 2nd place finishes. He has plenty of crystal in the house!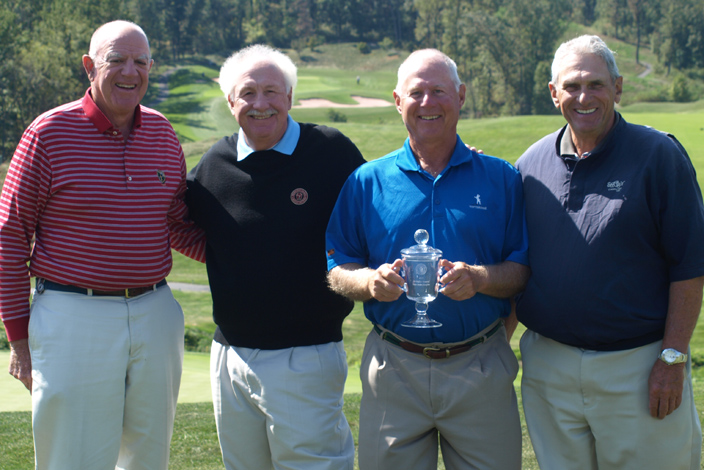 Lykens recently won the Sunnehanna Super-Senior Amateur Invitational at Sunnehanna Country Club. He took home the West Pennsylvania Golf Association's Super-Senior Amateur title in August. He also followed suit at the Center Counties Super-Senior Amateur Championship.
"Everything has been working and I've just been playing some really good golf," a humble Lykens remarked.
Second place honors was split by Don Lamb, St. Clair Country Club, and Jay Howson, St. Davids Golf Club.
[ Back ]