Rotz Captures 96th Open Championship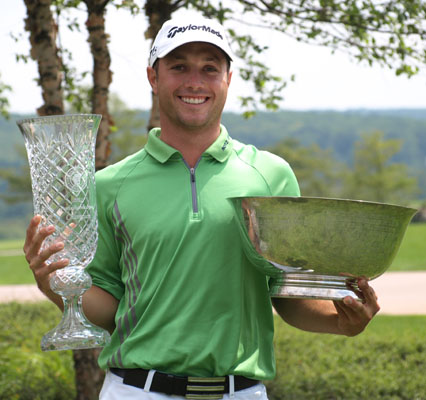 Farmington, PA – Clayton Rotz, from Chambersburg, PA, lead wire-to-wire, to take the 96th Pennsylvania Open Championship. Coming into the final round Rotz had a six stroke lead over his closest competitors and would have little pressure on him to go out and win the tournament.
"My caddy and I talked all day today 'lets just hit fairways lets just hit greens' and just wear them out" Rotz said. "[Let's] make them make birdies, put the pressure on them."
The pressure was squarely on the rest of the 41-man field. Early on, Matt Moot would rise to the occasion. Moot, from Johnstown, PA, began his final round 9 shots back of Rotz. A birdie on 2 (par 4, 455-yards), would kick start Moot's round. He would card three more birdies on his front nine and go out just five shots back of Rotz.
Moot would see any chance of catching Rotz disappear when he would bogey 10 (par 4, 438-yards). After the bogey on 10, Moot was unable make up any significant ground. "Clayton was a little too far out of reach to make any real run" said Moot.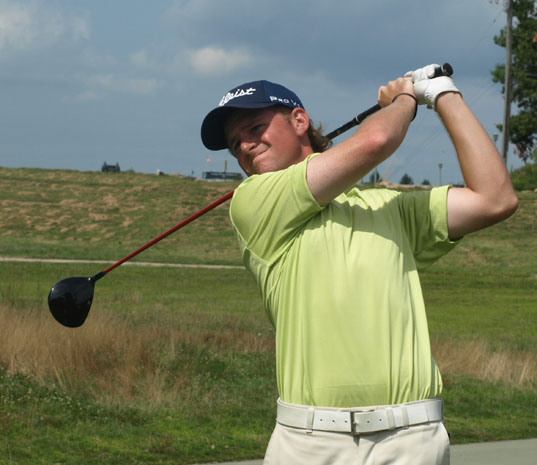 Matt Moot
Moot would end his championship round at 8–under for the tournament and in a tie for second place. "I'm happy." Moot said when asked about his final round. "Anytime you shoot 67 on this golf course you had to have played well."
For Rotz however, the final round would be slightly different than the previous two, "Slightly different mindset going out today." Rotz continued, "I had a big lead with 1 round to go. They (his fellow competitors) put a little bit of pressure on me early. Mike (Van Sickle) made a birdie on 2 to cut it to 5 shots."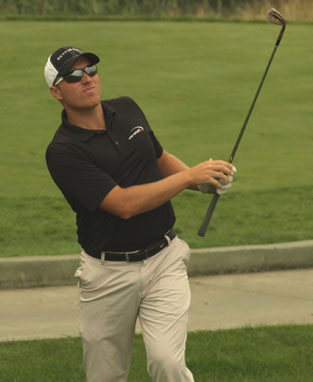 Mike Van Sickle
Van Sickle, from Wexford, PA, would follow the birdie putt on 2, with a bogey on 3 (par 3, 215-yards) after his tee shot found the rough on the left side. A pedestrian front nine for Van Sickle as he turned an even par 36. A birdie on 10 would see Van Sickle pull to within 6 shots of Rotz. He would bogey 11 (par 5, 634-yards & statistically most difficult hole), and then match birdies with Rotz on 12 (par 3, 181-yards).
On 14 (par 4, 465-yards), Van Sickle would sink a birdie putt to go to 8–under for the tournament, 6 strokes back of Rotz. Van Sickle would fail to convert a birdie putt on 15 (par 4, 463-yards) to gain two strokes, as Rotz would three-putt for bogey. On the par 5 16th (525-yards), Van Sickle would see his championship hope ebb away. His tee shot found the middle of the fairway and set him up for an iron into the green for an eagle putt. Unfortunately for Van Sickle, his iron shot would find the water behind the green, and diminish any hopes to catch Rotz.
Clayton Rotz on the first tee
For Rotz, his final round was marred with challenges. A bogey on 5 (par 5, 598-yards), was followed by an errant tee shot on 6 (par 4, 410-yards) that found the water.
"The bogey on five was just a bad first putt," Rotz said, "[But] what got me kick started was the second shot on six. I had a really tough stance, and I hit it to probably 8-feet."
Rotz was able to curl the putt in, and save par and keep his 6-stroke lead. "That was a big par save to not drop another one." said Rotz. After the par save on 6, his tee shot on 7 (par 3, 220-yards) dropped to 20-feet from the flagstick. Rotz would finesse his birdie putt in, and head into 8 (par 5, 545-yards) with a 6-stroke lead.
The 8th hole would seemingly give Rotz all the confidence he would need. His tee shot found the middle of the fairway, and set him up for a long second shot into the domed green. His approach found the hill, on the side of the green, and would force him to hit a challenging wedge onto the green and give him a chance for birdie.
"Once I birdied 8 I really settled down. And was pretty relaxed the rest of the day" Rotz said. The rest of the day, for Rotz, would see just one more birdie, and his lead diminish to 3-strokes. A routine par on 16 would set Rotz up for the par 3 17th (210-yards), and take all of his relaxation out of his round.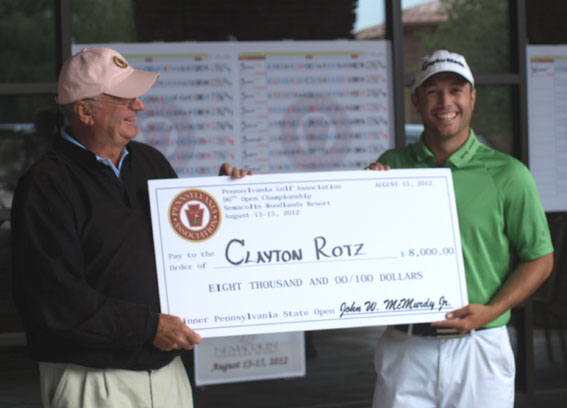 "The tee shot on 17's pretty scary if you got the lead," Rotz said. "I just aimed pretty far over to the right."
Rotz would bogey the hole and give him a 4-stroke lead over Van Sickle and Moot heading into 18 (par 4, 468-yards). His tee shot would find the fairway bunker to the left and give him a difficult second shot. After pitching out to within 100-yards of the hole location, Rotz seemingly locked up the championship. His par putt came to rest within inches of the hole, and left him with a tap-in to capture the 96th State Open Championship.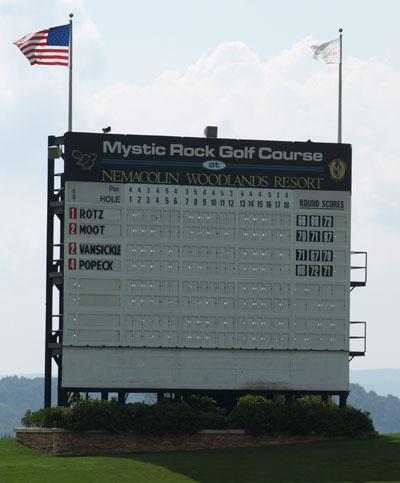 [ Back ]