Reading Eagle Coverage of the event
Par For The Course
Schlachter cards 17 pars and a mere single bogey, in the final round.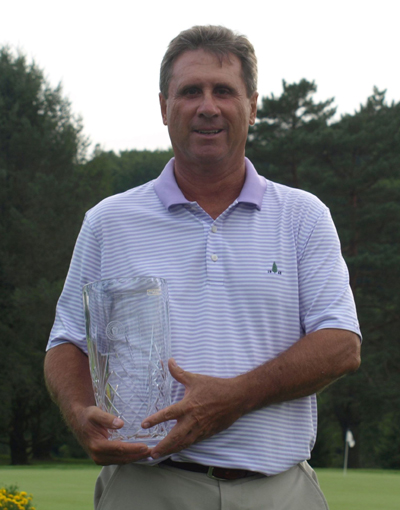 Paul Schlachter
Fleetwood, PA – The 53rd Senior Amateur Championship was won with consistency and precision putting. Paul Schlachter, from The Club at Nevillewood, ended his quest for a fourth Senior Amateur Championship by notching 17 pars and just one bogey. Schlachter now joins John Guenther Jr. as the only players to stake claim to the title more than three times (Schlachter in 2004, 06, 10, & 12 and Guenther Jr. in 1988, 90, 91, & 95).
For Schlachter it was not about shooting under par, as much as it was getting in close to the flagsticks and carding pars. Schlachter's lone bogey came on 17 (par 4, 394-yards), when his tee shot found the rough on the left side of the fairway, and forced him to punch out just shy of the green. From there, he would fail to convert a long twisting par putt, and settle for bogey. Schlachter now would sit at even par for the tournament.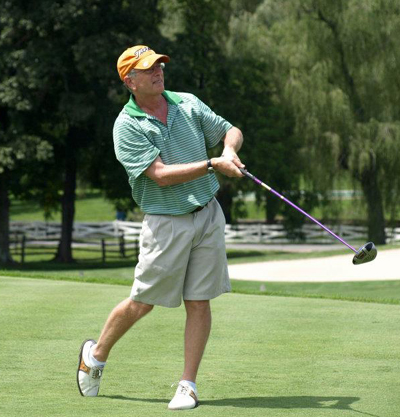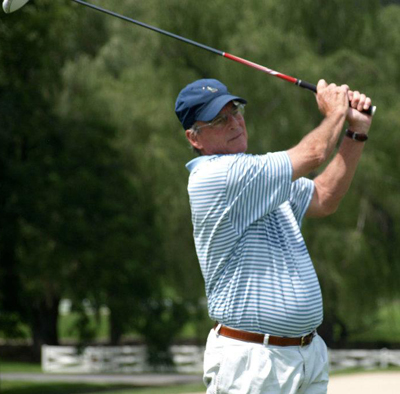 Fred Stern (left) & Ray Thompson tied for second
With the rest of the field in the clubhouse, and his nearest competitor sitting at 3–over for the tournament, Schlachter took out his 3-wood and drove his tee shot down the middle of the fairway. All that was left for him would be an iron into the green and a routine two-putt for par. His approach sat down within 15-feet of the hole, and gave him a makeable birdie putt to seal his championship bid. Much like the rest of the field, Schlachter saw his birdie chance come up just short of the hole, but he would roll in his par putt, to take the 53rd Senior Amateur Championship.
The Senior Team title was won by Saucon Valley Country Club's Tom Bartolacci and Gary Daniels, with a combined score of 290 for the two days. The Club at Nevillewood, Paul Schlachter and Joe Cordaro, came in second with a score of 291
SUPER-SENIOR DIVSION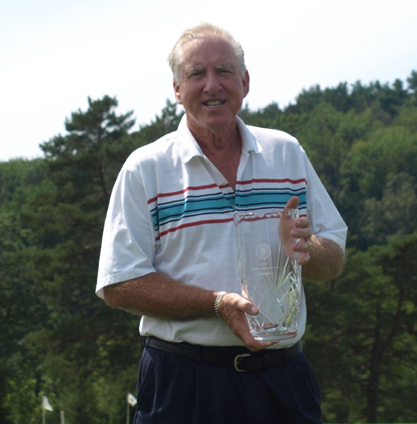 Ed Hennigan
In the Super-Senior Championship, Ed Hennigen took home the crystal to claim his firstever Super-Senior Championship. Hennigen, from Fox Hill Country Club, was tiedwith Carl Everett at the beginning of their final round. Everett, of Merion Golf Club, experienced the full wrath of the Moselem Springs Golf club on his back nine. Going out with a one-shot deficit to Hennigen, Everett would need to play a mistake free back nine. Unfortunately for Everett, he would fall back and card a 6–over, 76 and fall to second place.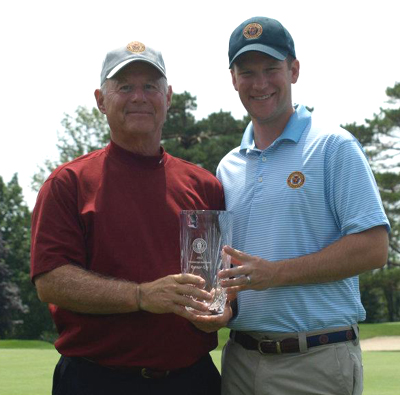 Lee Lykens (left)
Making a charge in final round was Lee Lykens, from Clearfield-Curwensville Country Club. Lykens would start 4-shots off the lead, but would use a consistent front nine, even par 35, to finish 4-shots behind Hennigen and a tie for second place with Everett.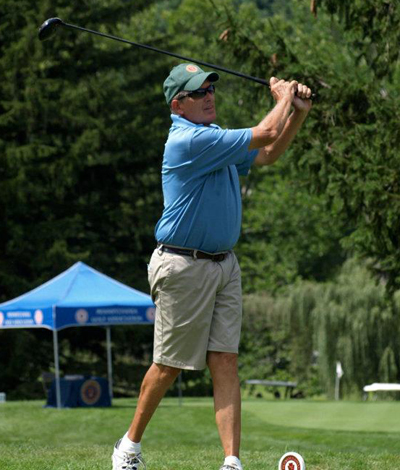 Carl Everett
The day would not just belong to the champions however. In the Super-Senior division Larry Novinger, from Lykens Valley Golf Course, aced the 5th hole (par 3, 142-yards). In addition to Novinger, George Anderson impressed the field by playing the second most difficult hole in only a combined 5 strokes (14th par 4, 370-yards). Anderson, from The Club at Shadow Lakes, carded a birdie in his first round and holed his approach shot in his final round.
The Super-Senior Team title was won by Richard Smith and Warren Deakens, from Philadelphia Country Club, with a score of 306.
[ Back ]