No Rearview Mirror
Indiana, PA - Edward Knoll and Kevin Pusey, both from Deer Run Golf Club, started their final round determined to take home the Championship. Sitting one shot off the leaders, Knoll and Pusey would need to play a solid final nine of golf.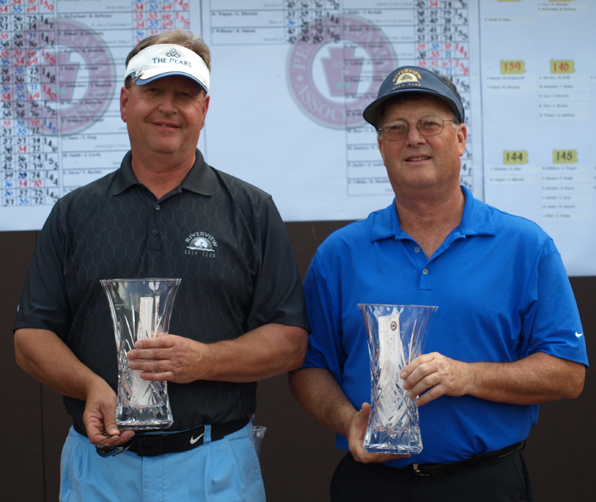 Kevin Pusey (left) and Ed Knoll
The 20th Senior Better-Ball Championship leaders came into the final round with a mere one-shot lead. However, Ned McFarland, of St. Clair Country Club and tied for the lead, had thought that he and his partner only had to beat the team they were playing against to win the championship.
The leaders would soon find that shooting two under par in the final round would not be enough to retain the lead over Knoll and Pusey. After two bogeys on the front nine, Knoll and Pusey would attack the back nine and hole five birdies. Their birdie streak would start when both missed the green on their approach shots on the fifteenth. Instead of trying to save par, they would just chip-in for birdie and go on to birdie the next two holes as well, bringing them to the eighteenth tee in a tie for the lead.
On the eighteenth they would find themselves in similar positions. Pusey's approach put him within ten feet from the hole, but his partner had his back as his rolled to within 4 feet, both for birdie opportunities. After the first birdie chance was missed, it would take a clutch putt, in the back of the cup, to put them five-under for the back nine and four-under-par for the round.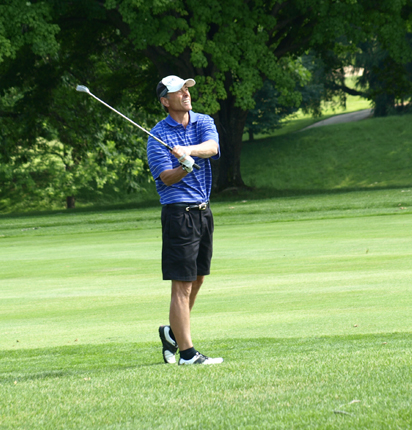 Joe Corsi had this shot to force a playoff on the 18th
Four-under would not solidify their Championship hopes, however. The final group came to the eighteenth tee knowing that their lead had vanished and they would have to eagle to win or birdie the last to force a playoff. Corsi had a chance to hole out for eagle with 50 yard chip shot, but left it two-feet from the cup.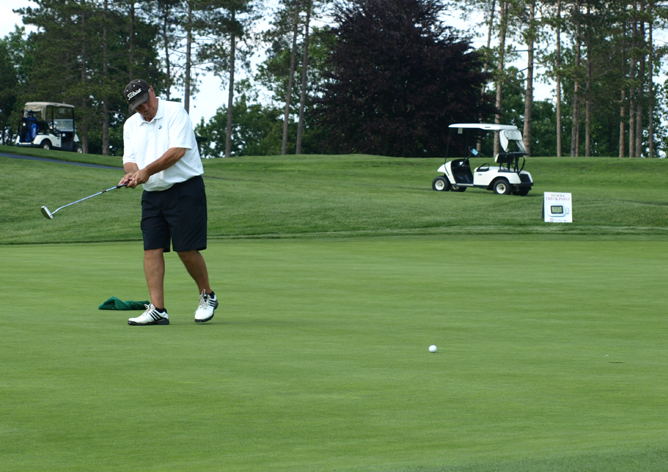 Dave DeNezza just misses his birdie attempt at the 18th
Ned McFarland had a birdie try from about 25 feet, on the fringe, but missed on the low side. Then David DeNezza, Greensburg Country Club, had a daunting, right to left breaking, twelve-foot birdie putt to force a playoff. Unfortunately it would not be DeNezza's day, as he missed his putt just on the high side, giving Knoll and Pusey the 20th Senior Better-Ball Championship.
Super-Senior Division
In the Super-Senior Better-Ball Championship, Lee Lykens again showed his dominance. Coming off of his Super-Senior Amateur Match Play Championship win a few weeks earlier, Lykens and partner Don Lamb, St. Clair Country Club, only needed a solid even-par final round to ensure their 3-shot victory.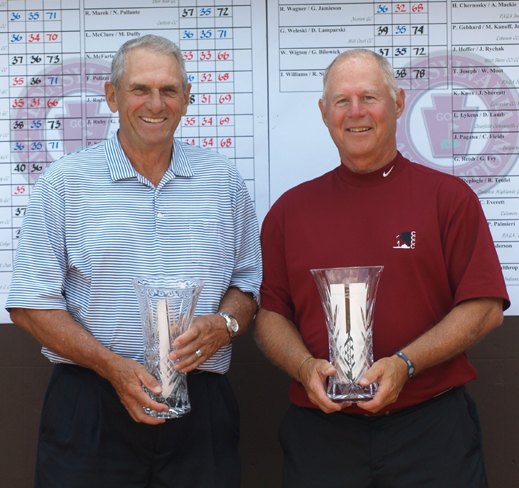 Don Lamb (left) and Lee Lykens
It was the battle for second place that really got heated. The reigning champions, King Knox, Lancaster Country Club, and Jim Sherratt, Buck Hill Falls Golf Club, began the day tied for second with Mike Rose, Talamore Country Club, and Carl Everett, Merion Golf Club. Knox and Sherratt gave up their position through their opening nine of the second round, with a two-over-par, 38.
One shot back with eight holes to play, Knox was able to birdie the twelfth and sixteenth holes to surprise their closest competitors. However, it was still Lykens and Lamb's stage. A three-shot lead was enough to hit the finish line in cruise control.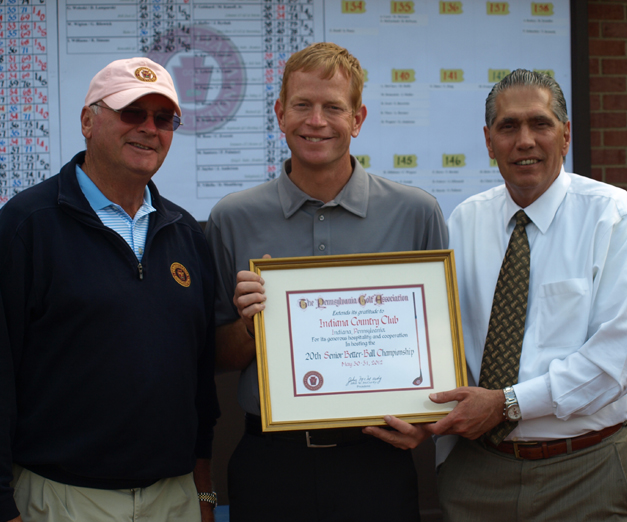 Dan Braun (center) and Carl Germaine (right)
A huge "Thank you" goes out to Indiana Country Club. Mark Leppert, Golf Course Superintendant, and his staff had a tough task on the morning of the first round, as a couple windy storms rolled through the area on the eve of the event. A one-hour delay was all they needed to bring back this phenomenal venue to it's peak condition. Dan Braun, Golf Professional, and Carl Germaine, General Manager, have an incredibly proffessional staff and put on a great show for the best senior golfers that the state has to offer.
[ Back ]