Senior Division: First Round ; Second Round ; Semifinals ; Final
Super-Senior Division: First Round ; Semifinals ; Finals
No Weariness for the Rested
A Well Rested Lutz and a Greens Master Lykens Take Home the Crystal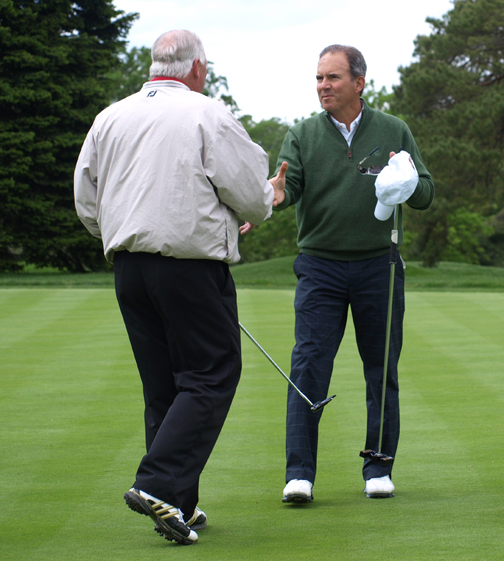 Chip Lutz (right) shakes hands with
Don Erickson
Wayne, PA – If you asked Chip Lutz what holes sixteen through eighteen looked like at St. Davids Golf Club, you would get a blank stare in response. That's because all week Lutz only needed the first fifteen holes to lock up each match. Lutz, from LedgeRock Golf Club, came into the final match against Don Erickson having only played forty-one holes in his previous three rounds of golf. A well-rested Lutz proved to be too big of an obstacle for Don Erickson, III in the final match of the tournament.
Erickson, of Indiana Country Club, played well all week despite constantly being challenged late in rounds by his opponents. Facing Les Neilly, of Edgewood Country Club, Erickson relied heavily upon his putting. In the first round he recorded an impressive victory, winning 7 and 5 with five birdies. In the second round, Erickson faced a red hot Michael Domenick. Domenick, of Phoenixville Country Club, had just come off of an upset victory against the number one seed, and three-time champion of this event, Paul Schlachter. Erickson went up three, over Domenick, after seven and never looked back, winning 2 and 1. Erickson's semifinal match came against Thomas Bartolacci, who had come off of two impressive victories winning 5 and 4 then 4 and 3. Erickson managed only one birdie through the first eleven which put Bartolacci a mere two strokes down. On sixteen Bartolacci, of Saucon Valley Country Club, would sink a birdie putt to stay alive and keep Erickson on edge. Bartolacci would run out of chances on the seventeenth, settling for a bogey putt that would end his championship dreams.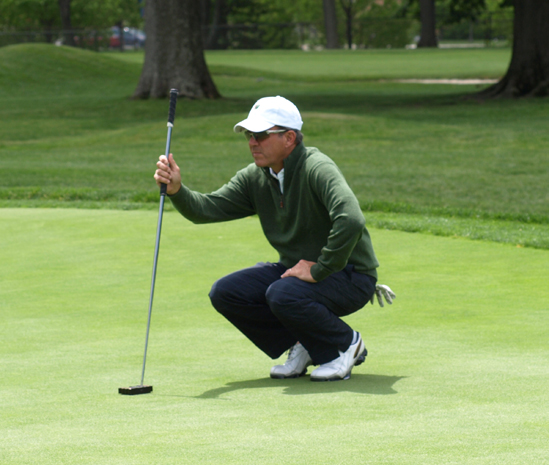 It didn't take Lutz much time to figure
out the greens
Coming into the final match of the tournament Lutz could not have taken a more different route than Erickson. He had been on cruise control for most of the week after winning his first two matches 5 and 4. In his semifinal match Lutz proved that he was again ready to add some hardware to the trophy case. Lutz would face Roc Irey, of Lookaway Golf Club, who had similar first round matches winning 4 and 3, then 5 and 3. Through the first eleven holes Lutz was only 1-under par and was starting to look a little bit rattled by Irey who was sticking around. On the twelfth hole, Lutz decided to put himself into the final match and ended up winning handily 7 and 5.
Lutz, having spent most of this week in the clubhouse, seemed to have this course figured out. The final round would be no different than the previous three rounds that Lutz dominated. After a first-hole birdie by Erickson, Lutz started a trend on the second and holed a thirty-five foot birdie putt to put himself back into championship contention. He would solidify the championship on the eighth hole when he sunk a forty-foot, bending birdie putt as if it were a tap-in. Lutz would go four up on the eighth and never look back, birdieing the eleventh and fifteenth to capture the Senior Match-Play Championship. During his speech at the end of the tournament he divulged that during his time on the Valley Forge Military Academy golf team, they would play the front nine of St. Davids for practice. This seemed to be enough of an advantage, as he would need this week to record an impressive championship run.
In the Super Senior Match-Play Championship Jay Howson, of St. Davids Golf Club, and Lee Lykens, of Clearfield-Curwensville Country Club, both dominated their second round matches, but only one was on the fortunate end of a first round meltdown. Howson played his first round match against Don Lamb, of St. Clair Country Club, half asleep. Down two, with five to play, Howson was awaken by three consecutive bogies by Lamb, to take a one shot lead. Lamb would not give in and clawed his way back into the match. After forcing a playoff, Lamb found himself facing his bogey demon and lost on the second playoff hole with a bogey. Howson, now with renewed energy, took the second round match against Alan Beilly, of Deer Run Golf Club, convincingly 6 and 4.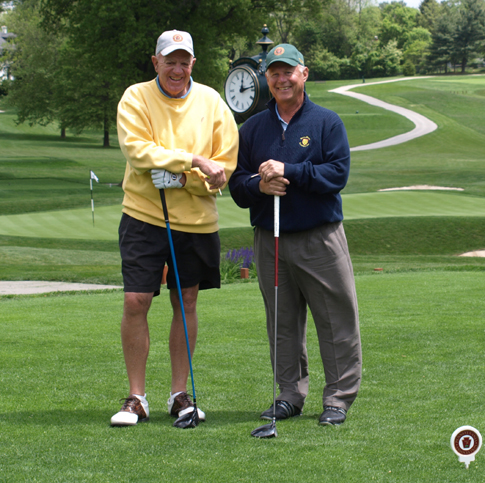 Jay Howson (left) and Lee Lykens on the 1st tee
Lee Lykens would find himself well acquainted with the number three. In his first round match Lykens, on three separate occasions, went up three on Richard Smith, of Philadelphia Country Club, and eventually closed him out 3 and 2. In his second round match, Lykens went up three through nine and then hunkered down and closed out Gary Fry and took holes eleven, twelve, and fourteen. Lykens finished the match with Fry, of Bucknell Country Club, 5 and 4 and seemed to be invincible and destined to win the Super Senior Match-Play Championship.
In the final match Lykens would be facing an opponent that had won an impressive nineteen St. Davids Club Championships (13 Senior Titles). This still would not be an obstacle for him as he played his usual consistent and steady game. Lykens would stroke a par putt on thirteen to put himself 3-up. Although he would never be more than 3-up in the match, a conceded birdie on the fourteenth would eventually seal his victory and the championship.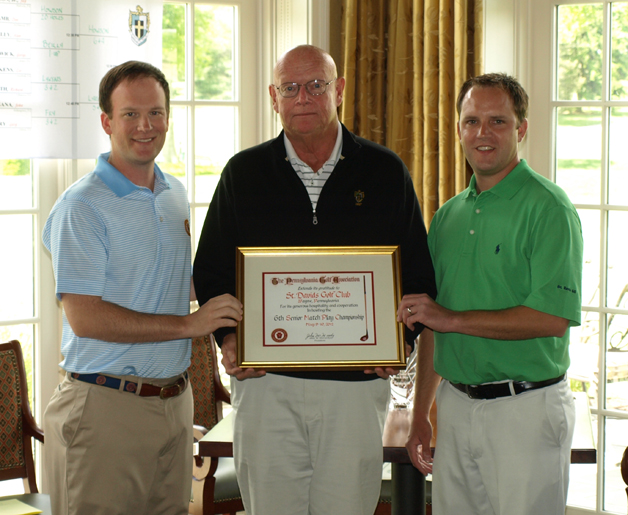 Tyler Riggin (left), James Byrne (Club President),
Dean Kandle (right)
Thank you to the staff and membership at St. Davids Golf Club for allowing the Pennsylvania Golf Association to hold the event at their facility. Special thanks to Dean Kandle (Golf Professional), Joe Nattle (Course Superintendant), and Michael Butler (General Manager) and their entire staff for a truly professional atmosphere.
[ Back ]