Match Play Results: 1st Round ; Quarterfinals ; Semifinals ; Finals
Stroke Play Qualifying Results
How The West Won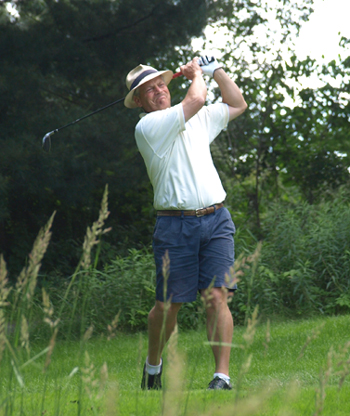 David Brown from the 17th tee (final hole)
Dallas, PA – David Brown of St. Clair Country Club, finished off a long three days of qualifying and then match play by defeating Arnie Cutrell 2 & 1 to capture the 2012 R. Jay Sigel Match Play Championship crown. Brown took the lead on the par 5 1st and never surrendered it, playing the 7,045-yard Huntsville Golf Club nearly flawlessly.
Cutrell, of Greensburg Golf Club, came into the final match after walking through the prior three rounds winning, 5 & 3, 3 & 2, and 4 & 3. Cutrell, a 3-time former champion, started off slowly and would never be able to recover from going 1 down on the first hole. For most of the match Cutrell would be scrambling playing from fairway & greenside bunkers and the fairway rough. Much to Cutrell's credit, he did not give in until the seventeenth hole where he would halve the hole, giving Brown the Championship.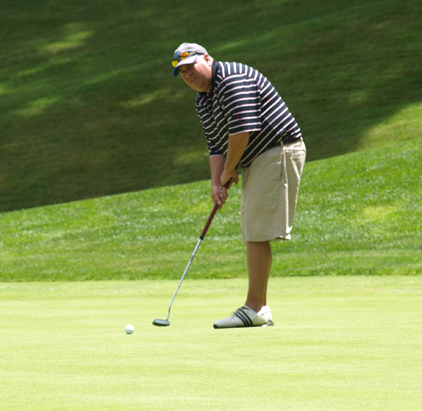 Arnie Cutrell rolled this birdie try up to 3 feet on the 182-yard fifth
Brown, the 2010 Champion, had an impressive final round with only one blemish on his card with a double bogey on the par 4 sixth. It was clear that, early on, Brown felt the momentum from his previous match against an up and coming amateur player William Betts of Longue Vue Club. On the par 3 third Brown hit a pin seeking tee shot that came within inches of finding the bottom of the cup.
Brown's only misstep of the day would come on the sixth. He found the fairway bunker off of the tee and then a couple wayward shots left him with a double bogey. On the par 4 eighth Cutrell would miss a makeable ten-foot putt and give Brown a two-hole lead going into the tenth.
The par 4 eleventh Brown found himself 150 out and chose to go at the pin and put it within twenty feet. Brown appeared to be locked in and sunk the birdie putt to give him a three-hole lead. On 12, Cutrell continued his trend of playing from awkward lies, driving his tee shot into the left side fairway bunker. Much like the rest of his bad shots, he followed this one with a beautiful iron shot to put him 101 yards out, and finished with an even par.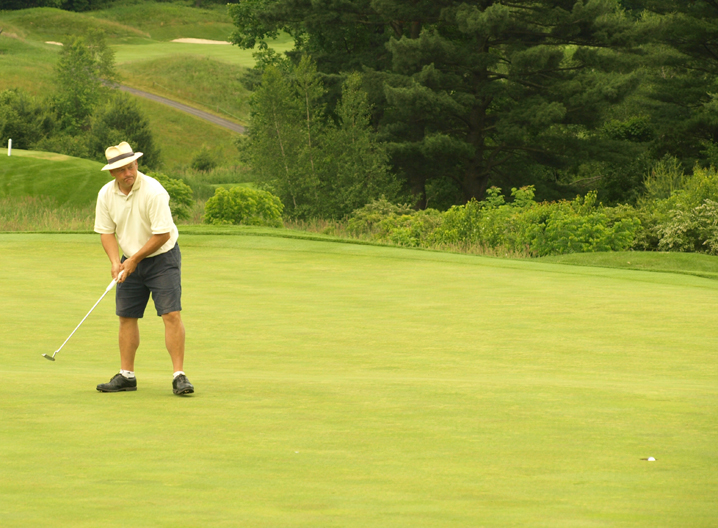 David Brown rolled in this 20 foot birdie putt on the 11th
Brown's only scare would come on 14 when Cutrell would win the hole to go 2 down with four holes remaining. Brown would go into what would prove to be their final three holes, with a conservative approach. On 15, 16, & 17 he would match each shot by Cutrell and capture the 2012 R. Jay Sigel Championship.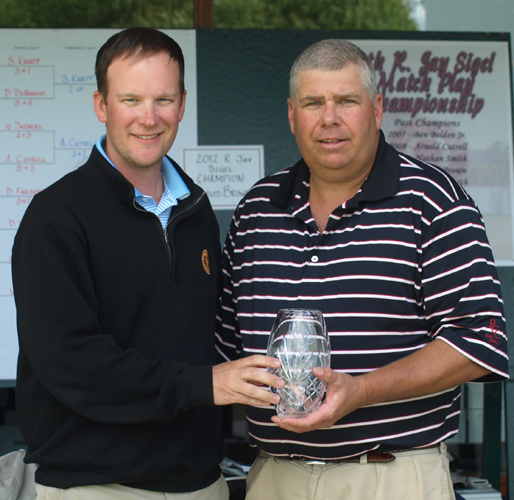 Arnie Cutrell is awarded the Runner-Up trophy
Thank you to all of the players who braved the wind, rain, and cold on Monday for the 36-hole qualifying rounds.
Much appreciation to Huntsville Golf Club and their phenomenal staff for putting on a great show. Thank you to Mike Molino, Head Golf Professional, Mark McCormick, Golf Course Superintendent, and HGC President, Melanie Maslow.
[ Back ]