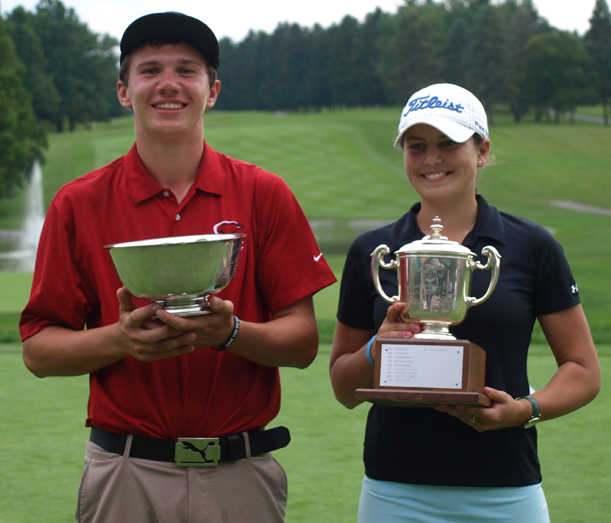 Michael Hoare and Brynn Walker; 2013 Junior Champions
HERSHEY, PA- July 1st was a landmark day for Pennsylvania Golf. For the first time, the Pennsylvania Golf Association and the Pennsylvania State Women's Golf Association came together to host the Pennsylvania Junior Championship. It marked the first time in either associations' history that the Junior Boys' and Junior Girls' championships were run concurrently at the same venue.
Hershey Country Club's East Course played a perfect host for this day. The theme of the afternoon would be rain. Two weather delays, totaling just over an hour extended the afternoon round. The East Course would not yield any red numbers on the opening day of the championship. In the Boys' Division, Country Club of Scranton's Frank Cestone and Merion Golf Club's Jake Van Arkel both cruised around in even-par 71. Sean Fahey of Overbrook Golf Club would come in at 1-over par 72, one shot behind heading into the final round. A total of 6 players finished at 2-over 73, leaving 9 players within two shots of the lead.
In the Girls' Junior Division, Spring Ford Country Club's Jane Hopkinson-Wood's 3-over 74 was good enough to hold a two-stroke lead over Brynn Walker of Saint David's Golf Club.
The second round started again with threats of rain. Michael Hoare of Carlisle Country Club started the day hot with a birdie on the 1st. He would keep it going with 2 more birdies on the front-side and turn at 1-under-par for the Championship. Birdies on 10 & 17 brought Hoare to -3 through 35. A bogey on the 18th did not hurt him as he closed with a final round 67 and finished at 2-under-par, 140 for the championship, and four shots clear of the field. Walker Kirk of Lancaster Country Club used a final round 69, to jump into 2nd place. Sean Fahey of Overbrook Golf Club was the low player from the final group, in round 2, with a 72 and finished alone in 3rd.
Round 2 in the girls division belonged to Brynn Walker. Her 2nd Round 69 was highlighted by birdies on 13, 14, 1 & 8, after starting on the 10th tee, and was good enough to hold off first round leader Jane Hopkinson-Wood for a 1 stroke victory at 3-over par 145. Macky Fouse of The Club at Shadow Lakes finished 3rd 12 strokes off of the lead at 157.
The Pennsylvania Junior Championship is slated to return again to Hershey Country Club's East Course next year on June 30 – July 1, 2014.
A big "Thank You" to all of the staff at Hershey Country Club, as well as the staff from the Pennsylvania State Women's Golf Association and the Pennsylvania Golf Association for making this a very special Championship.
Written by Kyle DiGiacobbe
[ Back ]