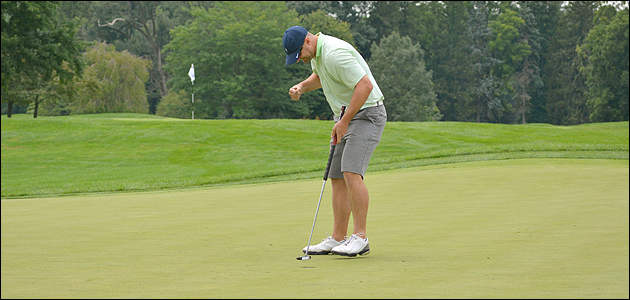 Chris Ault of Yardley Country Club reacts to draining a birdie putt on No. 18 (par 4, 305 yards) to shoot a final-round 67 in the 100th Amateur Championship on Wednesday at Saucon Valley Country Club (Old).
Yardley's Ault takes 100th Amateur Championship
A bogey set Chris Ault free.
The long-hitting 27-year-old turned the final round of the 100th Amateur Championship at 2 under for the day and 2 over for the tournament when, on No. 10, he flared an 8-iron into no man's land some 60 feet right of the cup. Saucon Valley's Old Course greens were unrepentant on Wednesday and Ault's ensuing three putt was an expected result.
"I was trying to hit a little draw in there and chickened out and hit it right. It reminded me I needed to be aggressive," said Ault, a longtime member of Yardley Country Club. "You are only going to two putt that maybe half the time anyway. [After that] I said to myself 'What are you worried about. You are 3 over par for the tournament. You are not even in it.'"
Two hours later, Ault's internal pep talk resulted in the round of a lifetime.
Ault birdied four of his final six holes for a tournament-best final-round 67 and winning 54-hole even-par total. His 213 score was two shots clear of co-runner-ups David Denlinger of Lancaster Country Club and Brandon Matthews of Glenmaura National Golf Club. Overnight leader Greg Jarmas of Overbrook Golf Club finished with a closing 76. He held the lead heading to the tourney's back nine but watched his flat stick falter.
"It feels like a huge burden has been lifted off of me," said Ault of Yardley, Pa. on winning. "For so many years I knew I could win, and everyone else thought I could, but it just hasn't happened. So to break through is such a relief. Now, if I get in those situations again, I can play with nothing to lose because you've won the Pennsylvania Amateur before."
Ault has been a Pennsylvania Golf Association and Golf Association of Philadelphia fixture the last decade plus. He's been a contender in a number of events but this is his breakthrough victory.
Ault's sterling late-round push started on No. 13 (par 4, 310 yards). He ripped driver onto the putting surface and two-putted from 30 feet for a 3. On the par 5, 615-yard 15th, Ault lifted a wedge from 125 yards to five feet for another birdie.
"I wanted to get to even [for the tournament]," said Ault of his mindset. "I felt if I could get it to even I would have a good chance."
Ault's mojo was temporarily halted on the gargantuan par 4, 500-yard 16th when he missed a 20-footer for par. However, he responded in true championship form on No. 17 (par 4, 422 yards) by lofting a precise 9-iron from 150 yards to 15 feet to a difficult back left hole location. The birdie kept Ault's even-par target in sight.
"I knew I needed to birdie the last two to get to even and I couldn't get to even without birdieing that hole," said Ault.
The tees were pushed forward on No. 18 (par 4, 305 yards) hoping to entice players to drive the green. Ault bit and ripped 3-wood 15 yards to the right of the putting surface. His short chip was almost perfect and stopped three feet left of the hole.
"I went to my caddie [my uncle Andy Muzyka] and told him to tell me a joke. He had nothing," said Ault of his thoughts before the final putt. "I said 'Left edge. He said 'Inside left.' I said 'Are you sure it's not left edge.' He said 'Inside left.' It was funny."
Ault, who graduated from East Carolina University in 2008, is a financial analyst in the health care industry.
His top Amateur finish was a tie for fifth in 2009 at Waynesborough Country Club.
"I really worked on my game in the winter," said Ault. "I knew something good was going to happen this summer."
Jarmas, who led the field by two strokes entering the back nine, three putted Nos. 10 and 11 and never recovered.
"I was really happy with the way I was playing at the turn. I just made a couple mistakes at the wrong time," said Jarmas, 21, of Wynnewood, Pa. "You have to hand it to Chris. That's a really good round."
Jarmas is a senior at Princeton University.
Name, club

Rnd 1

Rnd 2

Rnd 3

Total

Christopher W. Ault, Yardley Country Club

76

70

67

213

Brandon M. Matthews, Glenmaura National Golf Club

72

71

72

215

David L. Denlinger, Lancaster Country Club

76

67

72

215

Michael Kania, Overbrook Golf Club

75

71

70

216

Matthew E. Mattare, Saucon Valley Country Club

74

74

69

217

Brandon Dalinka, PAGA Individual Member

72

70

75

217

Christopher Crawford, Spring Mill Country Club

73

75

70

218

Greg Jarmas, Overbrook Golf Club

72

70

76

218

Justin P. Miller, Oakmont Country Club

72

70

76

218

Arnie Cutrell, Greensburg Country Club

72

71

75

218

Brady M. Goodling, Lebanon Country Club

71

75

73

219

Glenn Smeraglio, PAGA Individual Member

74

73

72

219

Ronald DeNunzio, Greensburg Country Club

70

76

74

220

Oliver White, Manufacturers Golf & Country Club

68

77

75

220

Zachary C. Herr, Jericho National Golf Club

71

72

78

221

Easton P. Renwick, Punxsutawney Country Club

73

78

71

222

JD Dornes, Meadia Heights Golf Club

69

79

74

222

Patrick D. Ross, Glenmaura National Golf Club

72

76

75

223

Frank Fairman, Punxsutawney Country Club

74

75

74

223

Joseph T. Fabrizio Jr., Aronimink Golf Club

75

73

75

223

Ben M. Feld, Green Valley Country Club

73

76

74

223

Michael R. Brown, Philadelphia Publinks GA

75

73

76

224

Cory M. Siegfried, Philadelphia Country Club

78

73

73

224

Adam Hofmann, Fox Chapel Golf Club

75

74

75

224

Kevin Conners Jr., Whitford Country Club

74

72

80

226

Spencer R. Mellon, Oakmont Country Club

71

78

77

226

Daniel Costenbader, Blue Ridge Country Club

76

74

76

226

Michael F. Johnson, Commonwealth National Golf Club

71

78

77

226

James Kania Jr., Overbrook Golf Club

74

75

77

226

Scott J. McNeil, Bala Golf Club

72

80

75

227

David DeNunzio, Greensburg Country Club

75

73

80

228

Brian P. Gillespie, St. Davids Golf Club

77

74

77

228

Andy Butler, Meadia Heights Golf Club

77

70

81

228

Thomas E. Timby Jr., The Bucks Club

75

75

79

229

Ed Gunkle, Bucknell Golf Club

75

77

77

229

Benjamin Cooley, Huntingdon Valley Country Club

79

73

79

231

Artie Fink Jr., Sinking Valley Country Club

77

75

80

232

Chris Lange Jr., Overbrook Golf Club

77

75

80

232

Cameron T. Liebert, White Manor Country Club

74

74

84

232

P. Chet Walsh, Philadelphia Country Club

78

73

83

234

Sean Seese, Huntingdon Valley Country Club

77

75

83

235

Failed to qualify

Alex Blickle, LedgeRock Golf Club

78

75

153

MC

Sean A. Fahey, Overbrook Golf Club

74

79

153

MC

Kyle Martin, Commonwealth National Golf Club

77

76

153

MC

R. Morgan Dougherty, Huntingdon Valley Country Club

76

77

153

MC

James Braunsberg, Blue Bell Country Club

79

74

153

MC

David R. West, Whitford Country Club

75

78

153

MC

Thomas A. Bartolacci Jr, Saucon Valley Country Club

72

81

153

MC

Jack Gregor, Huntingdon Valley Country Club

76

77

153

MC

Jim Rattigan, Schuylkill Country Club

78

75

153

MC

Todd Vonderheid, Huntsville Golf Club

77

77

154

MC

John A. Brennan, Philadelphia Cricket Club

75

79

154

MC

Dave M. Fardon, Philadelphia Publinks GA

76

78

154

MC

Austin M. Smith, Huntsville Golf Club

75

79

154

MC

Nicholas Joseph, The ACE Club

80

74

154

MC

Oscar L. Mestre, Overbrook Golf Club

77

77

154

MC

Doug Gradwell, Indiana Country Club

78

76

154

MC

Joe April, Philadelphia Cricket Club

81

73

154

MC

Kevin T. Haag, Deer Run Golf Club

75

80

155

MC

William A. Betts, Longue Vue Club

75

80

155

MC

Brian T. Corbett, Huntsville Golf Club

78

77

155

MC

Matthew Maurer, Bent Creek Country Club

79

76

155

MC

Tucker Koch, RiverCrest Golf Club & Preserve

76

79

155

MC

Richard Baloh, South Hills Country Club

80

75

155

MC

Austin E. Green, Chambersburg Country Club

77

78

155

MC

Raleigh T. Chapin, Jericho National Golf Club

78

77

155

MC

Nicolas Milito, Greensburg Country Club

78

77

155

MC

Ryan Kline, PAGA Individual Member

79

77

156

MC

Scott McLaughlin, Commonwealth National Golf Club

77

79

156

MC

Robbie J. Seebold, Frosty Valley  Country Club

76

80

156

MC

Zach Fischl, Allentown Municipal G C

76

80

156

MC

Cole Miller, Blue Ridge Country Club

80

76

156

MC

Chris G. Esbenshade, Bent Creek Country Club

76

81

157

MC

Ryan J. Gelrod, Philadelphia Cricket Club

79

78

157

MC

Doug Fedoryshyn, Concord Country Club

80

77

157

MC

Tim E. Novic, Southpointe Golf Club

80

77

157

MC

Carey C. Bina, Radnor Valley Country Club

78

79

157

MC

Michael S. Braniff, Mountain View Country Club

79

78

157

MC

Grant N. Skyllas, Moselem Springs Golf Club

80

78

158

MC

Dan Bernard, Aronimink Golf Club

80

78

158

MC

Joshua J. Isler, Chester Valley Golf Club

78

80

158

MC

Richard J. Marabella, Whitemarsh Valley Country Club

76

82

158

MC

Matthew Hardman, The Links At Gettysburg

79

79

158

MC

Marc Oliveri Jr., Lancaster Country Club

81

77

158

MC

Jeremy Merich, Scenic Valley Golf Club

80

79

159

MC

Aaron J. Burton, Applecross Country Club

83

76

159

MC

Len W. Coleman, Emanon Country Club

82

77

159

MC

Garrett D. Browning, PAGA Individual Member

79

80

159

MC

Al Kline Jr., Bucknell Golf Club

81

79

160

MC

Rodney L. James, PAGA Individual Member

80

80

160

MC

Robert V. Stoops, Butler Country Club

76

84

160

MC

Mariano G. Medico, Fox Hill Country Club

83

77

160

MC

Shamus Gartley, Fox Hill Country Club

82

78

160

MC

Patrick Rohrbaugh, Colonial Golf & Tennis Club

81

80

161

MC

Dave W. Long, Honeybrook Golf Club

80

81

161

MC

Trevor G. Pope, Honeybrook Golf Club

77

84

161

MC

Zachary Falone, Rolling Green Golf Club

77

84

161

MC

Robin S. McCool, Saucon Valley Country Club

80

81

161

MC

Dan Brown, Pine Meadows Golf Complex

83

79

162

MC

Gregory a. Goodreds, Talamore Country Club

79

83

162

MC

Jimmy Pokorny, Golf Course at Glen Mills

82

81

163

MC

James m. Bromwell, PAGA Individual Member

84

79

163

MC

Charles W. Dennis, Glenmaura National Golf Club

86

78

164

MC

Michael E. Faleski, PAGA Individual Member

78

86

164

MC

Kurtis A. Straw, Sunnehanna Country Club

77

88

165

MC

Oscar M. Neubauer, Saucon Valley Country Club

81

84

165

MC

Eric Urda, Allegheny Country Club

84

81

165

MC

Anthony D. Sebastianelli, Glen Oak Country Club

82

84

166

MC

John Samaha, Old York Road Country Club

81

86

167

MC

Michael S. Boden, Aronimink Golf Club

85

83

168

MC

Matthew Anderson, PAGA Individual Member

86

84

170

MC

Travis J. Gahman, Philadelphia Publinks GA

83

WD

WD

MC

Gary Stewart, Jr., Country Club of York

77

WD

WD

MC

Rick Stimmel, Diamond Run Golf Club

80

WD

WD

MC

WD-withdrawal; MC-miss cut
[ Back ]