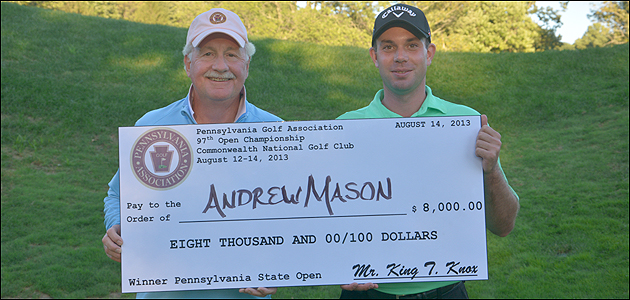 King Knox (left), Pennsylvania Golf Association President, presents
Andrew Mason with the low professional check.
Huntingdon Valley's Mason wins 97th Open
HORSHAM, Pa.–Andrew Mason opened his professional career the same way he concluded his time on the Amateur circuit – atop the leaderboard. Mason, who turned pro this May after powering through the state and regional Amateur ranks the last two years, won the 97th State Open Championship on Wednesday at Commonwealth National Golf Club (par 71, 7,117 yards).
Mason carded a final-round 1-over-par 72 for a 54-hole score of 1 under (212 total). He was the lone player under par. Mason edged fellow touring professional John Popeck of Washington, Pa. by a shot. Greg Podufal, 21, of Erie, Pa., a junior at Georgetown University, tied for fourth at 3 over to earn low amateur honors. Defending champion Clayton Rotz of Chambersburg, Pa., carded an opening-round 75 and failed to advance.
Tuesday's severe storms forced a cut after Monday's first round. The low 49 players advanced and played 36 holes today. Swirling, yet persistent winds, and a challenging Commonwealth saw the scoring average for the final two rounds check in at a robust 76.4.
"It's awesome. I played really well this week. I was a little more comfortable," said Mason, a former Temple University standout who graduated in 2012. "I expected to do well this week especially [at a course like this] which emphasizes driving."
Mason is no stranger to hoisting hardware. He won the Pennsylvania Golf Association Amateur Championship in 2011 and 2012. He won the Golf Association of Philadelphia Open Championship in those two years as well. In 2011, he also captured the Golf Association of Philadelphia's Patterson Cup and was recognized as its William Hyndman, III Player of the Year.
Since turning professional, Mason has played in 15 events. His top finish came in late July at the Charlie's Maine Open where he tied for eighth.
He earned $8,000 for taking the Pennsylvania Open.
"I won two Philadelphia Opens as an amateur. I would say so," said Mason when asked if this win validated his decision to turn profession. "I think I can get better."
Mason emerged from a compact leaderboard with a fantastic Round 3 front nine. Playing the very difficult back nine first, Mason turned in 2 under after birdies at Nos. 11 (par 5, 561 yards) and 14 (par 4, 437 yards). He overshot the par 5 in two and chipped up to a foot before knocking a 7-iron on the tight 14th from 150 yards into the wind to four feet.
Mason was in control at 4 under with nine holes to go. Popeck was the closest pursuer at even.
Another short birdie on the reachable par 5, No. 3 (576 yards) extended Mason's advantage before a case of hiccups ensued. He bogeyed No. 4 (par 4, 389 yards) after finding the greenside guarding pond from a tough lie. On the par 3, 185-yard 5th, disaster struck. Mason pulled his 4-iron behind a tree to the left of the green and was forced to take an unplayable. He made double bogey.
His lead was two shots.
A nice up-and-down on No. 7 (par 4, 402 yards) kept Mason's edge at two shots but a miscalculated 9-iron on No. 8 (par 3, 123 yards) landed short and his 5-foot par save lipped the high side of the cup.
Mason headed to No. 9 (par 4, 495 yards) up one on Popeck who had finished awhile earlier.
A perfect closing drive left Mason 200 yards to the green and his 3-iron stopped just short of the putting surface, but hole high and in the left rough.
Mason knocked a chip to three feet and then converted for the winner.
"I was more nervous taking my drop out from the tree on [No.] 5 than that final putt," said Mason, 24, of Huntingdon Valley, Pa. "I didn't know where I stood [at the finish] but I figured at worse I would be in a playoff [if I missed that last putt.]"
Mason missed the cut in his only other state Open.
Mason has a busy couple of months ahead. He'll head to the Web.com Tour and European Tour pre-qualifiers in addition to various eGolf Professional Tour and NGA Pro Golf Tour events.
Popeck, who turned professional in July of 2011, knew what he needed coming home. He was 1 under for the tournament when a loose 9-iron on No. 7 resulted in bogey.
"My caddie told me we needed to get one or two [birdies] in the last three holes. Unfortunately, we went backward," said Popeck, 23. "I guess in the heat of the moment that happens. You have to learn from your mistakes."
Popeck, who has found success on a number of Florida mini-tours, too, will head to a Web.com pre-qualifier.
NOTES–The 2014 Pennsylvania Open travels to the Country Club of York, Aug. 11-13.
[ Back ]