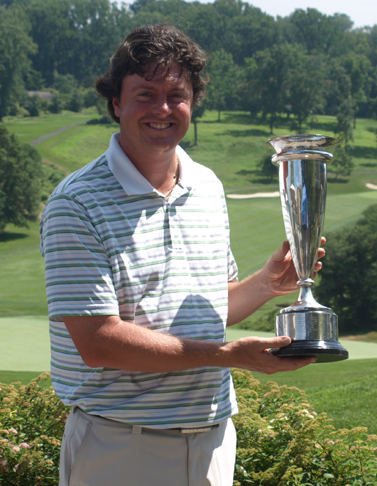 Nathan Smith
HUNTINGDON VALLEY, PA – The 10th R. Jay Sigel Match Play at Huntingdon Valley Country Club put 72 of the top players in the state through a grueling test of stroke play and match play to determine our Champion. Monday's 36-hole stroke play qualifying saw some familiar faces at the top. Through 18, only three players were in red numbers, three-time Sigel Champion and last year's finalist Arnie Cutrell of Greensburg Country Club with a 1st Round 68, Pinecrest Golf Club's Nathan Smith, a two-time Sigel Champion and four-time US Mid-Am Champion, shot 69 along with Philadelphia Cricket Club's John Brennan.
The afternoon round would see the course play a little tougher as the wind picked up. The match play cut would fall at five over par, with exactly 16 players at 145 or better for 36 holes. A second round 70 gave Smith medalist honors and set him as the number one seed in the bracket facing off against Michael Brown of the Philadelphia Publinks Golf Association. First round leader Arnie Cutrell shot a second round 72 to secure the 2 seed at level par 140 and would face Philmont Country Club's Evan Galbreath in the first-round. Defending Champion, David Brown of St. Clair Country Club came back with an afternoon 72 to finish on the number at 145 and was the 14 seed after a match of cards. Brown was set for a first-round match-up with David DeNunzio of Greensburg Country Club who finished at one over par, good enough for the 3 seed. The 4 seed belonged to Michael Johnson of Commonwealth National Golf Club, the La Salle University standout would be set to face Huntingdon Valley's own Ben Cooley, a Senior at the University of Pennsylvania. The 5 seed belonged to John Brennan setting up a match-up against 2011 Pennsylvania Mid-Am Champ Eric Williams of Honesdale Golf Club. Next, the 6-seed would go to Ronald DeNunzio of Greensburg Country Club set to play 11-seed Patrick Mitchell of Glenmaura National Golf Club, who shot a second round 68 to finish at 145 and earn a spot in match play. 2012 Pennsylvania Junior Champion and Temple University standout Brandon Matthews of Glenmaura National Golf Club earned the 7 seed and was set to face Oliver White of Manufacturers Golf & Country Club; both players started their summers by advancing through local qualifying stage for the US Open. The 8-9 matchup would be between one of last year's quarterfinalist Greg Jarmas of Overbrook Golf Club and Michael Hirthler of Wyoming Valley Country Club.
The top half of the bracket began with a rematch of the 2011 Sigel Match Play finals, Nathan Smith cruised to a 5 & 3 victory over Michael Brown. Greg Jarmas would solidify himself a spot in the quarterfinals for the second straight year with a 5 & 4 victory over Michael Hirthler. In a Big 5 matchup , Mike Johnson needed 18 holes to defeat Ben Cooley 2-up. Eric Williams upset 5 seed John Brennan in an up and down match in 19 holes, Williams was 4 up through 8 holes and Brennan fought all the way back to take the match to an extra hole before succumbing to a birdie on the first hole by Williams.
In the bottom half, Evan Galbreath upset three-time champion Arnie Cutrell winning 2-up. Brandon Matthews advanced winning 1-up over Oliver White after a short miss on 18 that would have forced extra holes. Defending Champion David Brown cruised 6 & 5 over David DeNunzio, while brother Ronald DeNunzio took down Patrick Mitchel 4 & 2.
Ronald DeNunzio
The quarterfinals saw Nathan Smith continue his dominance taking out Greg Jarmas 6 & 5. The Ivy League Individual Champion Jarmas played well throughout the round but the steady play of Smith, not making any bogeys through 13 holes, proved to be too much too handle.
Mike Johnson was able to defeat Eric Williams 3 & 2 after stringing together back-to-back birdies on the 9th and 10th holes to move to 5 up.
David Brown showed Ronald DeNunzio a similar fate in the afternoon as he showed his brother David in the morning, controlling the match the whole way and closing it out 5 & 4.
In the final match of the afternoon, Evan Galbreath gave Brandon Matthews everything he could handle. Galbreath held a 1-up lead entering the 14th hole, when both players missed the green, Matthews converted an improbable up and down from behind the green while Galbreath faltered and made bogey bringing the match back to all-square.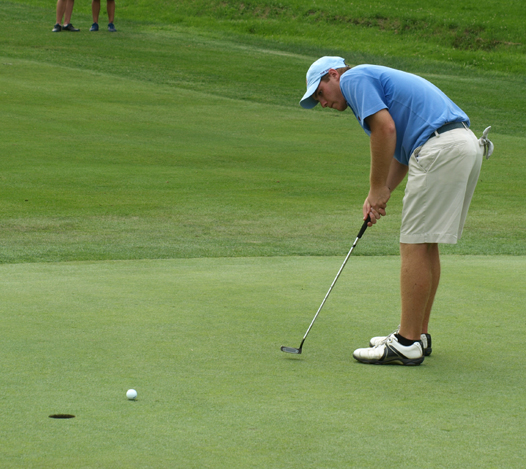 Evan Galbreath
Matthews thenconverted a two-putt birdie after his 9-iron found the green in two on the par 5 15th to move 1-up. The two halved the 16th with pars, then after both missing the green in similar spots on 17, Galbreath's near miss for par was followed by Matthews converting from 4 feet to close out the match 2 & 1.
Wednesday morning's semifinals brought some of the best golf of the championship. In the first match Nathan Smith started strong with birdie at the first two holes to move 2-up. Holes 3 thru 6 were halved with pars, birdies halved the 7th before Johnson again birdied the 8th to cut the lead to 2-up. Smith used 2 laser like approaches to convert back to back birdies on 9 & 10 to move to 3 up. Johnson would not go away and answered with back to back birdies of his own on 11 & 12 to bring him within one hole. However, the 13th would prove to change the match. After Smith's miss for birdie Johnson would 3-putt to lose the hole. Another phenomenal approach by Smith on 14 and Johnson 3-putt gave Smith a comfortable 2 putt par from 6 feet and moved to 3 up. The players halved the 15th with a great up & down by Johnson for birdie out of the right bunker and Smith converting a two-putt birdie. After a conceded birdie on 16 Smith was the victor 4 & 2.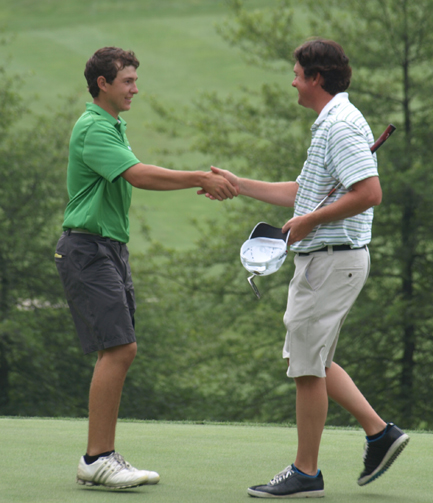 Michael Johnson congratulates Nathan Smith
Brandon Matthews started out his match the same way as Nathan with birdies on the first two holes to move 2-up. Matthews failed to convert his up and down on 3 while Brown made par to bring the lead back to one. Both players birdied the short par 4 4th in differing fashion. Brown leading off laid up with an iron off the tee to a favorable wedge yardage, while Matthews hit a 3-wood onto the green about 6 feet for eagle. Brown stuffed the wedge in close and converted for birdie while Matthews eagle putt slid by. A birdie on 7 would move Matthews back to 2-up. Brown hit it tight on 10 to convert birdie and bring the match back to one. Matthews quickly responded holing a downhill 12-footer on 11 for birdie to move back to 2-up. On 12 Brown failed to get up and down and Matthews' par was good enough to move 3-up. In trouble off of the tee on 15, Matthews reached the green in 4 while Brown did so in 2. After Brown's eagle putt cozied up to just a few feet Matthews conceded the hole. The two halved the 16th with pars. Par on 17 for Matthews would be good enough to halve the hole and give him a 2 & 1 victory setting up an afternoon final vs Smith.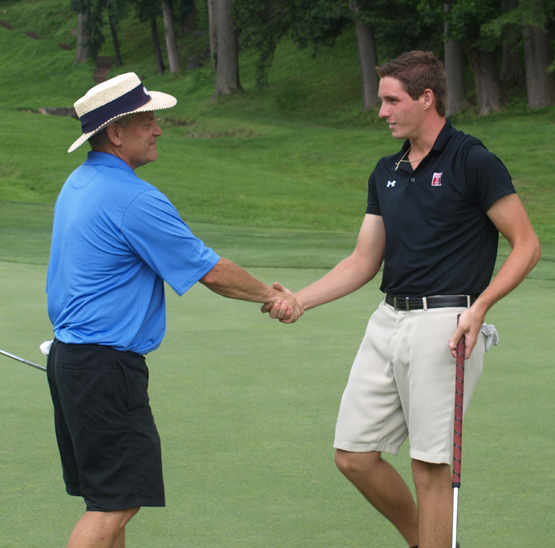 Brandon Matthews and David Brown shake hands
The afternoon match started with Matthews pulling his tee shot left of the 1st green into the tall fescue, after a search the ball was not found and the two moved to the 2nd tee with Nathan Smith 1-up. A poor tee shot on 2 saw Smith unable to reach the green from the cart-path. His lay-up shot gave him just a short wedge in and he converted the up and down to halve the hole. Matthews used back-to-back birdies on 3 & 4 to move 1-up. Players halved the 5th with 2-putt pars. Both missed the green on the 6th but Smith was able to save par bringing the match back to all square. After reaching the par 5, 7th in 2, Smith's eagle gave him a one up lead. Both players again missed the green on 8, this time Matthews saved par and brought the match back to all square.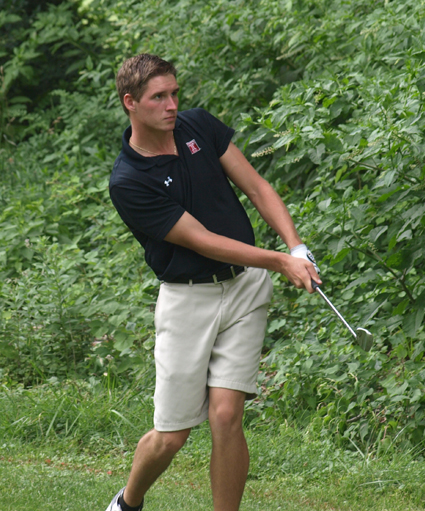 Brandon Matthews
Matthews would be conceded his short birdie putt on 9 after Smith's 3rd shot from the green-side bunker failed to find the green giving Brandon a 1-up lead at the turn. Smith's par on 10 was good enough to swing the match back to all-square. On 12, with a tucked back left hole location, Smith was able to dial it in to just 6 feet and convert for birdie while Matthews approach spun all the way back to the front edge of the green giving Nathan the lead once again. The lead did not last long as Smith proceeded to 3 putt the par 3 13th and the match again was all-square. On 14, Matthews found trouble off of the tee and was forced to drop from the lateral hazard. Smith's par was good enough to recapture the lead as Matthews made double-bogey. On 15, with Smith just short of the green in two, Matthews had another chance to hit the par 5 in 2. He faltered as his approach came up short and right in the greenside bunker. He failed to get up and down, while Smith two-putted for birdie to move 2-up. After Smith found the fairway on 16, Matthews ripped Driver green-high right on the 401-yard dogleg left par 4. Both players found the green in 2 about 20 feet below the hole and 2 putted for par.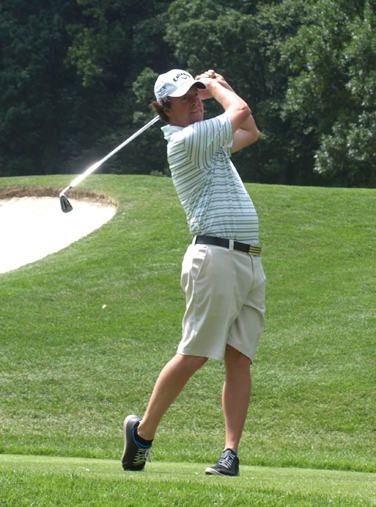 Nathan Smith hits his tee shot on #17
On 17, with Smith dormie, he found the green, whileMatthews missed long right, after Smith's birdie putt just missed, Matthews conceded the par putt giving Smith a 2 & 1 victory and his third R. Jay Sigel Amateur Match Play Championship in the past 5 years and 5th Pennsylvania Golf Association Championship overall.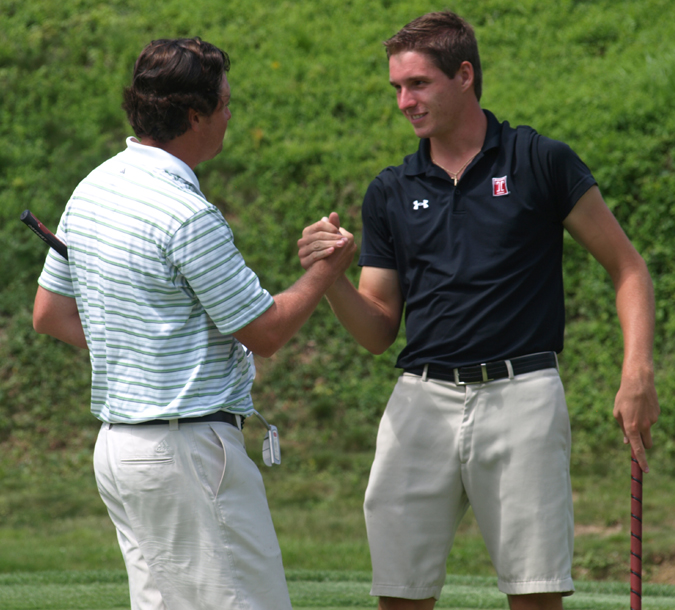 The two finalists shake hands
Next year's R. Jay Sigel will be hosted at Sunnehanna Country Club in Johnstown, PA on a July 7-9, 2014.
Thank you to our hosts at Huntingdon Valley Country Club! Ian Dalzell, Golf Professional, Scott Anderson, Golf Course Superintendant, and Robert Anen, General Manager, and their entire staff are to commended for putting on a fantastic show for our players.
Written by Kyle DiGiacobbe
[ Back ]