Sawin rallies to win Pennsylvania Amateur at Oakmont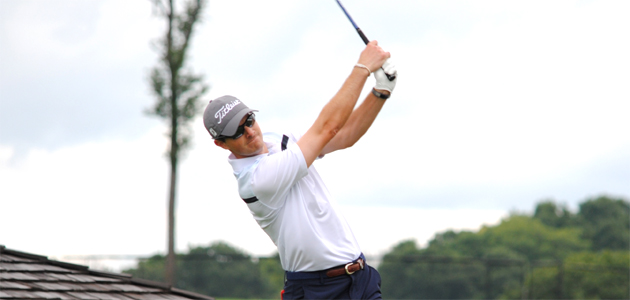 OAKMONT, Pa. – By nearly any account, the two most storied golf clubs in the history of the Commonwealth of Pennsylvania are Merion Golf Club and Oakmont Country Club. So it is appropriate that it took a member of the former to conquer the latter, as Merion's John Sawin shot a 1-under-par 70 to come from behind and capture the 101st edition of the Pennsylvania Amateur Championship, presented by Allegheny Health Network. Sawin shot 72-72-70 for a total of 214 (+1), winning by three shots over Yardley CC's Kyle Sterbinsky and Greensburg CC's Arnie Cutrell.
"It's an absolute thrill to win any championship at Oakmont, and the Pennsylvania Amateur is certainly a special treat," Sawin said.
Sawin trailed Cutrell by four shots coming in to the final round, but quickly moved up the leaderboard with birdies at the second and fifth holes. After a birdie at the par-5 9th hole, he then carded six consecutive pars and had a two-shot lead with just three holes remaining. After two steady rounds to start the championship, he wasn't about to change tactics.
"My gameplan was the same as it was in the first two rounds," Sawin said. "I was going to take every shot as it came and execute it to the best of my ability."
However, a bogey on 16 narrowed his lead to just one stroke. That's when his championship pedigree was earned, as Sawin birdied the par-4 17th hole to extend the lead back to a pair of strokes. Trouble arose on 18, though, as a wayward tee shot forced Sawin to scramble. Hitting hybrid from 235 yards, he landed in a greenside bunker.
"I had a tough bunker shot there. The last thing I wanted to do was run it over the green so I ended up coming up short," Sawin said.
Standing 25 feet away, with the trophy in his sites, Sawin's goal was a two-putt. But as the putt trickled over the ridge and turned right, Sawin watched his ball drop in the hole for a clutch bogey, and soon the championship.
"It was a nice way to finish that round," Sawin said. "It was a great bonus to make that putt."
Cutrell, the leader after 36 holes, had just one birdie on the day en route to a final round 77. He trailed Sawin by just one shot, though, headed into the 54th and last hole of the event. However, a double-bogey on that hole dropped him into a tie for second with Sterbinsky.
The next two spots on the leaderboard were claimed by the two best rounds of the day other than that of Sawin. Meadia Heights GC's J.D. Dornes fired a 1-over-par 72 to finish in fourth place at +7, while William Betts of Longue Vue Club carded an even-par 71 to vault into a tie for fifth at +8. Also finishing at that number were Huntsville GC's Tyler Brewington and first round leader Nelson Hargrove of Gulph Mills GC.
This is the first time the Amateur Championship has been held at Oakmont since 2002, when Pinecrest CC's Nathan Smith won with a 54-hole total of 215. Sawin is the first person to win the event while representing Merion since J.M. Robbins (representing the then-Merion Cricket Club) won in 1926 and Max Marston won in three consecutive years from 1921-1923.
[ Back ]