Skyllas Wins Mid-Am in Playoff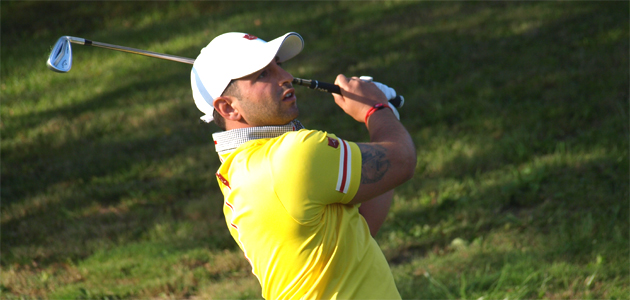 FLEETWOOD, Pa. - Grant Skyllas of LedgeRock Golf Club rallied from a three-shot deficit at the beginning of the round to get to a playoff, where he defeated Greensburg Country Club's David DeNunzio to capture the 21st Middle-Amateur Championship, presented by Allegheny Health Network. Moselem Springs Golf Club proved a worthy venue, as the George Fazio design played extremely tough on a breezy day. Just three players broke par on the day. First round leader Rodney James of Golden Oaks Golf Club fired a 75, including a bogey on the 18th and final hole, setting up the stage for the playoff between Skyllas and DeNunzio.
"It's an awesome feeling to win this championship," Skyllas said. "I've been feeling pretty good about my game all year, so it felt really good to come out on top."
Skyllas has extensive experience on the course, living not too far away, and he knew that a solid start was essential to his success.
"I've played here so much that I know if I can make it through the first three holes at even, everything else is a go for the rest of the round," Skyllas said.
With pars on each of the first nine holes, Skyllas put himself in position to contend. But he then found a little trouble on the tenth hole, where he was assessed a one-stroke penalty after he addressed the ball and it subsequently moved without being caused by any outside agency. However, he did make a nice putt for par there, even after the penalty. After a birdie on the 12th hole, he dropped a pair of shots coming home with bogeys on 14 and 18. The bogey on 18, he thought, was going to come back to haunt him. But after a wayward tee shot, he saved bogey to earn a spot in the playoff.
"After the penalty, it was gutcheck time. I have to credit my caddie because he helped me out a lot out there, making sure I was slowing things down," Skyllas said. "I had a couple of good chances coming in but couldn't capitalize on them. And then on 18, I hit it in the hazard on the right side, but made an unbelievable bogey to get into the playoff."
For DeNunzio, meanwhile, the joy of three birdies on the front nine was quickly tempered by a bogey on 10 and a double bogey on 13. However, a clutch birdie on 17 and a par on 18 put DeNunzio in at the same 140 total as Skyllas.
For James, a brilliant 66 on the opening round gave way to a frustrating afternoon on Tuesday. After a bogey on the opening hole, he bounced back with a series of pars followed by a birdie on the sixth hole. But he then dropped shots on 7 and 8 for a front nine score of 37. The back nine wasn't much kinder, as he bogeyed 13 and 14 as well. Going to the 18th, he needed par to get into the playoff. After hitting his approach short of the green, he chipped on to about 15 feet but missed the par putt. That gave him a two-day total of 141 (+1), leaving him a shot out of the playoff.
For the playoff, the two competitors played the 18th hole again. Playing at 436 yards on the day, the tough par 4 gave both players fits. DeNunzio went first, and hit his shot right of the fairway into the water hazard. Skyllas chose to play it safe, hitting less club to try to ensure that he'd hit it in the fairway and not near any of the trouble.
"After all of that, I still hit it into trouble," Skyllas said. "When I saw the ball going in the wrong direction, I was like 'Grant, what are you doing?'."
Skyllas chipped out and then hit his third shot onto the green about 25 feet from the pin. DeNunzio, meanwhile, took a drop and hit it on the green as well, though he was 60 feet away. His par putt came up about eight feet short. Skyllas then lined up his par putt and left it just short, tapping in for a bogey. With a chance to tie and force another playoff hole, DeNunzio's putt just missed, handing Skyllas the win.
For Skyllas, it was redemption after a recent event he played at Moselem Springs found him on the opposite side of a similar ending.
"It's ironic because three weeks ago I played in a tournament here and I lost in a playoff on the 18th hole," Skyllas said.
Tied with James for third place were St. Clair Country Club's David Brown and Huntsville Golf Club's Tyler Brewington. A shot behind them in sixth place was Honesdale Golf Club's Eric Williams. Brewington and Williams, along with LedgeRock's Chris Storck, were the only players to break par in the second round, as each shot 1-under 69.
The Pennsylvania Golf Association would like to thank the membership and staff of Moselem Springs Golf Club for their help in hosting a fantastic championship. In addition, thanks to the event's presenting sponsor, the Allegheny Health Network. The Pennsylvania Golf Association's season wraps up next week with the Art Wall, Jr. Memorial Championship at Rolling Green Golf Club in Springfield.
[ Back ]