Photos
Williams battles to win R. Jay Sigel Amateur Match Play Championship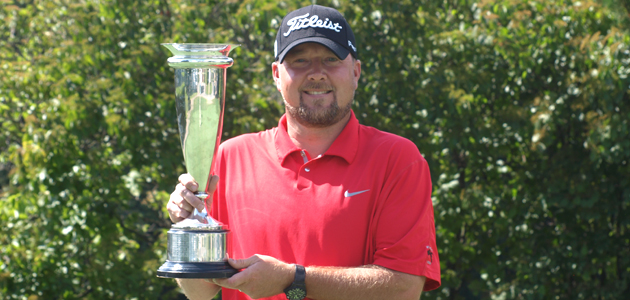 Eric Williams adds his name to the R. Jay Sigel Trophy
Johnstown, Pa. – The 11th R. Jay Sigel Amateur Match Play Championship was hosted by Sunnehanna Country Club on Monday through Wednesday, July 7-9. The field of 72 competitors played 36-holes of stroke play qualifying on Monday, of which the top 16 advanced to the match play bracket, to be played Tuesday and Wednesday. After a demanding three days of 36 holes per day, Eric Williams, Honesdale Golf Club, etched his name on the R. Jay Sigel trophy. It was a tough road as he had to go through defending champion Nathan Smith, Pinecrest Country Club, as well as an outstanding 20-hole final match versus James Kania Jr, Overbrook Golf Club.
Williams battled his way into match play by shooting a 7-over-par 147 to place him in a tie for 6th place. Joining him at 147 were David Brown, St. Clair Country Club, Kania Jr., and Ben Cooley, Huntingdon Valley Country Club.
Strong winds that gusted upwards of 35mph greeted players on Monday morning and continued through day two. The first 18 of qualifying was owned by Arnie Cutrell, Greensburg Country Club. The 3-time former champion powered through the ridiculous winds on his way to a 1-under-par 69. Cutrell would finish the day in a tie for 2nd with Patrick Ross, Elmhurst Country Club, at 4-over-par 144.
The second 18 of day one saw a familiar face at the top of the leader board as Nathan Smith fired an even more impressive round of 3-under-par 67, which included a 4-under-par 31 on the back nine, to give him the top seed. Smith was the only competitor under par through qualifying and was five clear of the field.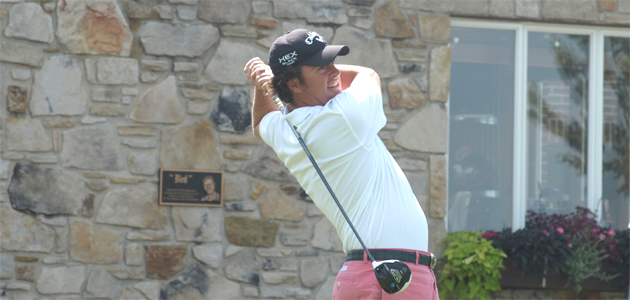 Nathan Smith claimed medalist honors in stroke play with a 1-under-par 139
The final spot for match play was decided in a playoff as Greg Podufal of The Kahkwa Club defeated Sunnehanna member Derek Hayes on No. 1 (par 4, 439 yards), the second hole of the playoff. Eliminated on No. 18 (par 4, 373 yards), the first hole of the playoff, were Patrick Mitchell, Glenmaura National Golf Club, Kyle Martin, Commonwealth National Golf Club, and John Brennan of Philadelphia Cricket Club.
The story of day two was similar to day one in that the winds were gusting throughout. Those winds brought in a quick passing lightning storm that caused a delay for roughly 45 minutes. The only match to be completed before the delay was Eric Williams as he beat Ben Cooley of Huntingdon Valley Country Club 5&3.
Williams would move on to play Nathan Smith, who defeated Greg Podufal in a hotly contested match that went all 18 holes. In other round of 16 matchups, local Wesley Turiano defeated David Denlinger, Lancaster Country Club, 3&2. In the quarterfinals, Turiano would meet Mariano Medico, Fox Hill Country Club, after Medico beat Artie Fink, Jr. in 16 holes.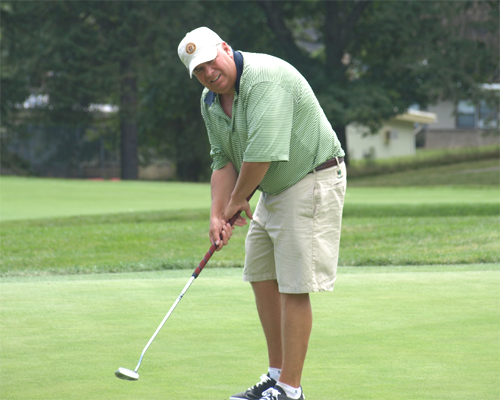 3-time champion Arnie Cutrell had yet another strong showing at The Sigel
The bottom half of the bracket started in exciting fashion as the 2-seed Patrick Ross was taken to 19 holes by Sunnehanna's own Jesse Rager. There was no such suspense when Ben Feld, Green Valley Country Club, won his match against David Brown, St. Clair Country Club, 5&4. In similar fashion, Arnie Cutrell defeated William Betts of Longue Vue Club 6&5 to earn a sizeable rest before the second match of the day. Congratulations are in order for Cutrell as he aced No. 5 (par 3, 205 yards) to put him 2-up in the match, a lead from which he would not look back. In the final match of the round of 16, Kania Jr. was able to hold off a late charge from University of North Carolina golfer Brandon Dalinka to win 3&1.
Nathan Smith and Eric Williams met in the quarterfinals for a thrilling match as the two were tied going into the 17th hole, where Williams started his birdie, birdie finish to win the match 2-up. Mariano Medico of Fox Hill Country Club was dominant in his victory over Turiano in the quarterfinals as he played 15 holes at 2-under par to win 4&3. Ross took a note out of Williams' book as he and Feld were tied heading into #15. Ross proceeded to go birdie, birdie and win 2&1. Kania Jr. and Cutrell marked the last match of the quarterfinals and it was a back and forth match as 10 of the 17 holes were won by one of the two players. In the end however, it was Kania Jr. that was the victor as he finished with a 2&1 win to advance to the semifinals.
Williams continued his stellar play against Medico in the semifinals as he was 1-under-par through the front nine leading to a 3-up advantage. Williams held onto that lead as the match finished 3&2. Kania Jr. took control of his match with Ross early with a birdie on the 1st and 4th holes. That lead ballooned to 4 through seven holes, to which Ross responded by winning three of the next four to get it back to one. Kania Jr., not to be outdone, would birdie No. 14 (par 3, 190 yards) and No. 16 (par 3, 182 yards) to advance to the finals with a 4&2 victory.
The final match was simply an outstanding display of golf. Kania held the biggest lead of the match at 2-up through 10 holes, but that was quickly brought back to all square as Williams won 11, and 12. The match stood All Square heading to the 16th tee, where both players played fine shots to the par 3 to give themselves birdie looks. Williams missed his try from 16 feet. Then Kania, on a similar line, drained his birdie from 8 feet to go 1-up. On the 17th tee, advantage Kania, he hit a wayward drive well to the right and into the native grass. Williams stepped up and piped his drive down the fairway, and a routine par was all he would need to draw All Square going to the 18th.
An outstanding up and down from the greenside bunker on 18 was required by Williams to extend the match. The story of extra holes was Williams' ability to get out of trouble as he put both of his drives in the right trees, but was able to scramble and make miraculous pars on each. On the 20th hole (No. 2, par 4, 430yards), Williams punched out from the trees to the front edge of the green, while Kania played his approach to 30 feet above the hole and faced a quick putt. Williams putted his third to within two feet below the hole, as Kania's speedy downhiller trickled about 6 feet past the hole. Kania just missed left on his par putt, and Williams knocked in the two-footer for the win. Congratulations to Williams and Kania Jr. who played incredibly all week.
With the victory, Eric Williams also earned a one-time exemption into the prestigious Sunnehanna Amateur in 2015, a little extra incentive offered by Sunnehanna Amateur Committee member John Yerger, III.
Asked to sum up the week, Williams said, "This is really cool, I was thinking back to The Sigel at Stonewall in 2008 when I lost to Arnie Cutrell in the finals. To win it at Sunnehanna, where Mr. Sigel played quite a bit, is pretty special. My hat's off to James Kania, he played great all day long. It was a battle. I can't say enough about Sunnehanna Country Club, it was in awesome shape and it was a real treat to spend three days here. I'm looking forward to coming back for the 2015 Sunnehanna Amateur."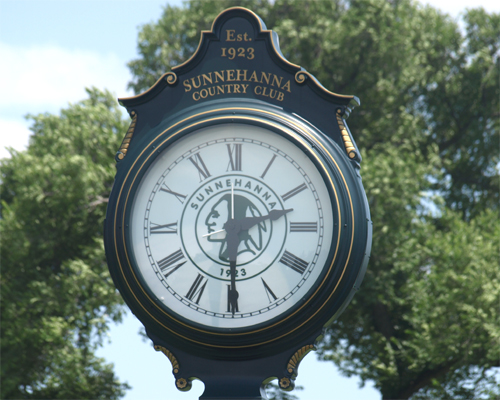 A huge thank you goes out to the entire membership and staff at Sunnehanna Country Club. Golf Course Superintendent Ben Little, Golf Professional Carl Seelman, and General Manager Don Zolnosky and their staff provided a great venue and outstanding service for the Sigel Match Play Championship. Special thanks also go out to our corporate partner, the Allegheny Health Network. The 2015 Sigel Match Play will be held at Fox Chapel Golf Club in Pittsburgh.
[ Back ]