Donatoni Captures Super Senior Championship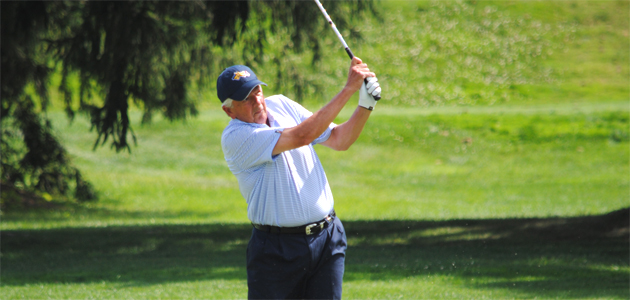 White Manor's Don Donatoni captured the Super-Senior title at the 55th Senior Amateur Championship.
PAOLI, Pa. - Standing on the tee at par-3 17th hole at Waynesborough Country Club, Don Donatoni knew that the Pennsylvania Super Senior Amateur Championship, presented by Allegheny Health Network, was within his grasp. The hole was 151 yards away, but with a wind in his face, it played more like 162 yards for Donatoni. With a two-shot advantage but two tough holes remaining, Donatoni figured that his next swing would go a long way in determining his fate. After an excellent six-iron, he was safely on the green and two-putted for par on his way to a victory in the Super Senior flight at the 55th Pennsylvania Amateur.
"That was the key shot for me," Donatoni said of his tee shot on 17. "I took enough club to take the bunkers out of play and I absolutely flushed that six-iron. I had the confidence to go right at the flag, and that's the shot I'm most proud of from today."
After bogeying the 18th, Donatoni finished at 147 (+5) to win by a shot over Joe Ruby of Nemacolin Woodlands. Despite a tough start after a three-put for bogey on the first hole, Donatoni was able to rally on his opening nine.
"I was able to make a couple of birdies on the front nine that got my round going," Donatoni said. "It was really a boost of confidence to going into the back nine because I know how difficult that nine is here, at least for me."
Despite dropping a few more shots on the back nine, Donatoni was able to hold on for the win, in part by limiting his mistakes.
"There are a few places on the back here where you can make a big number," Donatoni said. "But I felt comfortable on the last few holes, as they played to my strengths"
Going into the last hole with a two-shot advantage, Donatoni knew of his situation on the leaderboard. However, he made it interesting with an errant drive that led to a bogey and his one-shot margin of victory.
"I should have hit 3-wood there," Donatoni said of the 18th tee. "I made it much more difficult that it needed to be."
Despite those difficulties, Donatoni was still able to emerge victorious.
Ruby was the closest challenge, with a nice run on the back nine that included an eagle on 12 and a birdie on 13. But a double-bogey on the par-3 15th hole dropped him back to +6, which was his finishing total for the tournament.
Fox Hill CC's William Lawler was two shots off the pace for a score of 149 (+7), good enough for third place, followed by four players at +9 - Jeffrey True (Lebanon CC), Mike McGuire (Hannastown GC), George Elias (Irem CC) and Michael Rose (Talamore CC). Lawler's performance should come as no surprise, as he placed second in the Senior division the last time this championship was held at Waynesborough CC, in 2006.
[ Back ]