West Shore Duo Wins Senior Division of Father-Son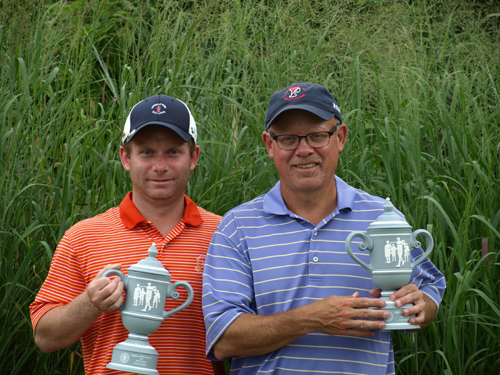 MALVERN, Pa. - The West Shore Country Club duo of Scott Christie and Kevin Christie hung on to win the Senior division of the 6th Pennsylvania Father-Son Championship, presented by Allegheny Health Network. The duo shot a Chapman score of 2-over par 144 over 36 holes at White Manor Country Club to top the team of Gui Costin and Jarrett Kling by a single shot. In the Chapman format used, both players tee off. After that, each hits the other's ball for their second shot. From there, the two players choose one ball to play and then alternate shots until the ball is in the hole.
"We had a good round yesterday (1-under par 70) and just hung on today," Scott Christie said. "We just tried to keep hitting good shots and hope that no one passed us at the end."
A host of teams had a chance at victory, as five squads finished within five strokes of the lead. But the Christies held on, bouncing back from a pair of early bogeys to birdie the par-4 seventh hole and the par-4 10th hole. On No. 10, Scott Christie hit a nice sand wedge approach and looked to his son to convert the birdie.
"That was a big, big putt," Scott Christie said of Kevin's successful birdie.
Costin and Kling, meanwhile, bogeyed three of their first four holes. But the Merion Golf Club pairing steadied the ship, making all pars the rest of the way until a birdie on the par-5 17th hole. After a par on 18, they were in the clubhouse with a score of 145 (+3). They were followed on the leaderboard by the teams of Marc Ruby and Joe Ruby and Peter Kyriakodis and Steve Kyriakodis, who each carded a 146 (+4) for the competition. The pair of Bob Harris and Mitch Harris were two shots behind them at 148. Just behind the Harris team was the pairing of Scott Carney and David Carney at 149 (+7).
[ Back ]