Stewart wins 99th Open at Rolling Green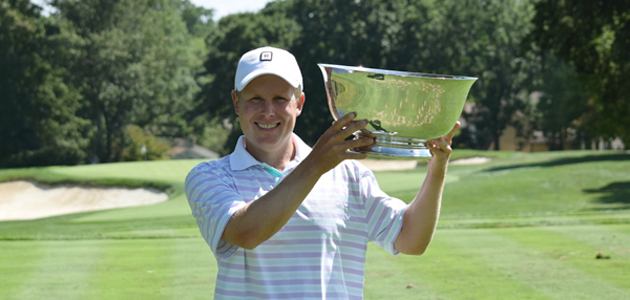 Billy Stewart, ACE Club, poses with the Arnold Palmer trophy
SPRINGFIELD, Pa. - Billy Stewart, a professional from the nearby ACE Club, withstood a barrage of pressure from an amateur and a pair of professionals alike to win the 99th edition of the Allegheny Health Network Pennsylvania Open Championship at Rolling Green Golf Club.
Stewart made par on the 18th and final hole of the afternoon just after playing partner Stu Ingraham missed an eagle putt that would have put him at 8-under par and into a tie with Stewart. He then calmly sunk a short par putt to finish the 54-hole event at 205 (-8), including a final round 68.
"It's so nice to win this championship, especially at this venue," said Stewart, a native of nearby Devon, Pa. "I love this place and it's really sweet to win here."
For Stewart, it's his first statewide championship. It did not come easy, however. He began the day two shots behind Ingraham. Stewart made his move with a trio of birdies on holes 6-8, and combined with a couple of bogeys from Ingraham on that part of the course, that pushed Stewart ahead with what seemed like a comfortable margin headed to the stretch.
However, amateur Kyle Sterbinsky from Yardley, Pa., had moved quickly up the leaderboard with five birdies on the front nine en route to a 31 on that side. He made three more birdies against just one bogey on the back side to card a 64 for the day.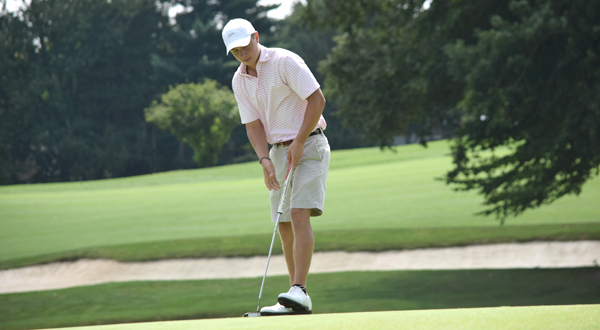 Kyle Sterbinsky rolls in a birdie on #12 en route to a round of 7-under, 64 to earn runner-up and low amateur honors
"I finally putted the ball well today," Sterbinsky said. "In the first two rounds, I did not putt it well, but today the putts were going in for me."
Sterbinsky also credited his strong iron play as one of his reasons for success at the venerable William Flynn and Howard Toomey design.
"My iron play was pretty solid all day long," Sterbinsky said. "That was a big part of me shooting that score out there."
Also charging up the leaderboard was Waynesburg professional Robert Rohanna, the 2010 winner of the event. Rohanna was just 1-under par after 13 holes when he caught fire. He hit 5-iron to six feet for birdie on No. 14. He then hit a wedge to four feet for birdie on No. 15. On the 16th hole, he lipped out a 30-foot birdie putt. On the par-5 17th hole, he drained an eagle putt to get to 5-under for the tournament. He followed that up with a great approach on No. 18, another par-5, which left him with 15 feet for another eagle. He just missed that putt but tapped in the birdie putt to card a 65 on the day and a 6-under par finish for the championship.
"I hit a lot of good shots today," Rohanna said. "I really could have been lower than 1-under after 13, but I just had a lot of tough putts that didn't fall."
Rohanna remarked that the 16th hole would be his downfall, as he shot three-over par during the three rounds on that one hole. And after finishing two shots out, it would be hard to argue that. However, that validated what Stewart, the winner, said of Rolling Green.
"On this course you want to survive the par 3s and birdie the par 5s," Stewart said. "If you can do that, you'll be pretty successful."
One of those par 5s was the 17th hole, where Stewart made the birdie putt that decided the championship on Wednesday afternoon. After hitting what he described as a "lousy" tee shot to the left, he got a nice lie in the rough. Faced with 205 yards to the pin, he knew he wanted to cut his hybrid around a tree to the hole. He did just that, ending up about 30 feet away for eagle. A two-putt from there gave him the birdie to put him ahead of Sterbinsky by a shot, and by two over Ingraham.
"That was such a big putt to make," Stewart said, acknowledging that he'd seen the leaderboard and knew where he stood.
On 18, Stewart's tee shot was in the right rough. Ingraham, needing eagle to make it interesting, hit a great approach shot to about 15 feet. Stewart then hit his approach into the greenside bunker on the left. His bunker shot ended up 17 feet away.
"The sand was really firm there and I caught it a bit heavy," Stewart said.
Putting first, with a chance to win the championship, Stewart left his birdie try about three feet short. Ingraham then stepped up for his eagle chance. After he missed, Stewart knocked in his par putt to claim the title and the accompanying $8000 winner's check.
While it was Stewart's first victory in a Pennsylvania Golf Association event, he's no stranger to the top of the leaderboard in a big event. He won the 2002 Philadelphia Amateur Championship, and then, after turning professional, he captured the 2013 Drexel Morgan & Co. Classic, the biggest event on the Philadelphia PGA Section's annual calendar. Still, he said, the Pennsylvania Open ranks right up there.
"This is one of the biggest wins of my career," he said. "To finally win something statewide, and to do it here at Rolling Green, is such a great feeling."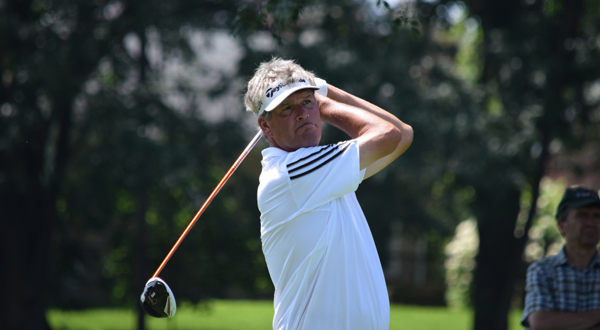 Stu Ingraham, 1998 champion, played solid all week to earn runner-up honors
Ingraham fell just short in his attempt to set a record by winning the championship 17 years apart. Instead, he had to settle for a runner-up finish for the second time.
Tying Rohanna for fourth place was first round leader Kevin Kraft, a professional from Newport, Pa., who shot a final round 68 to finish at 6-under par.
The Pennsylvania Golf Association would like to thank the staff and membership of Rolling Green Golf Club for their hospitality during the championship.
[ Back ]