Super-Senior Division Scorecards
Mayne and Weaver Win Senior Four-Ball in Playoff; Ruby/McGuire Repeat as Super-Senior Champs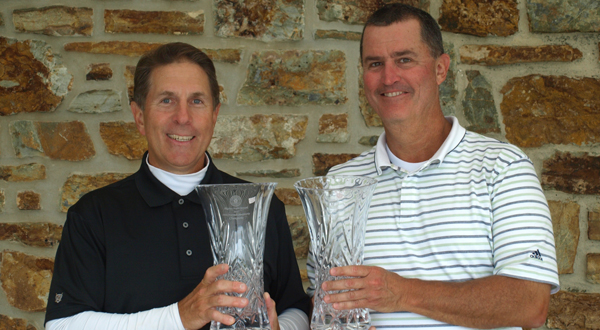 Ron Weaver and Scott Mayne pose with the champion crystal
YORK, Pa. — Scott Mayne and Ron Weaver emerged from a three-team playoff to capture the championship in the 23rd Pennsylvania Senior Four-Ball Championship, presented by Allegheny Health Network. With the event shortened to 18 holes due to inclement weather in the area, Monday's opening round was suspended and play was completed today at the historic Country Club of York. At the end of the 18-hole competition, three teams were tied for the lead at -4: Mayne (Hershey CC)/Weaver (Bent Creek CC), Rich Thon (Springhaven)/Andrew Harmer (Springhaven) and Thomas Bartolacci, Jr. (Saucon Valley CC)/Roc Irey (Lookaway GC). After Thon and Harmer bogeyed the second playoff hole, it was down to two teams for the championship, and on the fifth playoff hole (the par 3 17th), Weaver tapped in for par while Irey and Bartolacci couldn't convert their par chances.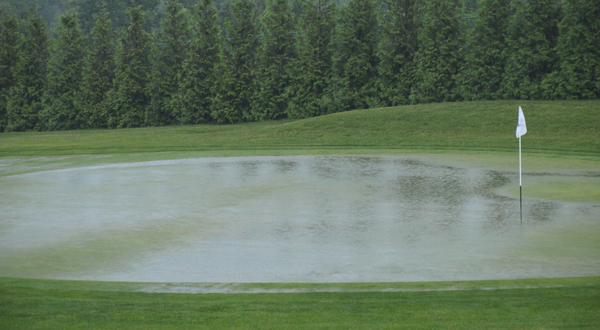 Heavy rain on Monday afternoon forced cancellation of round two
Play was very difficult on the Donald Ross design, as 1 1/2 inches of rain fell on Sunday night and 2 1/2 inches on Monday, forcing the championship to be reduced to just 18 holes. For Tuesday's play, temperatures were in the low 50s and a steady drizzle came down throughout the day.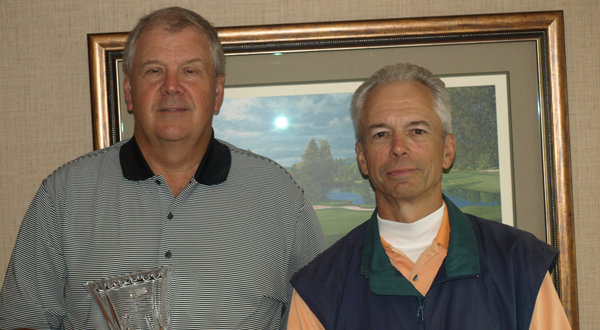 Joe Ruby and Mike McGuire successfully defend their Super-Senior crown
In the Super-Senior division, Nemacolin Woodlands Resort's Joe Ruby and Hannastown GC's Mike McGuire fired a 3-under 69 to claim the title by one stroke over Mike Atkins and John Obert. A late birdie on the par-3 17th hole ended up being the difference for Ruby and McGuire, who won the event for the second consecutive year after capturing last year's title at the Mystic Rock Golf Course at Nemacolin Woodlands. Ruby and McGuire were consistent throughout the round, with three birdies and no bogeys. They closed strong on each nine, with the aforementioned birdie at 17 plus a birdie on the par-5 ninth hole, in addition to a birdie on the par-5 second hole. The other team to finish under par in the Super-Senior division was Carlisle CC's Robert Marek and Nicholas Pallante, who shot a 1-under par 71. With the victory, Ruby and McGuire become the second team to repeat as Super-Senior champions since that division was formed in this event, as King Knox and James Sherratt duplicated the feat in 2010 and 2011. The margin was razor-thin thanks to an amazing run by Atkins and Obert had four one-putts and a chip-in among their last five holes.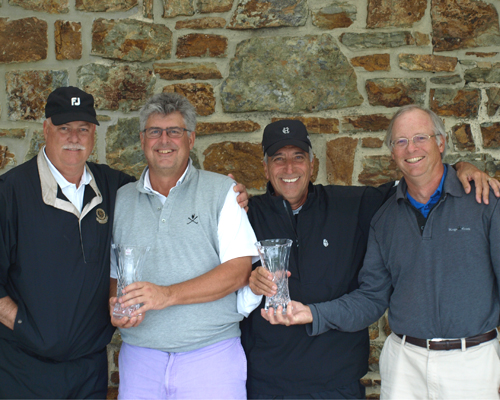 Runners-Up Drew Harmer/Rich Thon and Roc Irey/Tom Bartolacci
In the Senior division, Mayne and Weaver's victory was even more impressive considering that it came against stalwarts like Irey and Bartolacci, a duo that won this event in 2009 and 2011. After 16 holes of the championship, it didn't even look like Irey and Bartolacci would make the playoff. A bogey on 16 left them at -2 for the championship. But Bartolacci rolled in a four-foot birdie putt on the 17th hole and Irey followed with a seven-footer for birdie on No. 18, putting them in the playoff.
"The day was extremely difficult," Irey said. "With how wet it was and with it raining constantly all day, it was tough out there."
In the playoff, the three teams played the 18th hole first. All made par, necessitating a second try at the same hole. On that second playoff hole, Thon and Harmer couldn't get up and down, bogeying to finish in a tie for second. Irey had a great up and down to keep his team in it. Mayne had a chance to win on that hole, but his downhill birdie putt from 12 feet just missed. The third playoff hole was No. 17, and both teams made a par 3 from 166 yards. Back to the 18th hole for the fourth playoff hole, once again both teams made routine pars. That set up the fifth and deciding playoff hole, once again back to the 17th. Mayne and Weaver both hit the green, while Irey was in the greenside bunker and Bartolacci was just over the flag in the light rough. Irey's sand shot came out to about 12 feet, while Bartolacci chipped to five feet. Weaver was first to putt, about 25 feet out. He just missed but was able to tap in for the eventual championship-winning par. After Bartolacci and Irey couldn't save par, the new champions were crowned.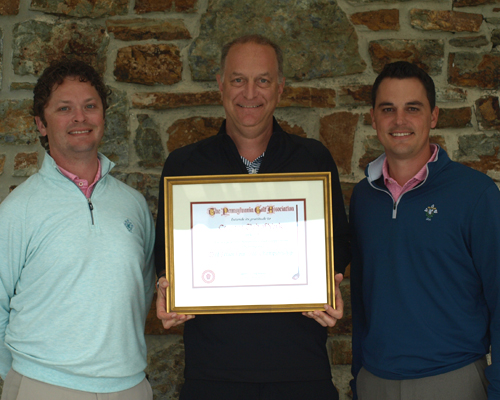 CC of York Head Pro Kevin Muldoon (right) and Assistant David Grossman (left) receive
appreciation plaque from Championship Chairman Jason Barkley
The Pennsylvania Golf Association would like to thank the staff and membership of the Country Club of York for once again hosting the association for a championship. Special thanks to Head Professional Kevin Muldoon, Superintendent Patrick Michener, and General Manager Bryan Danehy. Also, thanks to Allegheny Health Network for their sponsorship of the event.
[ Back ]