Lefavor outlasts all challengers for first State title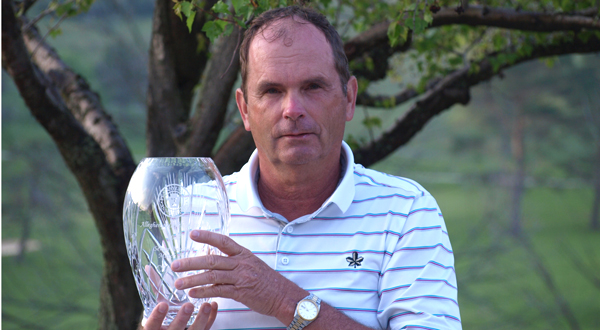 Joe Lefavor poses with the Championship Crystal
Hollidaysburg, Pa. – Patience was paramount on day two of the Allegheny Health Network 9th Senior Match Play Championship that featured three weather delays at Scotch Valley Country Club, near Altoona. Joe Lefavor, Sunnehanna Country Club, met Paul Schlachter, The Club at Nevillewood, in the final match where he used two clutch birdies on holes 15 and 16 to help secure the win. The final match, which took nearly six hours to complete due to lengthy lightning delays, was a true battle of patience and focus.
After bouncing back from being 2-down through three holes, Lefavor held a 2-up lead through eight before play was suspended for over two hours. As daylight became limited, play resumed at 6:00 p.m. and Schlachter battled back nicely after the long wait, and birdied the par 5, 449 yard uphill 9th hole to cut the deficit in half. On 11, par 4, 379 yards, Lefavor pulled his drive into the trees and punched toward the green and failed to get up-and-down. Schlachter found the green in regulation and made a cool par to square the match heading to the par 3, 12th playing 175 yards up the hill. After both players found the green, Lefavor putted close for a conceded par, as Schlachter eyed his quick downhill birdie try from about 20 feet. His putt slid by the hole and rolled past and he missed the comebacker to give Lefavor a one hole advantage. On hole 13, par 4, 355 yards, Lefavor laid up short, then found the greenside bunker and wound up with bogey. Schlachter hit a big drive just short of the green and wedged on and two-putted to square the match once again.
After the two exchanged routine pars on 14, Lefavor took matters into his own hands. On the par 4, 338 yard 15th hole, both players found the fairway and were left with wedges in for their approach. Schlachter played first and found the putting surface a bit left and short of the hole, about 30 feet away. Lefavor played a brilliant wedge to within a foot for a conceded birdie, and Schlachter's attempt rolled by the hole. A similar scenario played out on hole 16, par 4, 345 yards, as Schlachter again found the green just left of the hole, and Lefavor played another beauty to about 8 feet, hole high right. Schlachter's birdie bid rolled just over the edge, and Lefavor brushed in his putt to push the advantage to 2-up.
Lefavor found the green safely on the downhill par 3, 175 yard 17th as Schlachter's tee shot found the left bunker. The ensuing bunker shot nearly struck the flagstick and settled a few feet away from the hole. Lefavor putted his close to the hole and Schlachter picked up his mark and conceded the match.
It wasn't easy getting to the final for Lefavor, as he was locked in a semifinal battle with Moselem Springs' Tom Hyland. Hyland and Lefavor needed 21 holes to decide the winner, as Lefavor made a 30-footer for par on the 21st. Hyland played solid golf, and holed several key par putts to extend the match.
Lefavor defeated John Rodney, Diamond Run Golf Club, 1up in the round of 16, then used the same margin of victory over Byron Whitman, Golden Oaks Golf Club, in the quarterfinals. Whitman upset top-seeded Robin McCool, Saucon Valley Country Club, in the morning round of 16 in a match that also went 21 holes.
Schlachter made his way to the finals by defeating Michael Quinn, Edgmont Country Club, 6&4 in the round of 16, then beat James Bryan, Latrobe Country Club, 3&2 in the afternoon Quarterfinal. A semifinal match with Tom Bartolacci, Saucon Valley Country Club, went in Schlachter's favor, 2&1.
Scott Mayne, Deer Run Golf Club, played stellar golf in both the round of 16 and quarterfinal. He defeated Ken Phillips, Lancaster Country Club, 5&4, in a round where he was the equivalent of 6-under. Bartolacci then returned the favor to Mayne in their quarterfinal match as Tom was 5-under en route to a 1-up victory to move onto the semifinal against Schlachter.
Super-Senior
DeNezza dazzles to win Super-Senior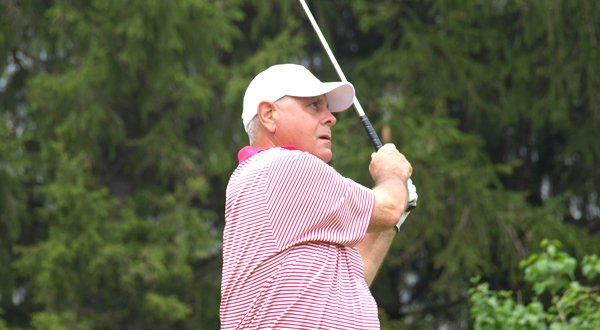 Dave DeNezza eyes a shot on the par 3, 17th hole
Dave DeNezza, Hannastown Golf Club, defeated Don Lamb, St. Clair Country Club, 6&5 to stake claim to another state title for DeNezza and Hannastown.
DeNezza notched victories on the first five holes and made the turn 6-up over Lamb.
From there, it was a matter of time, as the two exchanged halves until the match was closed.
Lamb made his way to the Super-Senior final by defeating Ross Van Wagenen, Windber Country Club, 2&1 in the quarterfinal, and then beat George Anderson, The Club at Shadow Lakes, 7&6 in the semifinal.
DeNezza played a close match with Todd Kennedy, Country Club of York, eventually winning 2-up. In the semifinal, he defeated Charles Warren, Cedarbrook Golf Club, 2&1. Warren upset top-seeded Joe Ruby, Nemacolin Woodlands Resort, 2-up in the quarterfinal.
Special thanks to our sponsor, Allegheny Health Network, as well as the entire staff and membership at Scotch Valley Country Club, owned and operated by the DeGol Organization. Many thanks to head professional Dave Long, club manager Barb Cottrill, and Superintendent Tim Wilk for their hard work and professionalism.
[ Back ]