Super-Senior Flight Scorecards
DeNezza Claims Super-Senior Title in Playoff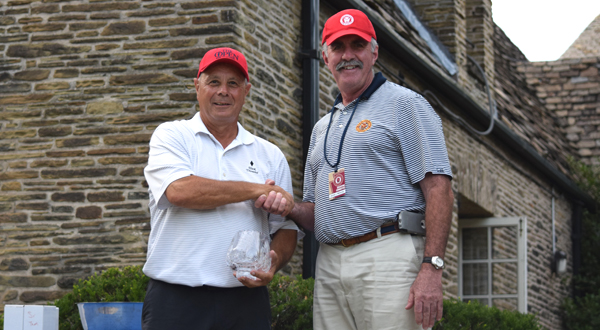 VERONA, Pa. - With some of the top names in the Pennsylvania Golf Association's Super-Senior ranks near the top of the leaderboard heading into Tuesday's second round, it was sure to be an exciting finish in the Super-Senior division of the 56th Senior Amateur Championship, presented by Allegheny Health Network. Exciting it was, as Dave DeNezza won in a playoff over Lee Lykens and Joe Ruby to claim the title at the Longue Vue Club.
Ruby had the lead after the first round, and the Nemacolin Woodlands Resort member looked to keep it going through the final 18 holes on Tuesday afternoon. After playing his first 10 holes in five over par, though, the outcome was in doubt. But after a birdie at No. 6 (his 16th hole of the day), Ruby went to the 8th hole needing par to claim the title. However, he made bogey, setting up a playoff with two competitors who had finished hours before in the morning wave.
Lykens, the 2013 champion in the event, vaulted back to the top of the leaderboard with a morning round of 71, including a stellar 32 on the back nine. The two-under par back nine enabled the Indiana Country Club member to post a 36-hole score of 150 (+10). Also playing in the morning was DeNezza, a Pennsylvania Golf Association stalwart out of Hannastown Golf Club. DeNezza shot a 36 on the back nine, highlighted by a birdie on No. 13. And on the eighth hole, the closing hole of his round, he knocked in a birdie putt to also post a score of 10-over, tying Lykens. The two of them then waited for Ruby to come in to see if the scores would hold up. When that proved true, the trio went to a playoff.
The playoff started on No. 18. DeNezza and Lykens, back on the course for the first time in roughly six hours, both made par, while Ruby made bogey and was eliminated. The playoff then went to No. 16, where each player made bogey. They moved to the 17th where they once again traded bogeys. After that, the duo returned to No. 18. DeNezza successfully converted a par putt, but Lykens was unable to sink his, resulting in DeNezza's victory in the event. In doing so, DeNezza became the third player in the history of the Pennsylvania Golf Association to win both the Senior and Super-Senior divisions at some point in his career, joining Ed Hennigan (won the Senior in 2001 and Super-Senior in 2012) and Phil Saylor (won the Senior in 1998 and Super-Senior in 2008). DeNezza won the event's Senior division in 2009 at Huntsville Golf Club.
The Pennsylvania Golf Association would like to thank the staff and membership of Longue Vue Club for their support and hospitality during the event.
[ Back ]