Brown Takes Mid-Am in 18-Hole Shootout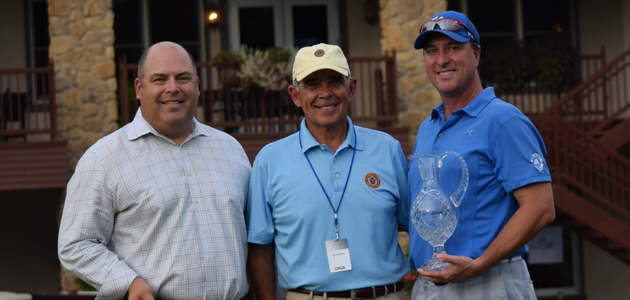 Head Professional Jonathan Doctor and President Jim Parsons congratulate Dan Brown
MALVERN, Pa. - After heavy rains on Monday reduced the 23rd Pennsylvania Middle-Amateur to just a single round, the field of 92 golfers headed to Chester Valley Golf Club today with one goal in mind - go low. But at the end of the day, no one was lower than Dan Brown of Pine Meadows Golf Complex, who fired a 2-under par 68 to win the championship, presented by Allegheny Health Network.
"Realistically, most of the golfers here are probably better than I am," the 50-year old Brown said. "But every dog has his day, and with an 18-hole competition, anything can happen."
Brown played his round in the morning, starting on the par-3 10th hole. He cited a par save there as starting him on his run to the title.
"I rolled a 20-footer in there for a great par save," Brown said. "It's probably a different day if I miss that."
After four consecutive pars, Brown went to the next par-3, the 118-yard 15th hole. He hit a gap wedge to about 12 feet and sank the putt to get into red numbers. That same combo worked on the par-4 16th, as he hit the gap wedge again on his approach, and once again, drained a birdie putt in the 12-foot range. With that he moved to 2-under par, and it turns out that his steady play the remainder of the day would ensure that the score held up.
Brown made pars for each of his remaining 11 holes, by his account only missing one or two fairways all day and complementing that with excellent work on the greens.
"I putted well all day. Two or three weeks ago, I was sitting in my living room and just grabbed my putter and decided to chop it down. I cut it down I don't know how many inches, put a new grip on it and it turned out that it was the proper length because today was one of the better putting days I've had," Brown remarked.
The round was even more impressive because other than competing in the Pennsylvania Better-Ball Championship at Chester Valley in 2014, Brown had not played Chester Valley, as he wasn't able to squeeze a practice round in this year.
"I'm very thankful for this win," the Cleona, Pa. resident said. "From a humble beginning guy to winning the Pennsylvania Mid-Am, it's a humbling experience."
The two biggest threats to Brown on the day were local golfers Scott McNeil and Oscar Mestre. McNeil, representing Bala Golf Club, was the defending champion after winning at Huntsville Golf Club in 2015. Despite opening with a bogey on the 381-yard first hole, McNeil made his third birdie in a five hole stretch on No. 7 to get to 2-under. But he promptly gave that stroke back with a bogey on the par-4 8th hole. After a string of pars, McNeil then moved into the lead with back to back birdies on No. 14 and No. 15 to get to -3 for the day. However, he had to take an unplayable lie on No. 16 en route to a bogey and then followed that up with a bogey on No. 17 as well before parring the last hole to finish at 69 (-1).
For Overbrook Golf Club's Mestre, the afternoon round began with a birdie on the first hole followed by a bogey on the par-5 second. After trading bogey for birdie on holes 7 and 9, Mestre made another birdie on No. 11 to get to -1. However, like McNeil, the 16th hole put a damper on his chances, as Mestre bogeyed it to drop back to even par. While he did birdie No. 17, he couldn't equal that feat on No. 18 and settled for a score of 1-under par 69.
A group of four golfers tied for fourth place at 70 - PAGA Individual Member Keith Matt, Lehigh Country Club's Bob Beck, Carlisle Country Club's Jeff Frazier and Huntsville Golf Club's Todd Vonderheid, who actually had the lead after a front nine 32 (-3) but shot 38 on the back nine to finish at even par.
The Pennsylvania Golf Association would like to thank the staff and membership of Chester Valley Golf Club for their hospitality during the championship.
[ Back ]