Hughes Stands Tall to Win Amateur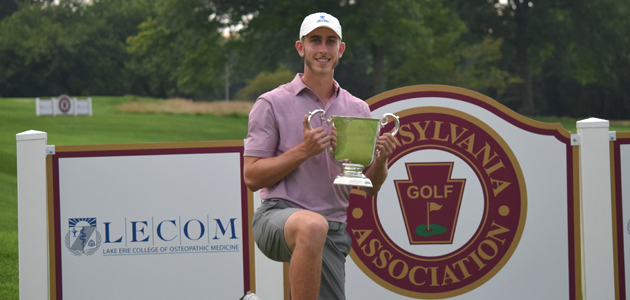 JD Hughes poses with the Pennsylvania Amateur Trophy at White Manor Country Club
MALVERN, Pa. – JD Hughes had to rise above much more than the weather to claim the 104th Pennsylvania Amateur Presented by LECOM at White Manor Country Club.
Hughes needed to stave off Penn State University teammate Cole Miller, whose tee-to-green game in the final round was something to behold, in addition to a five-hour lightning delay Wednesday.
Also charging from the penultimate group were Yardley Country Club's Chris Ault, 2013 champion, and Philadelphia Cricket Club's Cole Berman.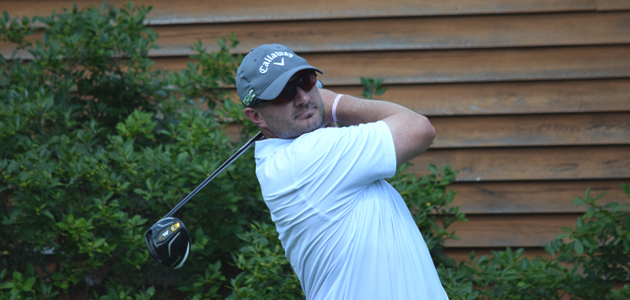 2013 Champion Chris Ault finished tied for Runner-Up with Cole Miller at White Manor Country Club
Hughes, 21, used a red-hot putter to outlast Miller, Ault, Berman, Matt Holuta, who was tied with Hughes at 6 under entering the last day, and the rest of the field. Hughes carded a 4-under-par 67 in the final round for a three-day total of 10-under-par 203.
The rising junior at Penn State birdied three of his first six holes Wednesday to separate. Hughes converted a 15-footer on No. 2 (par 4, 431 yards) and pair of 10-footers on Nos. 4 (par 4, 402 yards) and 6 (par 5, 554 yards).
"I have been working really hard on my putting," Hughes, of Carlisle, Pa., said. "Putting is one of those things I have to really focus and work on to be able to compete in any tournament. I would definitely say I went through a good amount of preparation and I was comfortable on the greens. Being prepared helped me be relaxed."
The final pairing of Miller, Hughes and Holuta were a combined 5-under-par on the front. The only bogey of the group came from the eventual champion Hughes.
After finding trouble in the trees off of the tee on No. 9 (par 4, 436 yards) he hit his approach to the front edge of the green and would miss a seven-footer for par.
"Everyone makes bogeys," Hughes said. "After that bogey, I knew I still played a really solid first nine holes and I didn't want to expect perfection out of myself. The rain delay gave me an opportunity to collect my thoughts and get mentally focused again because I knew I had another nine holes to continue to do what I did on the front."
After the horn sounded at 12:30 p.m. and stopped play, the competitors wouldn't get back on the course officially until 5:30 p.m. — possibly halting any momentum gained after the first nine holes of the final round.
Hughes' teammate and rising senior at Penn State, Cole Miller, wasn't going away at all.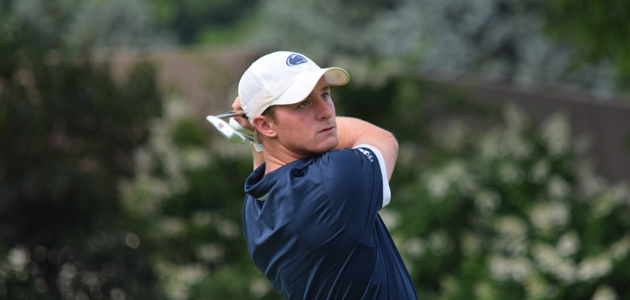 Defending Champion Cole Miller eyes a tee shot at White Manor Country Club
He played his first nine holes in 1 under, blemish-free. The birdie coming on the difficult No. 3 (par 3, 255 yards) after blasting a 2-iron to 10 feet, a putt that would be the longest Miller holed all-day.
Miller, the tournament's defending champion, would par the next 14 holes to remain 1 under for the day and 6 under for the tournament.
His lone bogey of the day would come on the par-4, 418-yard finishing hole at White Manor. After piping a drive down the right-center of the fairway, Miller tugged his approach to the left, leaving a tough par.
He would just miss a 15-footer to complete the round bogey-free, but ultimately Miller was satisfied with how he defended his title. Miller said he battled some back trouble throughout the week but was able to fight through it.
"It was a great final round today," Miller, a recent U.S. Amateur Qualifier as a result of a 9 under performance at Colonial Golf & Tennis Club in Harrisburg, said. "From tee to green I was really solid and I didn't have much success on the greens but that happens. I think my effort to defend my title from last year says a lot about where my game is headed. Consistency has been a huge key for me this year. It shows that I am on the right path with my game."
In addition to a fiery teammate, Hughes needed to overcome a trying circumstance on the 13th hole (par 4, 460 yards). The 6-foot-6-inch Carlisle Country Club member found his ball with some mud on it in the fairway.
Hughes said he didn't make the best of swings, and his ball landed next to Holuta's just short-left of the green. As a result, Hughes was able to see how the ball would react to being pitched up such a steep slope.
He cozied it up to within three feet and made a key par save. Hughes said to win tournaments of this caliber you have to make important pars when you get out of position.
"JD played well and putted really well," Miller, 22, of New Tripoli, Pa., said. "I didn't think my putter was good enough to keep up with him today because he rolled it so well. I think No. 11 was a turning point since I had about an eight-footer for birdie and he was just outside of me. Him making his and mine missing was a turning point for sure and I knew after that I would have a tough time catching him."
Five hours of weather, a gritty teammate and a grimy golf ball, Hughes stood tall above it all to garner his maiden Pennsylvania Golf Association Major victory. A performance he will never forget.
"I was hitting the ball so well this summer," Hughes, who joined fellow lefty and 2015 champion Isaiah Logue as the last left-handers to win the Pennsylvania Amateur, said. "I just needed to keep the right mindset to avoid from making self-inflicted mistakes. I took it one hole at a time and I think that helped me a lot out throughout the week. I kept my chin up and I am proud of that."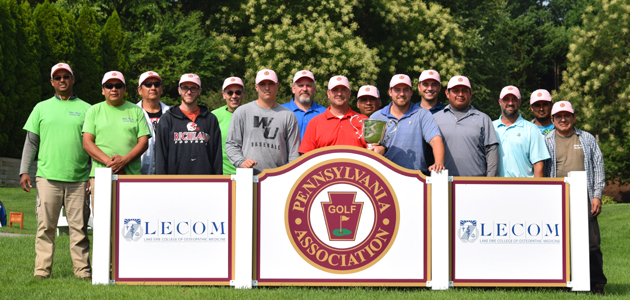 Superintendent Mike Mulhare and his staff at White Manor Country Club
The Pennsylvania Golf Association would like to thank corporate partner LECOM and the entire staff and membership of White Manor Country Club for their support and hospitality during the event The 105th edition of the Pennsylvania Amateur will be held at Sunnehanna Country Club in Johnstown, Pa. on July 30-Aug 1.
[ Back ]