Smith Captures Fifth R. Jay Sigel Championship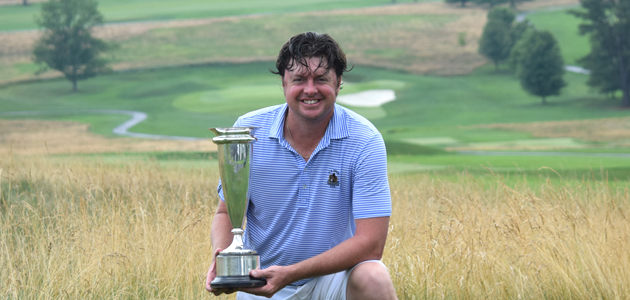 Nathan Smith poses with the R. Jay Sigel Trophy at the Country Club of Scranton
Clarks Summit, Pa. – Nothing would stand in the way of Nathan Smith making history once again.
Not even Mother Nature.
Wildwood Golf Club's Nathan Smith used a solid putter and nerves of steel to best Champion Lakes Golf Club's David Brown, 3&1, on Wednesday at the Country Club of Scranton in the 14th R. Jay Sigel Match Play Championship Presented by LECOM.
Open Championship-like monsoons engulfed the Country Club of Scranton on two occasions: one causing a 30-minute delay and the other as the match was nearing its conclusion.
Smith's victory secured his fifth Jay Sigel Match Play title, the most in the history of the event since the tournament was named in Sigel's honor in 2004.
The Pittsburgh, Pa. native jumped out of the gates early by birdieing No. 1 (par 4, 402 yards). His 3-wood found the fairway and he hit his 9-iron from 145 yards to 15 feet behind the hole, leaving a treacherous putt down the hill that he would roll in dead center.
"Getting up early in the match is extremely important especially against a guy like Dave," Smith said. "He is such a great player and has a such a great short game. It was nice to start so well."
Brown and Smith would match scorecards up until the par-3 fifth (225 yards). Brown was over the green with his tee shot and Smith found the front left greenside bunker. Brown ran his second shot 15 feet by the hole and Smith blasted out of the bunker to about 10 feet.
Like he had all week, Smith rolled his par attempt in the center of the hole to take a 2-up lead through five holes after Brown missed his par putt.
Then the weather took over for a little.
Heavy rains covered the golf course and forced Brown, 55, and Smith, 38, to halt play. Brown won the seventh after a brilliant short-sided flop shot. He capitalized on an uncharacteristically errant drive by Smith and his lone bogey of the final.
In his semifinal match against Sean Knapp, Smith birdied both seven and eight.
"No. 7 (par 4, 399 yards) and No. 8 (par 4, 296 yards) were holes I had success on all week here," Smith said. "I had been hitting driver off of eight and the yardage is a perfect driver for me, which makes it a very comfortable hole. We had about a 30-minute rain delay and then after that, I could barely hit a 4-iron off the tee, let alone a driver."
The turning point in the match rested on No. 9 (par 4, 343 yards). Smith's birdie moved him to 2-up and in control of the match.
"The birdie on nine was big," Smith said. "I have to hit hybrid off of the tee there to avoid the bunkers and I found myself way back in the fairway. I managed to flip a 48-degree wedge in there to about six feet. It was nice to make the putt and take a 2-up lead to the turn. Although I felt like I let seven and eight go, being 2-up thru nine was a good feeling."
Brown continued to battle after losing the par-3 11th to a birdie by Smith after the three-time Walker Cupper stuffed an 8-iron to six feet and jarred the putt for a two.
A brilliant birdie by Brown on the par-4 13th put him within striking distance of Smith.
From Nos. 8-16, Brown hit every green in regulation and kept applying pressure on Smith. But, Smith looked like he blocked each punch Brown tried to throw with the success he had on the greens.
"Nathan made a few solid six footers and they go right in the center of the hole," Brown said. "I knew I had to putt better than him because he hits the ball better than me."
Smith made two knee-buckling par putts on No. 15 and No. 16 (in the pouring rain) and would hold off Brown. Smith's demeanor was one of a player who knew he had no chance of missing those crucial putts.
"I think in match play you can be more aggressive on those six to eight footers to halve the hole or win the hole," Smith said. "No lead is safe on this course. You go to the back nine and 15-17 are big boy holes and anything can happen there. I made some key putts on the back to keep my lead."
Brown won the PAGA's Senior Amateur Match Play in May at Lebanon Country Club and was looking to double-down at the R. Jay Sigel Match Play to become the only person to win both events in the same year.
The match would reach its conclusion on the par-3 17th (225 yards). Smith and Brown both found the right greenside bunker off of the tee and both hit average bunker shots. Smith splashed out to 15 feet and Brown to 18 feet. Brown missed his putt on the edge as he had most of the day and Smith buried his putt to win the match, 3&1.
When all was said and done, Brown was pleased with how things turned out this week and echoed the feelings of the competitors about the Country Club of Scranton.
"I played pretty well," Brown, of Ligonier, Pa., said. "I loved the week here at the Country Club of Scranton and it is a great match play golf course. It is really fun because the guys who bomb it had a lot of navigating to do here."
Smith, a four-time U.S. Middle-Amateur winner, couldn't help but smile when discussing the tournament's namesake, the great amateur, and fellow Pennsylvanian R. Jay Sigel.
"I am honored to have my name associated with anything that has Jay Sigel's name on it," Smith said. "He was a great amateur and champion and it means a lot to me to win his tournament for the fifth time."
Smith, a decorated amateur in his own right, used his sharp flatstick to etch his name a fifth time into trophy he holds more than anybody else in Pennsylvania.
"I'll remember everything from this tournament," Smith said. "I still remember everything from the Pennsylvania Amateur that was here in 1997 when my buddy Sean Knapp won. You remember the conversations, the camaraderie and how well the people treated you. When you win you remember everything."
Semifinals
Nathan Smith (8) vs. Sean Knapp (13)
Two good friends dueled once again as Smith and Knapp, of Pittsburgh National Golf Club, competed in the first semifinal match. Smith defeated his close friend Knapp, 3&2.
The duo matched cards through the first six holes and Smith drew first blood on No. 7 (par 4, 399 yards) after making birdie and would birdie the par-4 eighth as well to take a 2-up lead.
Although he grasped the early lead, Smith knew the match wasn't over.
"I didn't have many expectations coming into the match against Sean," Smith said. "Sean plays well here at the Country Club of Scranton and he won the Pennsylvania Amateur here in 1997. I played with him in the stroke play portion this week and I play with him a lot, so I knew I had to play well to beat him."
Knapp, 55, of Oakmont, Pa. battled back with a birdie on the ninth, a par 4 measuring 343 yards, after knocking his approach close.
The turning point in the match came on Nos. 10 and 11, holes which Knapp three-putted. He three-putted No. 10 from 20 feet and No. 11 from 12 feet.
Knapp said he has putted well all week, but struggled to see the lines on the green against Smith.
"I didn't putt well at all today," Knapp said. "And if I have learned anything from Nathan throughout the years it is that you can't give away holes. There were a number of holes that I allowed him to win unnecessarily. I missed a couple short putts earlier in the match that would have allowed me to take control."
Smith played the final seven holes of the match in 3-under-par to close out his good friend Knapp and secure his sixth finals appearance, the most in PAGA history. Smith passed Arnold Cutrell's five appearances after defeating Knapp.
"It is tough playing someone you know," Smith said of Knapp, the best man at his wedding. "You try not to think about it a lot. It is weird a lot of times because you feel like you are rooting for your friend and it isn't easy. It is emotional because he has done so much for me in the game and he is my best friend."
David Brown (7) vs. Steve Cerbara (14)
The second semifinals match of the day pitted R. Jay Sigel Match Play rookie Steve Cerbara, 19, of Jericho National Golf Club against two-time winner David Brown. Brown would prevail, 2&1.
A close match throughout without any player getting more than 2-up, the turning point came on the par 5-14th (585 yards). Brown misclubbed and went over the green with his third, leaving a tough par. Cerbara made bogey and Brown needed to get up-and-down to maintain his 2-up lead.
He would perfectly nip a 60-degree wedge off of a tight lie to 6 feet and make his par putt to keep the match in his favor. Brown escaped No. 17 as well and would advance to his third final.
"I was 1-up going into No. 17 and the hole was never in my favor," Brown said. "Until he missed his par, I didn't think I was going to win the hole. I recovered well and was able to advance."
Cerbara, a soon to be sophomore at Furman University, was competing for the first time in "The Sigel" and put together a masterful debut. Although he finished short of his end goal, Cerbara grinned when asked about what he will take away from this week.
"I didn't play as well as I did Tuesday so I knew it was going to be a scrambling round," Cerbara, of Langhorne, Pa. said. "I didn't take advantage of my opportunities and I made a lot of silly mistakes today. It was a great week here. My recovery skills were really good this week and I was able to save par if I got into trouble. Finishing as a semifinalist gives me a lot of confidence to put towards my upcoming tournaments."
The Pennsylvania Golf Association would like to thank the entire membership and staff at the Country Club of Scranton for their generous hospitality in hosting the 14th R. Jay Sigel Match Play Championship.
[ Back ]