Bricker takes Pennsylvania Junior title;
Club at Nevillewood team title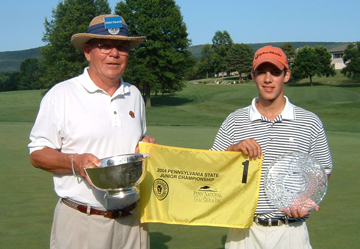 Fayetteville, Pa. - Chad Bricker from nearby Waynesboro CC carded a 2-under par 70 to finish at 2-under 142 and take home the 2004 Pennsylvania Junior Championship. Bricker, 17, started the day two strokes back of leader Jimmy Markovitz, Club at Nevillewood, after his first round 72, but birdies on his first two holes got him off to a roaring start. After finishing second last year, Bricker went into today's final round thinking he needed to go low to win the title. "I went into today thinking I needed to shoot 67," said Bricker. "Hard work pays off," said the high school senior-to-be as he grinned from to ear-to-ear. Bricker will next test his game at the Pennsylvania Amateur Championship to be held July 26-28, 2004 at Fox Chapel GC near Pittsburgh.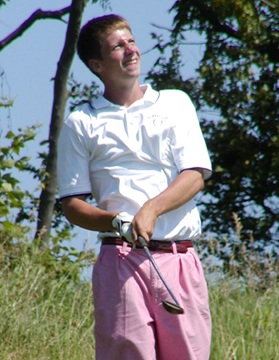 Markovitz, 16, got off to a slow start today with a front nine 38 but rebounded nicely with a back nine 35. However, it wasn't enough to hold off the hard-charging Bricker. "I knew I needed to finish strong because I heard he [Bricker] was 3-under. I'll just come back next year," said Markovitz.
Jeff Greist, Waynesborough CC, finished in third place for the second consecutive year after firing rounds of 74 and 70.
Austin Wolf, Bent Creek CC, captured the 12 & 13 age division title holding off a late charge by Robert Galbreath, Jr. of Huntingdon Valley CC. Wolf, 13, played consistent golf over the two days shooting a 1-over par 73 on the Founders Course on Monday and a 4-over par 76 on the Iron Forge course today. His win today comes on the heels of four wins earlier this year on the IJGT and FCWT tours and is a major improvement over last year's fourth-place finish.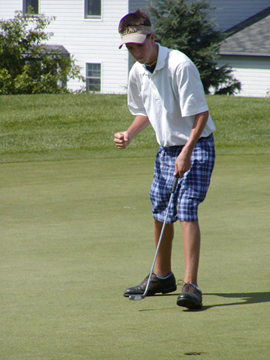 Galbreath, Jr. followed up his win in the Golf Association of Philadelphia Junior Boys' Championship last week with another second-place finish in the younger division of the state championship. After a disappointing 8-over par 80 on Monday, Galbreath, Jr. rebounded with a 2-under par 70 putting the pressure on Wolf, who was playing in the group behind him. Galbreath, Jr., a soon-to-be eighth grader, capped off his round by birdieing two of his last three holes as he posted the only red number in the younger division.
Michael Kania of Overbrook GC finished alone in third place for the second straight year after firing rounds of 75 and 78 to finish four strokes back of Wolf.
The team from the Club at Nevillewood consisting of Jimmy Markovitz, Stephen Markovitz, and John Popeck took home their clubs' first-ever Pennsylvania Team Championship. Their two round total of 443 was good enough to win by nine strokes. The team championship consists of teams made up of four eligible boys from the same member club. The low three scores out of four each day comprise their team's total with the low gross total being declared the champion.
This year's field consisted of 111 players under the age of eighteen. There were 96 contestants in the 14 to 17 age division and fifteen in the 12 & 13 age division. Monday's first round was played on the 6958 (14 to 17) and 6492 (12 & 13) yard, par 72 Founders course while today's second round was played over the 6877 and 6462 yard, par 72 Iron Forge course.
[ Back ]