Vassil holds on to take Hemlock Championship
MOOSIC, Pa.- Michael Vassil of the Country Club of Scranton fired an even-par (69-73) 142 under cool, wet conditions to outlast a feisty Glenn Smeraglio of Yardley CC by one stroke to take the second running of the Hemlock Championship at Glenmaura National GC (par 71, 6,554 yards) on Tuesday.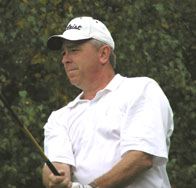 Michael Vassil
Arthur Kania, Jr. of Overbrook GC carded a 1-under-par 70, the only sub-par round of the second day, to finish in third place with a 5-over-par (77-70) 147. John Zavada of Elkview CC and Drew Panebianco of Talamore at Oak Terrace CC finished in fourth and fifth place respectively.
But it was Vassil who picked up right where he left off after yesterday's sub-par performance scorching the front nine with birdies on hole Nos. 1 (par 5, 557 yards) 6 (par 5, 516 yards) 7 (par 3, 173 yards) and 9 (par 3, 167 yards). He made the turn at 2-under, extending his lead to four strokes through 27 holes.
"Coming in I knew I had one more mistake to make than everyone else," said the 49-year-old from Dalton, Pa. "I played real solid on the front with four birdies. You really pick up on the field making twos on the par 3s."
But as the rain continued to fall and the temperature began to drop, Vassil saw his lead quickly diminish after his errant tee shot on No. 10 (par 5, 542 yards) went into the right-side hazard. From that point the only thing Vassil could salvage was a double bogey as Smeraglio managed to save par and close the gap by two strokes.
"When we got to the tee, the hardest rain of the day started," Vassil said. " I didn't take care of winding myself up and I just blocked it into the hazard, and it went in there early so I was way back."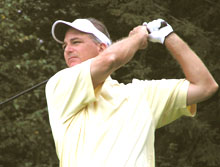 Glenn Smeraglio
He added, "I made a double on that and it kind of unnerves you a bit."
Vassil's lead was cut in half yet again after carding a bogey on No. 12 (par 4, 377 yards) while a steady Smeraglio registered his 10th par of the day to bring himself within a stroke of the leader.
"I thought I had a chance," Smeraglio said. "I thought the momentum was beginning to swing there."
"I was really going south in the middle," Vassil said. "But making that bogey putt allowed me to keep the lead and it was something positive to take away from it."
Smeraglio continued his stable play with two more pars before making only his second bogey of the afternoon on No. 15 (par 3, 211 yards).
Meanwhile Vassil quickly capitalized on Smeraglio's mistake and scored his third birdie of the afternoon on the course's five par 3s when his hit his 4-iron to 12 feet right of the hole giving him a three stroke lead with three to play.
"Making two's here is like a shot and a half on most other par 3s," Vassil said. "You get a lot of mileage out of that."
But Vassil would keep things interesting as he managed to just hold onto a one-stroke lead after bogeying No. 17 (par 4, 337 yards) and 18 (par 4, 358 yards) while Smeraglio finished off with a pair of pars.
Vassil three putted No. 18 to finish the day with a 2-over-par 73, edging Smeraglio by one stroke for the tournament.
"That bogey really opened the door so I was kicking myself," he said. "It was still in my hands to two putt. I can't ever make things easy on myself."
The Hemlock Championship, an event named after the Pennsylvania state tree, is for players ages 45-54 years old.
Player Name

Rd 1

Rd 2

Total

Michael Vassil, Country Club of Scranton

69

73

142

Glenn Smeraglio, Yardley Country Club

71

72

143

Arthur Kania, Jr., Overbrook Golf Club

77

70

147

John Zavada, Elkview Country Club

71

77

148

Drew Panebianco, Talamore at Oak Terrace Country Club

71

79

150

Kenneth Phillips, Lancaster Country Club

75

76

151

Michael Domenick, Phoenixville Country Club

78

73

151

Rich Thon, The Springhaven Club

78

73

151

Anthony Kondracki, Fox Hill Country Club

80

71

151

Thomas Hyland, Moselem Springs Golf Club

75

78

153

Martin Newingham, Latrobe Country Club

81

72

153

Timothy Burns, Country Club of Scranton

79

74

153

Bill Seng, Colonial Country Club

77

77

154

Brian Corbett, Huntsville Golf Club

76

78

154

Edward Knoll, Deer Run Golf Club

75

79

154

Francis Hamm, MD, Country Club of Scranton

76

79

155

Robert Gill, Fox Hill Country Club

79

76

155

Ira Handler, Butler Country Club

80

75

155

Marlin Detweiler, Lancaster Country Club

79

78

157

Mark Leaman, Foxchase Golf Club

78

80

158

Gregory Sheva, North Hills Country Club

80

78

158

Rick Scott, West Shore Country Club

82

78

160

Jim Simmons, Stonewall

82

78

160

J. R. Cattoni, Williamsport Country Club

82

78

160

John Robinson, Commonwealth National Golf Club

82

79

161

Jay Stoner, Deer Run Golf Club

84

78

162

Brian Brant, Butler Country Club

79

85

164

J. Kirk Luntey, Merion Golf Club

80

86

166

George Troutman, Deer Run Golf Club

83

83

166

Chris Terebesi, Chester Valley Golf Club

84

82

166

George Steinmetz, Huntsville Golf Club

81

86

167

Kenneth Ralston, Huntsville Golf Club

82

88

170

Albert Hazzouri, Jr., Country Club of Scranton

85

86

171

Glen McCartney, Berkleigh Country Club

92

90

182

Ed Blechschmidt, Whitemarsh Valley Country Club

81

WD

WD

Randy Hensinger, Berkleigh Country Club

87

WD

WD

Matt Froncek, Elkview Country Club

86

WD

WD

WD-withdrawal