*Day One results
*Day Two results
Kennett's Davis finishes in a flurry;
takes Pennsylvania Open Championship
FARMINGTON, Pa.–Kyle Davis of Kennett Square, Pa., 20, a sophomore-to-be at the University of Central Florida, emerged from a compact, and at times crazy, leaderboard to capture the 90th Pennsylvania Open Championship on Wednesday at the challenging Nemacolin at Woodlands Resort Mystic Rock Course (par 72, 7,049 yards). Davis finished the 54 holes in 6-under par (210 total), four shots clear of the field, and became the first amateur to capture the State Open title since R. Jay Sigel did so in 1990 at Rolling Green GC.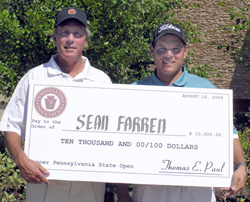 Tom Paul, President of the Pennsylvania Golf
Association, presents low Open professional
Sean Farren with the check.
"This means a lot. I was looking at the Web site a couple of days ago and I saw an amateur hadn't won since 1990," said Davis. "I can't believe that. There are so many good amateurs in Pennsylvania. It's great to have my name on the trophy."
Davis, a member of Inniscrone GC, earned that right with a splendid finish.
Two shots up on defending Open Champion and clubhouse leader Sean Farren of Oakmont, Pa. with three holes to go, Davis drained a 30-foot, left-to-right downhill birdie chance on No. 16 (par 5, 517 yards) to create some more breathing room. He unofficially sealed the tournament on the ensuing 17th, a scary par 3 (201 yards) with water down the left side, when he juiced a 6-iron over the hole and 18 feet past the cup. He drained the downhiller and the championship was his.
"Yesterday, I hit 14 greens and was on the fringe on two holes, so I knew if I could get the ball rolling I would be in good shape," said Davis. "The greens here are really subtle. I needed to the find the lines with my eyes and I did that on 16 and 17." He recorded 27 putts today.
Earlier in the back nine Davis broke away from a clustered pack. In fact, at various times of the day five different players held the final round's top spot: Davis, touring pro Scott Ehrlich of Blue Bell, Pa., Butler CC assistant professional Robert McClellan of Butler, Pa., second-round leader Jon Pratkanis of Butler, Pa. and Spring Ford CC assistant professional Rich Steinmetz of Gilbertsville, Pa.
Davis did so with his deft touch and short game.
He birdied No. 10 (par 4, 438 yards), when he knocked a sand wedge to six feet, and No. 11 (par 5, 613 yards), when he hit a wedge from 50 yards out to five feet to move to 5-under for the tournament. A bogey on the ensuing and treacherous 12th hole (par 3, 166 yards) cost him a stroke but Davis finished in a flurry with those two birdies in the final three holes.
"To get another win this summer is great," added a smiling Davis. "I'm not complaining, but I've played so well that I knew if I kept putting myself into position it would turn over."
It certainly has been quite a summer for the Davis household. Davis captured the Golf Association of Philadelphia's (GAP) Amateur Championship in June; placed third in the GAP Open Championship in July and tied for second in that Association's stroke play championship, the Patterson Cup, last Thursday. Two weeks prior he placed second in the State Amateur Championship at Moselem Springs GC and last Monday qualifying for his first U.S. Amateur Championship. Earlier in the summer, he carded a second-round 60 at the Eastern Amateur and placed fifth in that tournament.
Davis' lone challenge on Wednesday came from Farren. Playing three groups ahead of the eventual champion, the 37-year-old head professional from Totteridge GC carded five birdies and two bogeys to jump up from a tie for 10th to second in the final standings. He was looking to become the first back-to-back since John Weitzel of Hershey GC did so in 1955-56.
"I had a great pairing with Kevin [Shields, who is a teaching pro and does some work out of Totteridge GC as well]. I thought 67 would be a great score today," said Farren. "The best part about being this far ahead of the leaders is posting a score so everyone [on the course] knows it."
Farren opened his round with three birdies on the front side: No. 1 (par 4, 368 yards), a 15 footer; No. 5 (par 5, 504 yards), he hit a pitching wedge from 123 yards to an inch; and No. 9 (par 4, 415 yards), a 144-yard pitching wedge to eight feet. A bogey on the very difficult par 3, 12th gave a shot back but Farren rebounded with a three on the par 4, 13th (369 yards) to move back to 3-under for the tournament. Farren three-putted the challenging 14th green for a bogey but again responded in style with a 140-yard, 9-iron to five feet for a birdie on No. 15 (par 4, 433 yards).
Jon Pratkanis, the 20-year-old amateur from Butler, Pa., who held the lead at the conclusion of each of the first two days, opened bogey, double bogey, bogey to fall out of contention. He finished in a tie for third.
NOTES–This is the first time the Pennsylvania Open Championship has visited the Nemacolin at Woodlands Resort, site of the PGA Tour's 84 Lumber Classic … A total of 132 players comprised the Open Championship field … The 2007 Pennsylvania Open is set for Aug. 13-15 at Lancaster CC … The 36-hole cut after yesterday's second round fell at 150 with 41 players advancing.
Name, city

Rd 1

Rd 2

Rd 3

Total

a-Kyle Davis, Kennett Square, PA

70

71

69

210

Sean Farren, Oakmont, PA

69

76

69

214

a-Jon Pratkanis, Butler, PA

66

73

76

215

Robert McClellan, Butler, PA

73

69

73

215

a-Conrad Von Borsig, Swathmore, PA

70

71

75

216

a-Cole Willcox, Berwyn, PA

71

75

71

217

a-Dan Thompson, Johnstown, PA

76

72

69

217

Geoffrey Kelowitz, Jim Thorpe, PA

75

70

72

217

John Mazza, Beaver Falls, PA

72

74

71

217

Mark Sheftic, Ambler, PA

73

70

74

217

Rich Steinmetz, Gilbertsville, PA

73

70

74

217

Scott Ehrlich, Blue Bell, PA

70

72

76

218

a-Arnie Cutrell, Greensburg, PA

73

76

70

219

Bob Ford, Oakmont, PA

73

73

73

219

George Forster, Villanova, PA

76

70

73

219

Gordon Vietmeier, Pittsburgh, PA

74

73

72

219

Kevin Shields, Bethel Park, PA

72

73

74

219

a-Artie Fink, Jr., Altoona, PA

69

77

74

220

Bob Friend, Pittsburgh, PA

73

73

74

220

Jason Tyska, Mt. Pleasant, PA

79

71

70

220

Robert Shuey, Mechanicsburg, PA

73

67

80

220

a-Tyler Witman, Manheim, PA

74

76

70

220

Mark DiGiacomo, Lebanon, PA

74

76

71

221

Ryan Sikora, Greensburg, PA

76

74

71

221

Terry Hertzog, Lititz, PA

75

74

72

221

Travis Deibert, Doylestown, PA

73

73

75

221

a-Tyler Brewington, Orangeville, PA

75

75

71

221

Brian Kelly, Lewisburg, PA

71

75

76

222

John Pillar, Sr., Hawley, PA

74

74

74

222

a-Philip Bartholomew, Yardley, PA

73

76

73

222

Roy Vucinich, Moon Twp, PA

73

75

74

222

Tug Maude, Rosemont, PA

73

75

74

222

a-Alex Knoll, Bethlehem, PA

77

73

73

223

a-Gregory Pieczynski, Kingston, PA

78

71

74

223

a-John Michael Pelet, Atglen, PA

74

73

77

224

a-Robert Rohanna, Waynesburg, PA

73

73

78

224

a-John Sawin, Haverford, PA

73

74

78

225

a-Nicolas Milito, Jeannette, PA

75

66

84

225

Greg King, Harrisburg, PA

78

70

78

226

a-Clint Deibert, Doylestown, PA

76

74

80

230

a-David DeNunzio, Jeannette, PA

76

74

86

236

a-denotes amateur
[ Back ]