*Day One results
*Day Two results
Fox Chapel GC's Adam Hofmann takes
94th Amateur Championship
VERONA, Pa.–Adam Hofmann of Fox Chapel GC claimed the state's 94
th
Amateur Championship on Wednesday at a tremendously difficult Longue Vue Club (par 70, 6,633 yards) with a finish to remember. The 18-year-old from Pittsburgh, Pa., played the demanding final three holes in 1-under par to complete the grueling three days and 54 holes in 2-under 208. Nathan Smith of Pinecrest CC, a co-leader with Hofmann after the first two rounds, placed second a shot back. Steve Arnold of Yardley CC, who turned in a sterling 2-under-par 68, and Nathan Sutherland of Berkshire CC, the first-round leader, tied for third at even-par 210.
"This is a dream for me," said Hofmann, when asked what it's like to see his name on the trophy with legendary past champions like Buddy Marucci and Jay Sigel. "I have a long way to go to catch those guys but it gives me incentive to keep working hard. This is what you work for."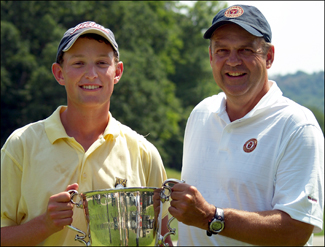 Adam Hoffman (left) with Mark Studer,
Pennsylvania Golf Association President.
Hofmann, who will be a freshman at Vanderbilt University, and Smith, the 2002 Amateur Champion, opened the day at 4-under par. A few twist and turns later kept the pair deadlocked going to No. 15 (par 5, 540 yards) before Smith forged ahead with a birdie. Smith had 70 yards remaining to the hole before knocking a wedge to eight feet.
Hofmann remained resolute, though, and after a solid par on the lengthy 16th (par 3, 200 yards), he answered Smith's birdie with a special one of his own. A perfect drive center cut split the fairway, and playing a little downwind, placed a 9-iron in hand from 142 yards. Hofmann pulled the short club a touch but it was a good shot and stopped 15-feet right of the hole.
"I told myself I was going to make [that putt] and it was dead center," said Hofmann, who graduated from Fox Chapel High School recently.
Tied again on the 18th tee (par 4, 471 yards), a fairway that bends severely right-to-left, Hofmann ripped a driver that just trickled into the left rough 162 yards from the hole. Smith, on the other hand, found serious trouble when his drive went way right into the tree line. Smith punched out and knocked his third shot on and was left with about 35 feet. Hofmann then answered the bell for the biggest shot of his career and punched a "little 7-iron" into the center of the green about 25 feet short of the hole.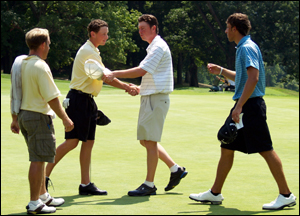 Adam Hoffman (second from left) and Nathan Smith
(second from right) shake hands on the 18th green
after the final round.
Smith's par attempt came up about four feet short and a two-putt later capped a memorable week for Hofmann.
"I was trying to hit it down the right side and it kind of got away from me," said Smith, who bogeyed the final hole all three days. "Adam played great. For him to play the final three holes in 1 under, he deserves to be the champion."
Early on in the round, Hofmann didn't appear to be the anointed one after making a quadruple-bogey eight on No. 6 (par 4, 390 yards). Hofmann knocked it out-of-bounds and left two in the rough. However, he responded with three pars to close out the front side in 3-over 39.
"After that hole I though it would really be cool to come back and be in contention with a few holes left," said Hofmann. "I had to keep going. I like to grind it out. There is no reason to get mad or give up on yourself. You have to stay level."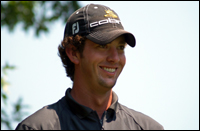 Steve Arnold of Yardley CC smiles
after his tee ball on No. 17.
Smith, 28, of North Hills, Pa., held a two-shot advantage at the point. His lead would be one at the turn after a lost ball bogey on No. 8 (par 5, 420 yards) cost him a stroke. Smith, who won the 2003 U.S. Middle-Amateur Championship, hit a 9-iron to inches on No. 10 (par 3, 151 yards), but followed up with a pair of bogeys on the next two holes.
Hofmann, too, bogeyed No. 11 (par 4, 400 yards) before responding with a nice birdie on the short 13th (par 4, 334 yards).
It was after all that that the two headed to No. 15 even.
This was Hofmann's first state Amateur title. He is also the first individual who calls Fox Chapel GC home to win it.
A total of 43 players made the cut for the third and final round. Saucon Valley CC hosts the 2008 Amateur Championship July 28-30.
Name, club

Rd. 1

Rd. 2

Rd. 3

Total

Adam Hofmann, Fox Chapel Golf Club

66

70

72

208

Nathan Smith, Pinecrest Country Club

67

69

73

209

Nathan Sutherland, Berkshire Country Club

63

76

71

210

Stephen Arnold, Yardley Country Club

69

73

68

210

Robert Rohanna, Nemacolin Woodlands Resort

70

67

74

211

Cole Willcox, Philadelphia Country Club

72

71

68

211

Zachary Drescher, Conestoga Country Club

71

72

70

213

Timothy J Moynihan, Willowbrook Country Club

68

74

71

213

Adam Cohan, The ACE Club

71

72

71

214

Daniel Obremski, Hannastown Golf Club

72

72

70

214

Jarred Texter, Lancaster Country Club

73

70

71

214

Arnie Cutrell, Totteridge Golf Club

68

72

74

214

Frank Fairman, Totteridge Golf Club

70

74

71

215

David Brown, St. Clair Country Club

70

74

71

215

Chris Gallagher, Penn Oaks Golf Club

71

70

75

216

Conrad Von Borsig, Concord Country Club

71

73

72

216

Sean Knapp, Longue Vue Club

70

72

74

216

John Popeck, The Club at Nevillewood

72

67

77

216

Mike Van Sickle, Treesdale Golf & Country Club

73

68

76

217

Jason Cohan, The ACE Club

74

70

73

217

Matthew Rebitch, Hannastown Golf Club

72

73

72

217

Donald Thomas, Edgewood Country Club

74

73

71

218

James Bohn, Bucknell Golf Club

74

72

72

218

Stephen Dressel, Spring Ford Country Club

75

73

70

218

Cameron Peterson, PGA Individual Member

73

72

74

219

Timothy L Hager, Lookaway Golf Club

70

76

73

219

Travis Howe, Corey Creek Golf Club

69

71

79

219

Artie Fink, Jr., Sinking Valley Country Club

73

70

76

219

Darryn DeShong, Majestic Ridge CC

74

73

73

220

Brian W Bergstol, Great Bear Golf & Country Club

68

70

83

221

Les Neilly, Edgewood Country Club

71

76

74

221

James Kania, Jr, Overbrook Golf Club

73

76

73

222

Clayton Rotz, Chambersburg Country Club

74

74

74

222

Cody Kersey, Pine Meadows Golf Complex

67

75

80

222

Scott Phillis, The Country Club

69

76

78

223

Chad N Warmbein, Rolling Hills Country Club

73

74

77

224

Zach Smith, Doylestown Country Club

77

69

78

224

Eric Fonner, Huntingdon Valley Country Club

75

73

77

225

Patrick Serfass, Susquehanna Valley Country Club

74

75

76

225

Robert B Voltz, St. Jude Golf Club

76

73

77

226

John Brennan, Spring Ford Country Club

71

77

81

229

Brian P. Gillespie, St. Davids Golf Club

74

75

80

229

Jon Merriott, PGA Individual Member

72

77

NS

NS

NS-no show
[ Back ]