*Day One results
*Day Two results
Treesdale's Van Sickle takes Amateur title
BETHLEHEM, Pa.–Michael Van Sickle's trophy cabinet now contains all of the Pennsylvania Golf Association's Major hardware. Van Sickle, the reigning Open Champion, added the Amateur title to his collection on Wednesday with a stellar performance at Saucon Valley CC's newly revamped and difficult Old Course (par 71, 7,138 yards).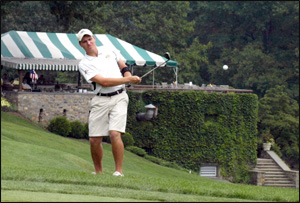 Michael Van Sickle's clutch
chip on No. 18.
The 21-year-old of Wexford, Pa., carded an impressive final-round score of 68 to finish at 2-under-par 211 for the 54 holes of the championship and a shot clear of rival Nathan Smith of Pinecrest CC/Wildwood GC. Smith had forged a tie with Van Sickle, who was already in the clubhouse at the time, after 17 holes, but bogeyed No. 18 to finish as the runner-up for a second straight year.
"It's like a mini-grand slam for me. It's really an honor to be able to win it," said Van Sickle, who took the Open last August at Lancaster CC. "I would have bet money that we were going to a playoff. Nathan is such a great player. You don't expect him ever to make bogeys. I was real surprised and feel very fortunate."
Van Sickle's play throughout was obviously solid but his most decisive shots occurred at the beginning of each nine.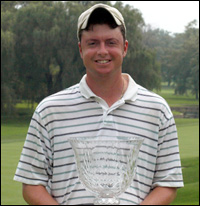 NATHAN SMITH
Trailing leader Christopher Reedman of Makefield Highlands GC by two shots to start the day, Van Sickle opened his final round birdie-birdie. On No. 1 (par 5, 565 yards), he knocked a rescue wood from 248 yards to 15 feet and two putted for birdie and then followed that up on the extremely difficult second hole (par 4, 475 yards) with a 175-yard, 7-iron to five feet. Seven pars to finish the front nine put Van Sickle at 1-under par for the championship. He was playing in the third to last group and when everyone made the turn, Van Sickle found himself in a three-way tie atop the leaderboard with Brian Belden, Jr., a PGA Individual Member, and Smith.
"I had a seen a lot of scores that were at 1 under so I figured I needed to get to 2 under to have a chance," said Van Sickle.
It didn't take the Marquette University senior long to find that number and a little bit more.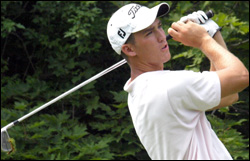 Brandon Detweiler of Lancaster CC
eyes his drive on No. 9.
Detweiler placed third.
He rapped a 5-iron on No. 11 (par 3, 187 yards) that caught the backstop to the right and back of the hole and trickled down to 3-feet and then rocketed a driver, 3-wood to just 20 yards short of the par 5, 12
th
hole (615 yards) before chipping up to eight feet and sinking the birdie. At that point, Van Sickle stood alone at 3-under par and two shots clear of his nearest foe.
He missed good birdie looks on Nos. 14 (par 4, 422 yards), about 15 feet, and 15 (par 4, 345 yards), about five feet, before making a nice up-and-down par save on the uphill No. 16 (par 4, 387 yards).
An 8-iron on No. 17 (par 3, 172 yards) caught the green's ridge and stopped about 35 feet away. Van Sickle ran his birdie try by 10 feet and he missed that putt to drop a shot. On No. 18 (par 4, 447 yards), Van Sickle added some more drama to the situation after finding the fairway bunker and then hitting his second shot just over the back edge before managing a nifty up-and-down for par and a 2-under final score.
"I just wanted to come out and play smart golf and at the same time give myself birdie opportunities. That's what I did today," said Van Sickle. "I hit the first 15 greens in regulation and gave myself some good opportunities and made a few. I really played smart golf up until the last three holes. It was kind of a grind coming in. The heart was beating a little quicker."
In the meantime, the methodical Smith applied a late push. He birdie No. 16 with a wedge from 112 yards to 10 feet and then after watching his 7-iron on No. 17 stop 30 feet away before somehow draining that putt to move to 2 under for the tournament.
The final hole had been treacherous all week and after almost getting Van Sickle two groups earlier the hole won did just that to Smith. The 30-year-old Pittsburgh resident hit his tee ball a little left and it landed in the face of the fairway bunker. His next shot caught the lip of that bunker first bunker and threw it into the adjacent sand. He found the green with his third shot from the second bunker, an 8-iron from 147 yards, that stopped about 15 feet short and to the right of the hole. His par putt slipped past the right edge, however, and Smith fell into second place.
"Mike's a special player. You have to play great to beat him. I gave it everything I had but just came up short," said Smith, who won the 2002 Championship and now has three second-place Amateur finishes. "It's a little frustrating. I really played well today. I'm right there. We've had two great champions the last two years. I just have to keep playing good."
NOTES–Van Sickle was the only player to post consecutive rounds in the 60s. He shot a 69 yesterday and a 3-under 68 today … the 2009 Amateur Championship will travel to Waynesborough CC in Paoli, Pa. … a total of 44 players made the cut, which fell at 150 after two rounds … the final round starting times were pushed up to 7 a.m. from 7:30 a.m. with the possibility of inclement weather.
Player, club

Rd. 1

Rd. 2

Rd. 3

Total

Michael Van Sickle, Treesdale Golf & Country Club

74

69

68

211

Nathan Smith, Pinecrest Country Club

71

71

70

212

Brandon Detweiler, Lancaster Country Club

72

70

71

213

Robert Rohanna, Nemacolin Woodlands Resort

73

70

71

214

Brian Belden, Jr., PGA Individual Member

71

71

72

214

Kyle Davis, Philadelphia Publinks GA

71

73

72

216

Conrad Von Borsig, Concord Country Club

70

72

74

216

Adam Hofmann, Fox Chapel Golf Club

76

71

69

216

Christopher Reedman, Makefield Highlands Golf Club

71

70

76

217

Frank Fairman, Totteridge Golf Club

73

74

71

218

P. Chet Walsh, Philadelphia Country Club

74

70

74

218

Daniel Obremski, Hannastown Golf Club

73

76

69

218

Tyler Brewington, Huntsville Golf Club

71

72

75

218

Arnie Cutrell, Greensburg Country Club

71

75

73

219

David Brown, St. Clair Country Club

69

76

74

219

Matthew Mattare, Saucon Valley Country Club

71

77

72

220

Nathan Sutherland, Golden Oaks Golf Club

76

74

70

220

Gregg Angelillo, Moselem Springs Golf Club

70

73

77

220

Ryan P Castanet, Hickory Heights Golf Club

74

76

70

220

James Kania, Jr., Overbrook Golf Club

74

73

74

221

Adam Cohan, Talamore Country Club

69

77

75

221

Colin P. Smith, Radley Run Country Club

71

73

77

221

Christopher Ault, Yardley Country Club

74

72

75

221

David DeNunzio, Latrobe Country Club

74

73

75

222

Mark A. Endres, Overbrook Golf Club

73

74

75

222

Mike Danner, Lu Lu Country Club

72

76

74

222

Travis Gahman, Philadelphia Publinks GA

72

74

77

223

Mark Miller, Yardley Country Club

76

73

74

223

Christian S. Davis, Glenmaura National Golf Club

73

76

74

223

Doug Stadler, Treesdale Golf & Country Club

74

76

74

224

Brendan Borst, Hickory Heights Golf Club

75

74

76

225

James Bohn, Bucknell Golf Club

73

75

77

225

Cole Willcox, Philadelphia Country Club

72

76

77

225

Duncan Zeiders, Old York Road Country Club

73

75

77

225

Jeff Daniels, Dauphin Highlands Golf Course

75

75

76

226

Jon Pratkanis, Kittanning Country Club

71

75

81

227

Mark D. McGowan, Saucon Valley Country Club

72

75

80

227

Jason Cohan, Talamore Country Club

72

78

78

228

Matt Moot, Windber Country Club

77

73

78

228

Robert Galbreath, Jr., Huntingdon Valley Country Club

74

74

81

229

Christopher Schultz, Squires Golf Club

74

76

79

229

Corey Gast, Meadia Heights Golf Club

76

73

81

230

Eric Williams, Honesdale Golf Club

73

77

81

231

Logan Terry, Plymouth Country Club

73

75

DQ

DQ

DQ-disqualification
[ Back ]