*Final-round tee times
*Day One results
Walters extends Open advantage;
Smith equals Old York Road CC course record
SPRING HOUSE, Pa.–Dan Walters, a mini-tour professional from Lancaster, Pa., carded a second consecutive 3-under-par 68 on Tuesday at Old York Road CC (par 71, 6,558 yards) to surge clear of the field in the 92
nd
Robert L. Fryer Memorial Open Championship. Walters, who stands at 6 under, held a share of the first-round lead with Chuck Scally, Jr., but enters the third and final round four shots ahead of his nearest foe.
The final round begins at 7:30 a.m. tomorrow.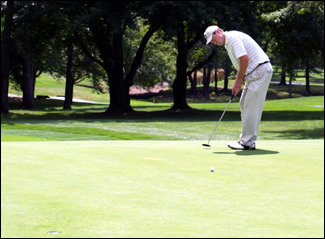 Nathan Smith of Pittsburgh, Pa., putts
for a birdie on No. 7.
The cut line for the low 40 players and ties fell at 4-over-par 146. A total of 41 players advanced (22 professionals, 19 amateurs). The leaders begin at 9:40 a.m.
"How I could not be excited about tomorrow," said Walters, 24, who is competing in the Open on a sponsor's exemption. "It looks like I have a little space to play with. Obviously, you want to get as far away from everyone as you can. I feel like I'm playing well and hitting it where I want to and I'm putting the ball well.
"[To win] would be awesome. I know Mr. Fryer well, he's a sponsor of mine, and with the tournament being at Old York Road, a club his father helped build, it would be great to win."
A slew of big names reside in second place, including Michael Van Sickle of Wexford, Pa., the reigning Open and Amateur Champion, however, overtaking Walter's might be an impossible assignment based on his recent stellar play.
Last week he earned his first professional victory in the Lancaster County Open. On Tuesday, Walter's looked the part, radiating an ever-present confidence. He hit 15 greens en route to a round of three birdies and no bogeys. He parred his first 10 holes – Walters started on the back nine – before recording back-to-back birdies. On No. 2 (par 4, 340 yards) he hit a wedge from 122 yards to 20 feet and made the putt and on No. 3 he (par 3, 181 yards) knocked a 7-iron to eight feet before rolling in his try for 2. Five more consecutive pars followed before Walters lashed a wedge on No. 9 (par 5, 555 yards) from the right rough to 15 feet and made that birdie putt.
"I had just missed a nine-footer up the hill on the prior hole so I wanted that last one and I knocked it right in the center," said Walters, a Rollins College alum that currently serves as an assistant coach at the school. "You almost feel like you deserved one more because I was hitting some pretty good shots coming in."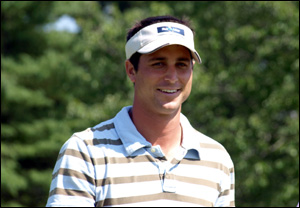 GREG PIECZYNSKI
Smith, 30, a perennial state contender and runner-up in the Pennsylvania Amateur Championship a couple weeks ago, had the clubhouse buzzing earlier in the day when he equaled the Old York Road CC competitive course record. Smith posted a 5-under-par 66 to match the mark held by Jon Rusk and James Sullivan, Jr. He stands at 2-under par for the tournament and in a six-way tie for second place.
The Pittsburgh, Pa., resident carded five birdies and no bogeys.
"I actually played really similar to yesterday," said Smith. "I hit it the same but I made some putts. Yesterday I only made one 10 footer on the day. Today, it was the opposite. I made everything. I had pretty much the same looks the difference was I made them."
Smith, who also started on the back nine, carded birdies on No. 12 (par 4, 354 yards) with a 115-yard wedge to three feet; on No. 14 (par 3, 159 yards) with a 7-iron to eight feet and on No. 18 (par 4, 403 yards) with a 135-yard, 9-iron to 20 feet.
Heading inward he rocketed a 7-iron to eight feet on No. 3 (par 3, 181 yards) and drained a seven-footer on No. 8 (par 4, 330 yards). Crazy enough, his round could have been better. He lipped out birdie tries on Nos. 4 (par 5, 525 yards) and 6 (par 4, 399 yards).
"With the tournament being 54 holes, it's kind of a sprint. I was hoping to get something under par to get back to around par," said Smith, who shot a 3-over-par 74 yesterday. "At least I have a chance now."
Also lurking in second with Smith and Van Sickle are Stu Ingraham, a professional from Harrisburg, Pa., who won the 1998 Open, and Greg Pieczynski, a teaching professional from Kingston, Pa., who captured the Golf Association of Philadelphia Open Championship last month.
Smith already holds one Open title. He took the Western Pennsylvania Golf Association Open Championship in early July.
David DeNunzio of Jeannette, Pa., 22, a recent Rollins College graduate, and Travis Howe, a 20-year-old Penn State University redshirt junior from Osceola, Pa., are also tied for second place.
NOTES–The Open purse is $50,000 with a top share of $10,000 going to the low professional … the tournament began with a 122-player field, 68 professionals and 54 amateurs … Robbie Robertson of Philadelphia, Pa., an amateur from Philadelphia Cricket Club, made a hole-in-one on No. 14 (par 3, 159 yards).
Player, city, state

Rd. 1

Rd. 2

Total

Dan Walters, Lancaster, PA

68

68

136

(a) David DeNunzio, Jeannette, PA

69

71

140

(a) Michael Van Sickle, Wexford, PA

71

69

140

(a) Nathan Smith, Pittsburgh, PA

74

66

140

(a) Travis Howe, Osceola, PA

71

69

140

Gregory Pieczynski, Kingston, PA

72

68

140

Stuart Ingraham, Harrisburg, PA

72

68

140

(a) Matthew Mattare, Bethlehem, PA

70

71

141

(a) Robert Galbreath, Jr., Huntingdon Valley, PA

73

69

142

(a) Tyler Brewington, Orangeville, PA

71

71

142

Geoffrey Kelowitz, Jim Thorpe, PA

72

70

142

Gordon Vietmeier, Pittsburgh, PA

74

68

142

John Pillar, Sr., Hawley, PA

69

73

142

Kevin Shields, Pittsburgh, PA

72

70

142

Lewis Sturgeon, Pittsburgh, PA

72

70

142

(a) Daniel Obremski, Irwin, PA

74

69

143

(a) Kyle Davis, Kennett Square, PA

70

73

143

(a) Mark Miller, Levittown, PA

74

69

143

(a) Rich Pruchnik, West Chester, PA

76

67

143

Chris Gallagher, West Chester, PA

73

70

143

Chuck Scally, Jr., Moon Township, PA

68

75

143

Clint Deibert, Doylestown, PA

69

74

143

Erik Bertrand, Pittsburgh, PA

74

69

143

Mark DiGiacomo, Lebanon, PA

73

70

143

Rich Steinmetz, Gilbertsville, PA

74

69

143

Steve Cutler, Kennett Square, PA

73

70

143

(a) Adam Cohan, Wayne, PA

74

70

144

(a) Cole Willcox, Berwyn, PA

69

75

144

(a) Nathan Sutherland, Wyomissing, PA

71

73

144

(a) Stephen Dressel, Malvern, PA

72

72

144

Bob Ford, Oakmont, PA

72

72

144

Christian Bartolacci, Langhorne, PA

71

73

144

Roy Vucinich, Moon Twp, PA

72

72

144

Travis Deibert, Doylestown, PA

70

74

144

(a) Christopher Schultz, Shillington, PA

76

69

145

(a) Daniel Charen, Langhorne, PA

73

72

145

Brian Kelly, Lewisburg, PA

75

70

145

(a) Conrad Von Borsig, Swarthmore, PA

69

77

146

(a) William Miller, Venetia, PA

71

75

146

George Forster, Villanova, PA

73

73

146

John Mazza, Beaver Falls, PA

75

71

146

Failed to qualify

(a) Chad Bricker, Waynesboro, PA

74

73

147

(a) Eric Williams, Honesdale, PA

73

74

147

Eddie Perrino, Albrightsville, PA

72

75

147

Mark Sheftic, Ambler, PA

75

72

147

Scott Ehrlich, Blue Bell, PA

73

74

147

Tug Maude, Wayne, PA

77

70

147

(a) Philip Bartholomew, Yardley, PA

76

72

148

David Vallina, Langeloth, PA

75

73

148

Henry D'Alberto, Easton, PA

72

76

148

Sean Szerencsits, Coplay, PA

73

75

148

(a) Brian Creghan, Radnor, PA

76

73

149

(a) Joseph Gunerman, Yardley, PA

72

77

149

(a) Matt Moot, Johnstown, PA

75

74

149

(a) Zak Drescher, Landisville, PA

76

73

149

Alex Knoll, Bethlehem, PA

75

74

149

David Patronik, Erie, PA

75

74

149

David Malatak, Pittsburgh, PA

75

74

149

John Allen, Media, PA

75

74

149

Rick Flesher, Bethlehem, PA

72

77

149

Stephen Arnold, Langhorne, PA

74

75

149

Terry Hatch, Pottsville, PA

74

75

149

Terry Hertzog, Lititz, PA

77

72

149

(a) Chance Miller, Lancaster, PA

72

78

150

(a) Christian Davis, Scranton, PA

75

75

150

(a) Clayton Rotz, Chambersburg, PA

74

76

150

(a) James Bohn, Lewisburg, PA

76

74

150

(a) Michael Turner, Baden, PA

74

76

150

(a) Nicolas Milito, Jeannette, PA

75

75

150

Albert Hromulak, Pittsburgh, PA

77

73

150

Anthony Bonargo, Warrington, PA

79

71

150

Brian Bergstol, Mt. Bethel, PA

77

73

150

Robert McClellan, Butler, Pa

74

76

150

(a) Dominic Frassinelli, Allentown, PA

73

78

151

(a) Robert Robertson, Philadelphia, PA

77

74

151

Bob Friend, Pittsburgh, PA

78

73

151

Dennis Munko, Leechburg, PA

79

72

151

Andrew Dawes, Hershey, PA

76

76

152

Joe Boros, Saxonburg, PA

75

77

152

John Spina, Schwenksville, PA

78

74

152

Nick Milicevich, Smithton, PA

77

75

152

(a) Arnie Cutrell, Greensburg, PA

82

71

153

Jarred Texter, Millersville, PA

75

78

153

Richard Gibson II, Lancaster, PA

81

72

153

(a) Doug Stadler, Wexford, PA

82

72

154

(a) Marc Mandel, Conshohocken, Pa

74

80

154

Andy Fisher, Mill Hall, PA

79

75

154

Anthony Napoletano, Springfield, PA

76

78

154

Dave Roberts, Ambler, PA

75

79

154

(a) Travis Gahman, Souderton, PA

75

80

155

Matthew Nuechterlein, Kennett Square, Pa

81

74

155

(a) Ben Rowe, Lancaster, Pa

81

75

156

(a) Brian Belden, Jr., Emmaus, PA

77

79

156

(a) Jason Cohan, Merion, PA

78

78

156

(a) Warren Taylor, Newtown, PA

76

80

156

Adam Corson, State College, PA

77

79

156

Brian Gardner, Norristown, PA

79

77

156

Greg King, Harrisburg, PA

78

78

156

Logan Terry, Plymouth Meeting, PA

77

79

156

Richie Krebs, Spring Grove, PA

81

75

156

Scott Hunter, Collegeville, PA

80

76

156

Steven Wager, State College, PA

79

77

156

(a) Bryan Marvin, Horsham, PA

78

79

157

Daniel Mahoney, Northumberland, PA

79

78

157

Wilson Zehner, Lancaster, PA

78

79

157

(a) Gray West, State College, PA

78

80

158

Justin Lamason, Scotland, PA

79

79

158

Mike Milewski, Paupack, PA

82

76

158

Ryan Knolles, Wyalusing, PA

79

79

158

Andrew Signor, Jonestown, Pa

81

78

159

(a) Marlin Detweiler, Akron, PA

79

81

160

(a) Ed Chylinski, King of Prussia, PA

80

81

161

(a) Greg Forster, Blue Bell, PA

79

83

162

(a) Christopher Clark, North Wales, PA

87

76

163

(a) Tony Perla, Collegeville, PA

85

83

168

(a) Jonathan Brust, Elverson, PA

85

86

171

(a) Jon Pratkanis, Kittanning, PA

70

WD

WD

(a) Jeff Daniels, Harrisburg, PA

73

WD

WD

(a) Patrick Mitchell, Scranton, PA

88

WD

WD

(a) Ronald DeNunzio, Jeannette, PA

78

WD

WD

Michael Moses, Garnet Valley, PA

77

WD

WD

WD-Withdrawal