Gemmill takes Public Links
and Tompos takes Senior
HARRISBURG, Pa.- Jud Gemmill of East Petersburg, Pa., battled not only the field, but the tough weather and course conditions to capture his second Pennsylvania Public Links title. A 5-over-par 149 was good enough to earn him the victory at the 69th George Dressler Amateur Public Links Championship at Dauphin Highlands Golf Club in Harrisburg, Pa., (Par 72, 6,716 yards).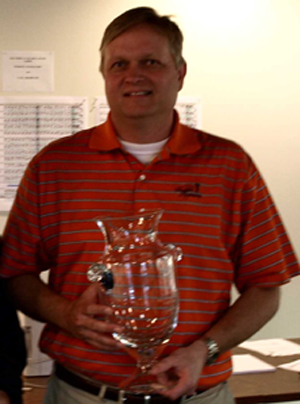 Jud Gemmill
"I never really thought I would win, even after I finished," said Gemmill.
Gemmill was five shots off the lead after Round 1 and didn't think his Round 2 score of one-over-par 73 was going to be good enough for victory, "I thought I needed to shoot 2 under to have a chance, but I also knew the wind was in my favor for making up some shots. I knew my 73 was a good score in the windy conditions, but I didn't expect to win with it."
Although Jud Gemmill was five shots off the lead and didn't start off hot, with bogeys on the 1st and 3rd holes, he kept it together and prevailed for his second career Pennsylvania Public Links title.
Brendan Borst of Pittsburgh, Pa., held a 1 stroke lead after the first day of competition with a 1-under-par 71.
Senior Amateur Division
Andy Tompos of Lititz, Pa., carded a ten-over-par 152 which earned him a come-from-behind victory in the Senior Amateur Division of the 69th George Dressler Amateur Public Links Championship.
Ed Strickler of Huntingdon, Pa., held a 1 shot lead after the first round with a 4-over-par 76.
Tompos, the defending champion, was thrilled to win back-to-back titles, "It was really self-satisfying. It's the first time I have ever done it in a high level tournament."
Tompos came into Round 2 one shot behind his playing partner and leader from Round 1, Ed Strickler.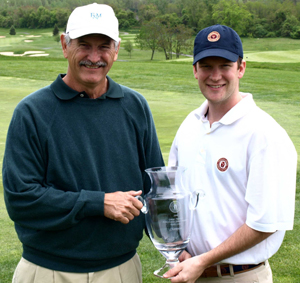 Andy Tompos
Tompos' double bogey on the 1
st
Hole, quickly put him 3 shots behind Strickler for the Championship, but Tompos knew there was more golf to be played.
"I thought back to a statement Ben Hogan once made in the Final Round one year at Riviera after a double bogey on his first hole. A fan yelled out 'There goes the tournament!'. Hogan replied 'There are 17 more holes to play.' He went on to shoot 66 and win."
Tompos didn't shoot 66, but his three-over-par 75 was good enough to earn him back-to-back victories in the Senior Amateur Public Links Championship.
Created in 1909 with the intention of promoting the interests of golf throughout the Commonwealth of Pennsylvania, the Pennsylvania Golf Association (PGA) is the authoritative body of amateur golf in the state. The Association's focus is to promote growth, preserve traditions and protect the integrity of the game through its competitions and member services. The Association's individual members and 300 Member Clubs are spread across the entire Commonwealth of Pennsylvania.
Name

Rd. 1

Rd. 2

Total

Jud Gemmill, Lancaster Host Golf Resort

76

73

149

Travis J. Howe, Corey Creek Golf Club

74

77

151

Vincent Cherrix, Monongahela Valley Country Club

74

77

151

Drew Boyle, Dauphin Highlands Golf Course

77

75

152

Edward H. Knoll, Deer Run Golf Club

79

73

152

Brendan M Borst, Hickory Heights Golf Club

71

82

153

Michael Schmidt, PGA Individual Member

80

73

153

Sean Cabry, Lancaster Host Resort

76

77

153

Jordan Shuey, Dauphin Highlands Golf Course

77

77

154

Matt M Dolinsky, Honeybrook Golf Club

76

78

154

Nate M. Reck, PGA Individual Member

75

79

154

Robert Andrejko, Scranton Municipal Golf Course

77

77

154

Travis J Gahman, Philadelphia Publinks GA

72

82

154

Brian J Fisher, Jeffersonville Golf Club

78

77

155

Donald J Loeser, Franklin D. Roosevelt Golf Club

78

77

155

Phil DAmato, Deer Run Golf Club

75

80

155

Brixton Albert, Pilgrims Oak Golf Course

79

77

156

Mark E Breslin, PGA Individual Member

75

81

156

Dominic Schiavone, Philadelphia Publinks GA

74

83

157

James D. Bohn, Bucknell Golf Club

78

79

157

Kevin T Haag, Deer Run Golf Club

77

80

157

Mike J Serensits, PGA Individual Member

80

77

157

Artie Fink, Jr., Sinking Valley Country Club

79

79

158

Douglas Nardella, Scranton Municipal Golf Course

80

78

158

Mark Coburn, Bon Air Country Club

82

76

158

Robert Howell, Dauphin Highlands Golf Course

78

80

158

Brian R Cooper II, Lykens Valley Golf Course

82

77

159

Byron W. Whitman, Golden Oaks Golf Club

78

81

159

Mark H Bartkowski, Scranton Municipal Golf Course

76

85

161

Adam D. Puskar, Riverview Country Club

79

83

162

Jay R. Stoner, Deer Run Golf Club

77

85

162

Kevin J Reiber, Penn National Golf Club

77

85

162

Michael Beskin, Sportsmens Golf Club

84

78

162

Mark E. Leaman, PGA Individual Member

80

83

163

Bruce J. Gwin, Dauphin Highlands Golf Course

82

82

164

Scott M. Stoner, PGA Individual Member

80

84

164

Chuck Britton, Dauphin Highlands Golf Course

87

79

166

Steven T. Brown, Deer Run Golf Club

82

84

166

Stephen H. McIntyre, Honeybrook Golf Club

85

82

167

Aric E. Sites, Penn National Golf Club

85

83

168

Bill R Kelly, Philadelphia Publinks GA

79

89

168

Darren Riddle, Dauphin Highlands Golf Course

88

80

168

David R Erfley, PGA Individual Member

86

83

169

Scott Pezanowski, Penn State Golf Courses

83

86

169

T.J. Shaffer, PGA Individual Member

84

85

169

Brian G Trump, Lancaster Host Golf Resort

85

85

170

Craig W Borst, Hickory Heights Golf Club

81

89

170

Ryan W Strickler, Huntingdon Country Club

85

85

170

Dennis P. Marcozzi Jr., Dauphin Highlands Golf Course

85

86

171

George E. Troutman, Deer Run Golf Club

87

84

171

Alex Bilinski, PGA Individual Member

88

84

172

Ian Albright, PGA Individual Member

84

88

172

William A Chase, PGA Individual Member

85

87

172

Joshua M Keyser, PGA Individual Member

83

90

173

Kevin J Koch, Philadelphia Publinks GA

84

89

173

Anthony G Palombo, Liberty Valley Country Club

86

88

174

Malcolm Jackson, Dauphin Highlands Golf Course

85

89

174

Mike C Klem, Mill Race Golf & Camping Resort

82

92

174

Graham J. Desmond, Golf Course at Glen Mills

86

89

175

James A Ranieri, Dauphin Highlands Golf Course

90

86

176

Craig R. Munson, Honeybrook Golf Club

85

92

177

Jerrold Clinton, PGA Individual Member

90

88

178

Jesse J Corbett, Golden Oaks Golf Club

86

92

178

Jason M Pandoli, The Links At Gettysburg

90

91

181

Tom Prestia, PGA Individual Member

96

87

183

Adrian K Stewart, Dauphin Highlands Golf Course

91

93

184

Dumitru N Tarca, PGA Individual Member

101

110

211

Benjamin Smith, PGA Individual Member

77

WD

WD

Michael Ellis, PGA Individual Member

77

WD

WD

Michael Millar, Philadelphia Publinks GA

91

WD

WD

Tyler S Harman, PGA Individual Member

89

NS

NS

Senior Division

Name

Rd. 1

Rd. 2

Total

Andy Tompos, Lancaster Host Golf Resort

77

75

152

Ed Strickler, Huntingdon Country Club

76

77

153

Rich Webber, Deer Run Golf Club

79

77

156

Joel McFadden, Honeybrook Golf Club

84

78

162

Joseph R. Grubb, III, Honeybrook Golf Club

81

83

164

Fred Riley, Toftrees Golf Club

84

82

166

Gary D Fry, Bucknell Golf Club

86

85

171

Vincent J Quinn, Four Seasons Golf Club

86

85

171

Robert A Becker, PGA Individual Member

88

84

172

Stephen P Crescenzo, Wyncote Golf Club

86

95

181

Richard Jones, Toftrees Golf Club

98

WD

WD

*WD - Withdraw

**NS - No Show