Schlachter and Cordaro repeat
as Senior Better-Ball Champs
STATE COLLEGE, Pa.–Paul Schlachter of Bridgeville, Pa., and Joseph Cordaro of Pittsburgh, Pa., carded a final-round 66 to finish at 14-under par and capture the Senior Better-Ball Championship at Toftrees Golf Club (par 72, 6,597 yards) Tuesday for their second State Better-Ball title in a row. The pair won last year's contest at Williamsport Country Club after Schlachter, the 2008 Sr. Sigel Match Play Champion, chipped in for eagle on the final hole.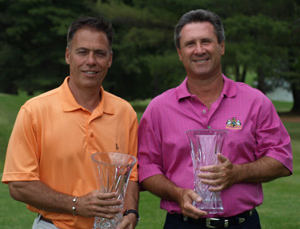 Joseph Cordaro (left) and Paul Schlachter.
Schlachter and Cordaro entered the final round Tuesday tied for first place with Michael Rose of Huntingdon Valley, Pa., and Roc Irey of Jamison, Pa., with a first round score of 8-under-par 64.
However, Schlachter and Cordaro quickly shot into the lead with birdies on four of the first six holes to go out with a 4-under-par 32 while Rose and Irey stumbled out of the gate with a bogey on the 399-yard first hole.
Although Rose and Irey followed up their bogey with a birdie on the very next hole (par 5, 486 yards), the pair could only finish in eighth place with a two-round total of 5-under par 139.
The defending champions in Schlachter and Cordaro, however, seemed to be on cruise control all day until they came to the par 5 14th hole (583 yards) and saw the leaderboard for the first time to see their lead shrink because of a new threat from an unexpected team.
"We came to the tee [on No. 14] and saw that Benson and Erickson had posted 10-under and we kind of choked," said Cordaro of John Benson of Punxsutawney, Pa., and Don Erickson, III of DuBois, Pa., score, which was within four strokes of their lead with five holes to play.
Benson and Erickson started their day in a tie for eighth place after shooting a three-under par 69 for round 1. The duo began the final round with two birdies to go out in 2-under par 34 and finished the back nine with a 5-under-par 31.
But when it came down to it, Benson and Erickson's final round surge had little affect on the defending champs as Schlachter and Cordaro played the final five holes at even-par to win back-to-back titles as Benson and Erickson placed second with a two-round total of 134.
Super Senior Division
In the Super-Senior division the competition was tight. Heading into the final round the leaders, Peter Gebhard of Lebanon, Pa., and Michael Kanoff, Jr. of Harrisburg, Pa., sat with a comfortable three-shot lead. They finished the first round with a championship-best back-nine score of 6-under-par 30.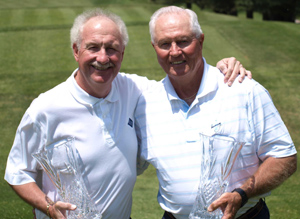 King Knox (left) and Jim Sherratt.
Super-Senior champions, King Knox of Lancaster, Pa., and Jim Sherratt of Montgomeryville, Pa., started the second round in fourth place after carding a 3-under par 69. They followed that up with two 34's to finish the championship in 7-under par.
"We left a lot out there," Sherrat said. "We thought we had a shot but it was tough to just make pars coming down the stretch."
Gebhard and Kanoff, who were tied for the lead coming to 16th hole, but a double-bogey on the par 4 18th hole (359 yards) placed them in a tie for third place with Charles Watterson of Presto, Pa., and Bill Douds of Bethel Park, Pa., with a 4-under-par 140.
Created in 1909 with the intention of promoting the interests of golf throughout the Commonwealth of Pennsylvania, the Pennsylvania Golf Association (PGA) is the authoritative body of amateur golf in the state. The Association's focus is to promote growth, preserve traditions and protect the integrity of the game through its competitions and member services. The Association's individual members and 300 Member Clubs are spread across the entire Commonwealth of Pennsylvania.
Senior Results

Name

Rnd 1

Rnd 2

Total

Schlachter, Paul / Cordaro, Joseph M.

64

66

130

Benson, John / Erickson III, Don H

69

65

134

Choate, Warren J. / Duffy, Mike

68

68

136

Anderson, George B / Foster, Stephen M

69

67

136

Newcomer, Bob / Smith, Lance

70

67

137

DeNezza, Dave / Allshouse, Bob

68

69

137

Over, Alan R. / Tompos, Andy

66

72

138

Rose, Michael / Irey, Roc

64

75

139

Haynie, James R. / Daley, Stephen E.

69

71

140

Scarpetta, Jr., Vincent A. / Richards, Donald A.

70

71

141

Ashley, Donald / Shuman, Mark E.

68

73

141

Kennedy, Todd R / Lankford, Dennis L

69

72

141

Pappas, Sr., Edward H. / Klagholz, Martin

68

73

141

Hennigan, Ed / Elias, George

71

70

141

Smee, Gregory M / Fleig, Thomas

74

68

142

Gaskill, Ken / Battista, Mark A

69

73

142

Scott, Craig / Swiger, Wally J

70

73

143

Sylves, James P / Reeve, Roy B

70

73

143

Polizzi, Frank S. / Zbrzeznj, Bernie

70

74

144

Strickler, Ed / Huston, Steve

70

75

145

Davis, David L / Ranck, Jeff

75

70

145

Saylor, Phil / Smith, Michael B.

73

72

145

Yard, William S. / Webb, John

74

72

146

Gershey, Jr., John N. / Rogalla, Charles S.

75

71

146

Patrylo, Robert J / Kelly, Jr., Vernon C.

72

75

147

Shuman, Frank T. / Shuman, Clyde W

73

74

147

Lykens, Lee / Drennen, Milton H.

74

73

147

Gudmestad, Del / Dingle, Gary

74

73

147

Daley, Thomas L / Riley, Fred

75

73

148

McFarland, Ned M. / MacWhinnie, Bob

71

77

148

Schiller, Robert / Roberts, Ed M

72

78

150

Beily, Alan / Carns, John

75

75

150

Snyder, John C. / Gaul, Gregory I.

75

77

152

Yarnell, Ronald R. / Emich, Barry J

75

77

152

Fogarty, James / Eckert, Gerald C.

77

79

156

Verney, Thomas P. / Duncan, William A

78

78

156

McDonald, Peyton D / Twigg, Russel W.

76

81

157

Joseph, Tony / Moot, William E.

81

77

158

Gray, Robert R / Faiola, Herman

80

80

160

Hull, Pete / Picking, Ken

82

89

171

Super-Senior Better-Ball Results

Knox, King T. / Sherratt, James R.

69

68

137

Fry, Gary D / Reish, Gale

68

71

139

Watterson, Charles / Douds, Bill

68

72

140

Gebhard, Peter N. / Kanoff, Jr., Michael

65

75

140

Smith, Richard A. / Deakins, Warren W.

72

69

141

McQuone, Gary H. / Lamb, Don W.

71

71

142

Stasiulatis, William / Hoffer, James

71

73

144

Callaghan, Jim J. / Fromal, Curt

72

73

145

Scheurich, Danny G / Wirth, Harry

74

74

148

Stanley, Peter G / von Seldeneck, Clay

77

76

153