*History
*Course stats
*Day One results
*Day Two results
Pinecrest CC's Nathan Smith grabs elusive second Amateur Championship trophy
PAOLI, Pa.–The past two years Nathan Smith came to the final hole of the State Amateur as a member of the last group staring a second championship trophy in the face. Both times he exited with a bogey and an eventual runner-up finish. On Wednesday at Waynesborough CC (par 71, 6,943 yards) in the final round of the 96th Amateur Championship, Smith eliminated any doubt as to the outcome of the 2009 edition with a spectacular closing score of 66. Emerging from a group of 12 players within four shots of overnight leader Michael Kania, Smith finished at 7-under par for the 54 holes (206 total) and a four-shot victory.
"It is that much more special considering the last couple of years," said Smith, 30, of Pittsburgh, Pa. "I've kind of felt like Greg Norman or something the last couple of years in this tournament. I've had a lot of seconds. [If] you are around the lead, good things are going to happen and I was able to get one this year.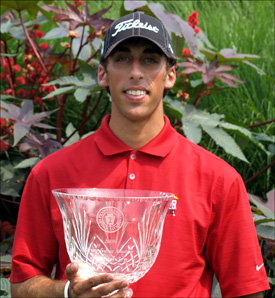 ROBERT ROHANNA
"This tournament always seems to be a lot of triumphant, a lot of tragedy. It's always exciting. Today 10 or 12 guys probably could have won, we were all right there. I made some putts today and had a couple of good bounces. It was meant to be. Some years are like that."
Smith found victory in 2002 but frustration in 2001, 2007 and 2008 with second-place showings.
The potential Walker Cup selection started the afternoon two shots back of Kania but stated his championship intentions immediately.
On No. 1 (par 4, 369 yards), he knocked a sand wedge from 100 yards to 10 feet and made the putt.
Five pars followed before Smith knocked a 70-yard, 60-degree wedge on No. 7 (par 5, 547 yards) to eight feet for birdie. He made the turn in 2-under par for his round and 4 under overall. At that point he held a one-shot lead over home-club hopeful Jeff Griest.
A birdie on No. 10 (par 4, 457 yards) with a sand wedge from 150 yards to 10 feet extended his advantage before Smith fully claimed the title on the dangerous par 3, 14th. Measuring 175 yards, over water, Smith knocked his 7-iron to five feet and made the putt for a two.
"That kind of won the tournament for me. That's a great hole. It's kind of a guessing game and I guessed right. I was just glad to hit the green and [think about carding] a three. If anything, [I'm trying] to take the water out of play. I was elated to see it at five feet."
Smith's closest competitor at that time was at 3 under.
A fantastic pair of up-and-down par saves on Nos. 15 (par 5, 554 yards) and 17 (par 3, 244 yards) – those were the only two holes Smith failed to record greens in regulation – followed before he hit 2-iron, 2-iron, 50-degree wedge from 100 yards to six feet on No. 18 (par 5, 539 yards) to close with a birdie.
"The names on that [trophy] are a who's who of golfers in Pennsylvania," said Smith, who is ranked 21st in the Golfweek amateur United States rankings. "I'm honored to be on there once, let alone twice."
Robert Rohanna of Nemacolin Woodlands Resort placed second at 3-under par (210 total). He and Smith are both heading to the U.S. Amateur Championship Qualifier in Altoona, Pa., tomorrow.
"I had it out there. I hit 15 greens and made only two birdies," said Rohanna, 23, of Waynesburg, Pa. "It was all about putting. The longest putt I made was three feet. I hit the ball great. Hopefully tomorrow they'll fall. I'll have to try and beat [Nathan Smith] again."
Tony Perla, 21, of Collegeville, Pa., and Radnor Valley CC carded a 3-under-par 68 on Wednesday to finish in third at 2 under for the tournament and Nathan Sutherland, 20, of Golden Oaks GC and Wyomissing, Pa., was the only other player to finish in red figures at 1-under par.
Griest, 22, of Glen Mills, Pa., who entered the final day a shot out of the lead, finished at even par.
"The rain delay killed my momentum. I made no putts on the back nine," said Griest, who had about two dozen supporters following his group. "I knew that rain delay was not going to be a good thing for me.
It's great to have the home crowd rooting for you. It was a good week overall."
There was a 48-minute lightning delay when the final group of Griest, Kania and Chad Warmbein made the turn.
Kania, the second-round leader from Overbrook GC, never recovered after bogeying two of the first three holes en route to a third-round score of 79. He finished tied for 18th.
"All week I've been hitting fairways and greens and today I just couldn't find it," said Kania, 18, of Haverford, Pa.
Smith's victory adds to an impressive resume he hopes is good enough to be selected for the Walker Cup slated for Sept. 12-13 at Merion GC.
Recently, he tied for fourth in the Sunnehanna Invitational, tied for seventh at the Northeast Amateur and Southern Amateur and tied for 13th in the Porter Cup.
Former multiple Pennsylvania Amateur Champion Buddy Marucci, Jr., serves as the United States captain.
"That would be an honor," said Smith. "I've played great the last two years. It's been fun more than anything getting to know the guys. It would be a dream and an honor to get a shot at that."
| | | | | | |
| --- | --- | --- | --- | --- | --- |
| Name | Club | Rd. 1 | Rd. 2 | Rd. 3 | Total |
| Nathan Smith | Pinecrest Country Club | 68 | 72 | 66 | 206 |
| Robert T. Rohanna | Nemacolin Woodlands Resort | 71 | 69 | 70 | 210 |
| Tony R. Perla | Radnor Valley Country Club | 68 | 75 | 68 | 211 |
| Nathan Sutherland | Golden Oaks Golf Club | 70 | 70 | 72 | 212 |
| Chad A. Bricker | Waynesboro Country Club | 70 | 73 | 70 | 213 |
| Chad N. Warmbein | Rolling Hills Country Club | 69 | 70 | 74 | 213 |
| Christopher W. Ault | Yardley Country Club | 69 | 71 | 73 | 213 |
| Jeffrey Griest | Waynesborough Country Club | 71 | 68 | 74 | 213 |
| Travis J. Howe | Corey Creek Golf Club | 73 | 68 | 72 | 213 |
| Conrad Von Borsig | Concord Country Club | 70 | 73 | 71 | 214 |
| Daniel R. Charen | Yardley Country Club | 69 | 73 | 72 | 214 |
| David DeNunzio | Latrobe Country Club | 75 | 72 | 68 | 215 |
| Brandon Detweiler | Lancaster Country Club | 70 | 75 | 70 | 215 |
| Matt Smith | Whitford Country Club | 73 | 74 | 68 | 215 |
| Matt Vogt | Connoquenessing Country Club | 72 | 71 | 72 | 215 |
| Jon Pratkanis | Kittanning Country Club | 72 | 71 | 73 | 216 |
| Christian S. Davis | Glenmaura National Golf Club | 73 | 73 | 70 | 216 |
| Zak Drescher | Lancaster Country Club | 72 | 70 | 75 | 217 |
| Michael Kania | Overbrook Golf Club | 68 | 70 | 79 | 217 |
| Andrew Guaraldo | Waynesborough Country Club | 72 | 74 | 71 | 217 |
| Christopher Schultz | Squires Golf Club | 73 | 70 | 74 | 217 |
| Gregor A. Orlando | The Kahkwa Club | 74 | 72 | 71 | 217 |
| Matt Moot | Windber Country Club | 70 | 72 | 76 | 218 |
| Adam Hofmann | Fox Chapel Golf Club | 73 | 73 | 72 | 218 |
| Cory M. Siegfried | Philadelphia Country Club | 71 | 73 | 74 | 218 |
| Zachary C. Herr | Jericho National Golf Club | 68 | 76 | 75 | 219 |
| Glenn Smeraglio | Commonwealth National Golf Club | 76 | 68 | 76 | 220 |
| Anthony D. DeGol | Scotch Valley CC | 72 | 73 | 75 | 220 |
| C.G. Mercatoris, IV | Pinecrest Country Club | 77 | 70 | 73 | 220 |
| Tucker Koch | RiverCrest Golf Club & Preserve | 70 | 75 | 75 | 220 |
| Pierce Dever | Jericho National Golf Club | 75 | 72 | 74 | 221 |
| Arnie Cutrell | Greensburg Country Club | 75 | 69 | 77 | 221 |
| Clayton C. Rotz | Penn National Golf Club | 75 | 72 | 75 | 222 |
| Eric W. Williams | Honesdale Golf Club | 70 | 76 | 77 | 223 |
| P. Chet Walsh | Phila Country | 74 | 71 | 78 | 223 |
| James P. Bea | Spring Mill Country Club | 69 | 72 | 82 | 223 |
| Anthony J. DeNicco | Brookside Country Club | 76 | 71 | 77 | 224 |
| Artie Fink, Jr. | Sinking Valley Country Club | 72 | 74 | 79 | 225 |
| Joe Bevevino | Huntsville Golf Club | 75 | 71 | 79 | 225 |
| Eric A. Plisko | Wyoming Valley Country Club | 75 | 71 | 79 | 225 |
| Christopher Storck | Moselem Springs Golf Club | 75 | 72 | 80 | 227 |
[ Back ]