Bartolacci & Irey Win Senior Better-Ball Championship
Gordon & Schiller Win Super-Senior Better-Ball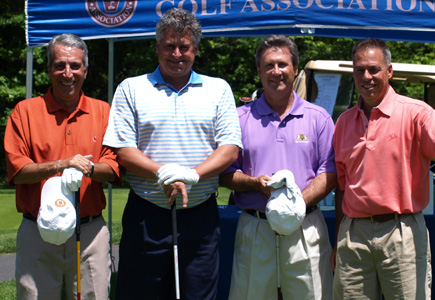 Bartolacci (left), Irey, Schlachter, & Cordaro
The final Pairing in the Senior Better-Ball Championship
Commonwealth National Golf Club in Horsham, PA, was the site of a fine two days of golf for the Senior and Super-Senior Better-Ball Championships. Tom Bartolacci and Roc Irey fought off tough competition, including the two-time champions Paul Schlachter, of Bridgeville, PA, and Joseph Cordaro, of Pittsburgh, PA.
The leaders started the day with a comfortable 4-shot lead over three teams, who all posted rounds of 67 on day 1. That lead was in jeopardy after nine holes on Wednesday. Newcomer to the senior tournament scene, Chick Wagner, of Oakmont, PA, and Bob Allshouse, of Greensburg, PA, posted a 33 on their opening nine holes to pull within 2 of the leaders, while Dan Burton, of Lititz, PA, and Frank Polizzi, of Plymouth Meeting, PA, remained at 4-under-par through nine holes.
Two-time defending champions Schlachter and Cordaro gained a shot on their opening nine with a one-under-par 35, but remained four shots back after the leaders posted a 35 as well.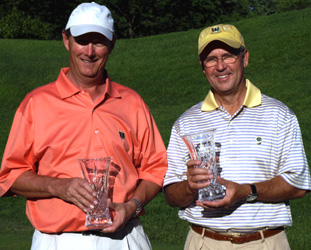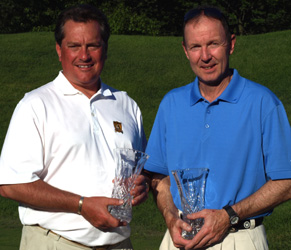 Dan Burton (left) and Frank Polizzi Chick Wagner (left) and Bob Allshouse
Coming down the stretch it was Bartolacci and Irey who shined, finishing their round with three birdies on the back side.
"I'm justing trying to get a good start going for my 'Nine-and-Dine Summer'", said Irey after being awarded his second 1st place trophy in 3 tries for The Pennsylvania Golf Association. He won the Senior Amateur Championship at the end of 2008, and finished second to Paul Schlachter in the 2009 Senior Amateur Match Play Championship.
Super-Senior Division
Bob Schiller, of Abington, PA, and Herbert Gordon, of Doylestown, PA, took home the hardware in the Super-Senior Division. They were in a three way tie after the first round, all posting rounds of one-under-par, 70. Curt Fromal, of Folsom, PA, and Joseph Maxwell, of Newark, DE, and Don Lamb, of Pittsburgh, PA, and Gary McQuone, of Sewickley, PA were the other two teams looking to take home the trophy.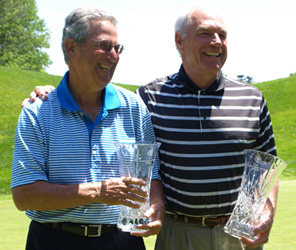 Herb Gordon (left) and Bob Schiller
Super-Senior Champions
All three teams went out in one-over-par, 37, on their first nine in the morning. The team of Schiller and Gordon got the best of Fromal and Maxwell on the difficult back nine at Commonwealth National. With back-to-back birdies on the 370 yard, par 4, 15th hole, and the 140 yard, par 3, 16th hole, they just needed to par the last two to take the Super-Senior division.
Fromal and Maxwell had an up and down back nine, scoring three birdies, but also had two bogies which proved to be the deciding factor. They posted a very respectable one-under-par, 141 for the championship.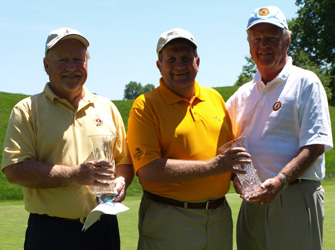 Joseph Maxwell (left) and Curt Fromal accept
the 2nd place trophies from Association President
Raymond Mott
The 2010 Senior Better-Ball Championship site has yet to be named.
The Association would like to thank Commonwealth National Golf Club for a fantastic golf course and very professional staff. Special thanks to Patrick Shine, Golf Professional, Terry Tumolo, General Manager, Larry Schlippert, Golf Course Superintendant, Danny Kelly, Caddie Master, and all of the staff at CNGC for all of your help with the event.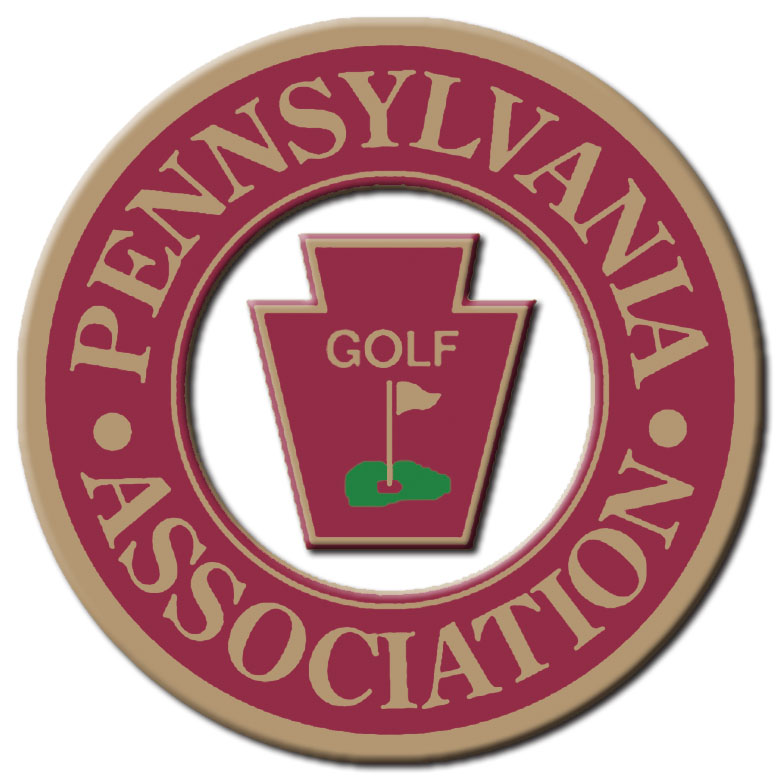 [ Back ]