Siegfried Wins 97th Amateur Championship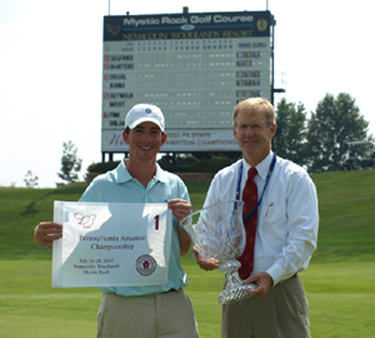 Cory Siegfried and Chuck Dannenberg (Assoc. President)
pose in front of the scoreboard.
The weather was not the only thing that was perfect this week at Nemacolin Woodlands Resort on the Mystic Rock Course. Cory Siegfried's putter was equally fantastic. After logging 25 total putts in the first round on his way to a 6-under-par round of 66, which included 2 eagles and 3 birdies. He then posted a 2-under-par second round score of 70, which included another eagle and 4 birdies, to remain on top of the leaderboard (with a 2 shot lead) heading to day three.
"Jeff Romines, my caddy, and I read the greens really well all week. I actually just got a new putter two weeks ago. My coach mentioned that I should try less offset and it worked. I feel so comfortable over putts and just feel confident. Putting was definitely the deciding factor for this win. "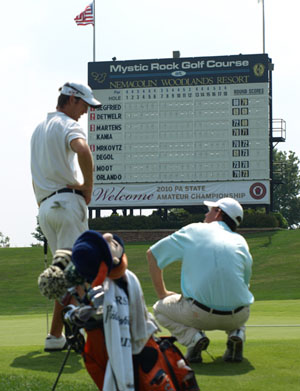 Brandon Detweiler (left) and Cory Siegfried at the
18th green during the final round.
Brandon Detweiler, of Lancaster Country Club, stood alone in second place after two great rounds of 3-under-par, 69. He struggled early on in the third round, double-bogeying the 465 yard, par 4, 2nd hole after driving it left behind some trees. His approach found the large greenside bunker where he caught his third shot thin and wound up in the trees behind the green. The leader, Cory Siegfried, Philadelphia Country Club, then left the second green with a 4-shot-lead after rolling in a deep par-saving putt.
Siegfried did not hold back at all. After a three putt bogey on the 211 yard, par 3, 3rd hole, he birdied holes 4, 5, 6, and 8 to post a front nine score of 34.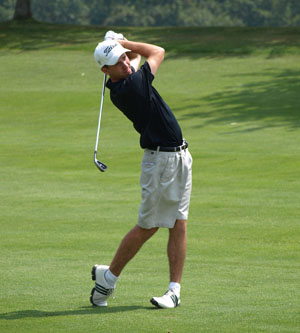 Grant Martens, of Wildwood Golf Club
Grant Martens played steady for the entire third round just waiting for the leaders ahead of him to make a mistake. Martens carded eleven staight pars before birdying the difficult 185-yard, par 3, 12th hole. He followed it up with another great birdie on the 394-yard, par 4, 13th hole. Martens finished with five more pars to tie the low score of the day, 2-under-par, 70.
The only other third round score with red numbers came from Anthony DeGol, of Scotch Valley Country Club. He also posted a 2-under-par, 70, which included 3 birdies and an eagle on the 545 yard, par 5, 8th hole.
Anthony DeGol (center) and his caddy are awarded the
3rd place trophy and flag from Chuck Dannenberg
Michael Kania, Overbrook Golf Club, finished in 4th place with a total of 3-under-par, 213. Michael and his brother, James Kania, Jr. won the Team Championship. The event was conducted as a "best 2 scores of 3" over the first two rounds. Teams are comprised of 2 to 3 players from the same club. James Kania, Jr. finished in tied for 12th place after posting rounds of 72, 73, and 76.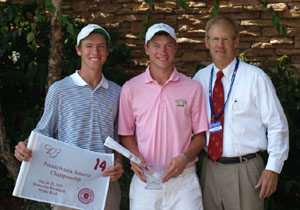 Michael (center), with his brother James, is awarded
the 4th place trophy from Chuck Dannenberg.
The 2011 Amateur Championship will be held at Lancaster Country Club on July 25-27.
Special thanks to Dennis Clark, Director of Golf, and Brian Anderson, Director of Grounds, and all of the staff at Nemacolin Woodlands Resort.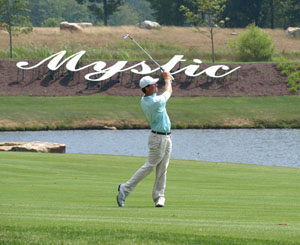 Siegfried hits his approach from the fairway on #16
"I know this is just the start of more things to come. I have really battled back after a wrist injury earlier in the year. I have crawled back from that, and was able to string three great rounds together, and I just went out and had fun at a really awesome place."
[ Back ]