Amateur Results Senior Results
Knapp and Strickler Back-to-Back Winners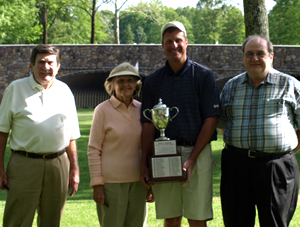 Sean Knapp is awarded the George Dressler Trophy
from Mr. & Mrs. Gene Dinnocenti and Ronald Dinnocenti
Gilbertsville, PA - Sean Knapp, of St. Jude Golf Club, won his second Amateur Public Links Championship in back-to-back fashion. He is undefeated in the event, as he only became a public links player in 2009. He won the 2009 Championship without breaking a sweat, but this year's Championship field was set to get back at him.
Knapp started the second round five shots off of the leader, Thomas Timby, Jr., of The Bucks Club. Thomas carded an opening round of one-under-par, 69, which included 3 birdies and 2 bogeys. He relinquished his lead in the second round after carding a triple-bogey on the sharp dogleg, 413 yard, par 4, 8th hole.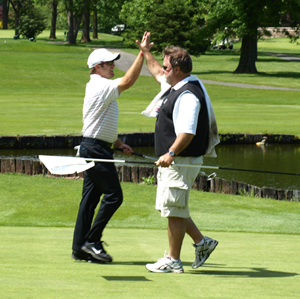 Dan Charen and his caddie/father celebrate after
rolling in a 50 foot putt.
Knapp was steady all day on Sunday with 3 birdies and 3 bogeys, while the rest of the field fell back to him. Daniel Charen, of Makefield Highlands Golf Club, and also an Ohio State Buckeye golfer, held the lead at +2 through 27 holes. But with a bogey on 11, double bogey on 13, and a bogey on 17 he was one shot back of Sean Knapp. Charen had a 10 foot putt on the 18th green to force a playoff, but it just slid by on the high side.
Knapp posted his 4-over-par score of 144, and watched Charen's putt slide by, but that wasn't the end of the dramatics. Timby had a chance to force a playoff with a birdie at the last. He striped is drive to the right side near the end of the fairway on the 348 yard, par 4, 18th hole. His approach went right over the flag stick about 18 feet and spun back to about 12 feet from the hole. He had a left to right putt, down hill, and it just held out to the left and stopped just on the lip, and that sealed the victory for Knapp.
SENIOR DIVISION
Ed Strickler, of Huntingdon Country Club, also completed a back-to-back win on Sunday in the Senior Division. He posted the low first round score, 5-over-par, 75, and never gave up the lead. Two-time Senior Public Links Champion, Andy Tompos, of Lancaster Host Resort, started the second round one shot behind Strickler, but just couldn't catch him. He ended up in a tie for second at 151.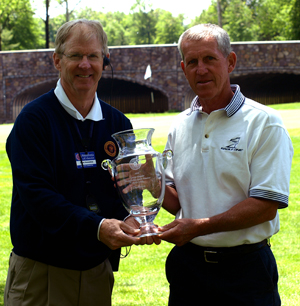 Ed Strickler is awarded the Senior Public Links Championship
Trophy by Association President Chuck Dannenberg
Fred Riley, of Toftrees Resort was in the first pairing in the morning and went out guns blazing! He posted a score of 32 on his final nine holes with three birdies and no bogeys, to post the low round of the tournament in the Senior Division.
A special thanks to Hickory Valley Golf Club's staff and ownership for a fantastic job again this year!
Rank

Name

Club

1st Rnd

2nd Rnd

Total

1
Sean R. Knapp
St. Jude Golf Club

74

70

144

T2
Daniel R. Charen
Makefield Highlands GC

71

74

145

T2
Thomas E. Timby, Jr.
The Bucks Club

69

76

145

4
Ryan C. Blair
PGA Individual Member

77

69

146

5
David Shields
Cobbs Creek GC

72

75

147

T6
Kenneth Matt
Philadelphia Publinks GA

76

73

149

T6
Tim Wilson
Hickory Valley Golf Club

71

78

149

T8
Darryn E DeShong
PGA Individual Member

70

80

150

T8
Stephen H. McIntyre
Honeybrook Golf Club

77

73

150

10
Jason Wilson
Allentown Municipal G C

77

74

151

T11
Andrew J. Jaskel
Middletown Country Club

77

75

152

T11
Patrick H. Serfass
Allentown Municipal Golf Clu

79

73

152

T13
Braden T. Shattuck
Golf Club at Glen Mills

76

78

154

T13
David R. Searfass
Turtle Creek Golf Course

77

77

154

T13
Edward H. Knoll
Deer Run Golf Club

77

77

154

T16
Artie Fink, Jr.
Sinking Valley Country Club

80

75

155

T16
Chance W. Miller
Lancaster Host Golf Resort

78

77

155

T16
Ed Gunkle
Shade Mountain Golf Course

71

84

155

T16
Kenneth W. Mangin
Hickory Valley Golf Club

81

74

155

T16
Kevin T. Haag
Deer Run Golf Club

80

75

155

T16
Matt M Dolinsky
Honeybrook Golf Club

79

76

155

T22
Brian J Fisher
The Club at Shannondell

77

79

156

T22
David L. Denlinger
Lancaster Host Golf Resort

75

81

156

T22
Phil J Rothermel
Golden Oaks Golf Club

77

79

156

T22
Shawn Lavin
Philadelphia Publinks GA

75

81

156

T26
Andrew Lykon
PGA Individual Member

83

75

158

T26
Brendan M. Borst
Hickory Heights Golf Club

78

80

158

T26
Keith A Matt
Philadelphia Publinks GA

79

79

158

T26
Ryan Foell
Hickory Valley Golf Club

77

81

158

T30
Glenn D. Dolfi
Birdsfoot Golf Club

80

79

159

T30
Mike Marron
St. Jude Golf Club

80

79

159

T32
Kevin B. Ellison
Dauphin Highlands Golf Cour

82

78

160

T32
Steve Lubin
Five Ponds Golf Club

78

82

160

34
Edwin Diaz
Loch Nairn Golf Club

80

81

161

35
Jud Gemmill
Lancaster Host Golf Resort

79

83

162

T36
Dave Caldwell
Hickory Valley Golf Club

83

80

163

T36
Mark E Breslin
PGA Individual Member

81

82

163

T38
Al R. Kline, Jr.
Bucknell Golf Club

79

85

164

T38
Kevin J Koch
Philadelphia Publinks GA

76

88

164

T40
Carlo C Barrasse
Hickory Valley Golf Club

80

86

166

T40
Dennis P. Marcozzi Jr.
Dauphin Highlands Golf Cour

81

85

166

T40
Freddy Henriquez
Loch Nairn Golf Club

77

89

166

T40
William J. Rolli
Hickory Valley Golf Club

84

82

166

T44
Joseph W. Yamulla
PGA Individual Member

86

81

167

T44
Mark Graham
Hickory Valley Golf Club

79

88

167

T44
Mazen J. Nubani
Heron Glen Golf Club

82

85

167

T47
Craig W. Borst
Hickory Heights Golf Club

84

84

168

T47
Ronald Romanik
Honeybrook Golf Club

82

86

168

49
Evan Notaro
PGA Individual Member

83

86

169

50
Brian G. Trump
Lancaster Host Golf Resort

85

85

170

51
Sean T Cabry
Lancaster Host Golf Resort

86

85

171

52
Tom Prestia
PGA Individual Member

87

85

172

53
Jedd Laskowski
Hickory Valley Golf Club

84

89

173

T54
Alex Bilinski
PGA Individual Member

86

89

175

T54
Rich Falconio
PGA Individual Member

85

90

175

T56
Daniel R. Cless
PGA Individual Member

85

91

176

T56
Jason Kowalski
PGA Individual Member

88

88

176

T56
Michael J. McGowan
PGA Individual Member

88

88

176

59
Jesse J Corbett
Golden Oaks Golf Club

95

82

177

60
Tim S Kerns
Pickering Valley Golf Club

89

95

184

61
Craig R. Munson
Honeybrook Golf Club

94

91

185

62
Drew Schmidt
Mocasin Run Golf Club

88

100

188

63
James Triebl
Loch Nairn Golf Club

102

87

189

64
Aaron W Morris
Jeffersonville Golf Club

99

94

193

65
Tim J. McNerney
Philadelphia Publinks GA

82

NC

NC

SENIOR DIVISION

Rank

Name

Club

1st Rnd

2nd Rnd

Total

1
Ed Strickler
Huntingdon Country Club

75

72

147

T2
Andy Tompos
Lancaster Host Golf Resort

76

75

151

T2
Fred Riley
Toftrees Golf Club

82

69

151

T4
Ray D. Ford
Raven's Claw Golf Club

77

75

152

T4
Tim Harpster
Bucknell Golf Club

78

74

152

6
Joel McFadden
Honeybrook Golf Club

81

81

162

7
Joseph R. Grubb, III
Honeybrook Golf Club

79

85

164

T8
Robert C Kowalski
Philadelphia Publinks GA

84

87

171

T8
Tom Balog
PGA Individual Member

84

87

171

T10
Frank M. Treml
Philadelphia Publinks GA

84

WD

WD

T10
Richard Jones
Toftrees Golf Club

89

WD

WD
[ Back ]