*Scorecards
*History
Huntingdon Valley CC's Andrew Mason takes
98th Pennsylvania Amateur Championship
LANCASTER, Pa.–It's been a life altering – golf wise – eight days for Andrew Mason of Huntingdon Valley CC.
Fresh off a smashing triumph in the 103rd Golf Association of Philadelphia Open Championship, the 22-year-old Huntingdon Valley, Pa. resident added the 98th Pennsylvania Golf Association Amateur Championship sponsored by Penn National Insurance title to his rapidly rising profile on Wednesday. Mason entered the third and final round at an extremely challenging Lancaster CC (par 70, 6,850 yards) two strokes behind leader Adam Hofmann of Fox Chapel GC. He closed the 54-hole event at even par, finishing with a third-round best 1-over 71 on a day when an astounding 77.3 was the scoring average. Thick rough and quick green speeds resulted in brutal conditions.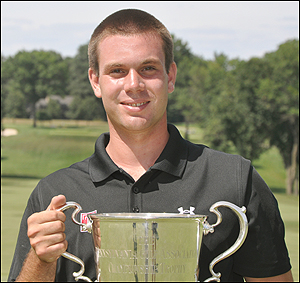 ANDREW MASON
Mason secured the win with a 20-foot, up-the-hill par save on No. 18 (par 4, 470 yards) to edge local Lancaster County hopeful Matthew Burkhart of Meadia Heights GC by a shot. Hofmann, the 2007 Amateur Champion, placed third.
"It's hard to put it in perspective right now," said the soft-spoken Mason. "Obviously it's the best week of my golfing career. It's really just an honor. I'm really happy."
On a day when bogeys reigned and pars were the score du jour, Mason skyrocketed to the front with a remarkable front side 2-under 33, five better than the average. He birdied No. 2 (par 4, 377 yards) from a foot after punching an 8-iron on from 152 yards; hit a 105-yard sand wedge to three feet on No. 5 (par 4, 392 yards) and two putted from 30 feet on No. 7 (par 5, 529 yards). Mason held a three-stroke lead over Hoffman, his closest pursuer with nine holes to play.
The outcome, however, became a bit unclear as the field traversed the backside.
Mason miscues on Nos. 11 (par 4, 478 yards) and 12 (par 3, 181 yards) dropped the former Temple University standout to 1 under. Meanwhile, Burkhart, who stood at 1-over after 45 holes, birdied Nos. 12 and 13 (par 5, 517 yards) to move into challenging position. It became clear the Amateur trophy would wind up with one of these two.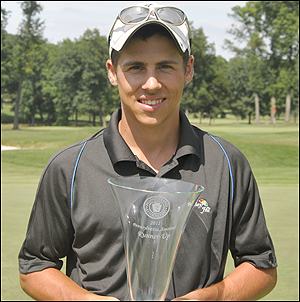 MATTHEW BURKHART
Mason converted clutch par saves on each of the next three holes to remain one clear of the field before recording a bogey on No. 17 (par 3, 182 yards) after finding the left bunker. When Burkhart, in the final group and just behind Mason, drained a miraculous 45-foot twisting birdie on No. 16 (par 4, 357 yards) the pair was tied at even.
"When I made that putt I'd be lying if I didn't say maybe it's meant to be," said Burkhart, 20, of Lancaster, Pa. and a junior at Messiah College. "It almost felt like it was fate. I still had two difficult holes to go though."
Mason found the 18th (par 4, 470 yards) green with an approach that stopped 50 feet left of the hole before Burkhart hit on No. 17 (par 3, 182 yards). Facing a treacherous and unstoppable downhill putt, Mason left himself a 20-foot comebacker, which fell dead in the heart, to finish at level par. Burkhart, in the meantime, flared his 6-iron into the right greenside bunker, knocked his sand shot out to 15 feet and missed the par save. On No. 18, Burkhart came up just a couple yards short of the green with his 7-iron from 190 yards out in the left rough. His chip stopped three feet short to make Mason's coronation official.
The key to Mason's meteoric rise seems pretty simple.
"Keeping my focus and playing pretty conservative," said Mason.
For most of the day, he made it look that easy.
Name, club

Rnd 1

Rnd 2

Rnd 3

Total

Andrew J. Mason, Huntingdon Valley Country Club

70

69

71

210

Matthew E. Burkhart, Meadia Heights Golf Club

68

70

73

211

Adam Hofmann, Fox Chapel Golf Club

67

70

76

213

Anthony D. DeGol, Scotch Valley Country Club

68

71

75

214

Michael P. McDermott, Merion Golf Club

70

68

78

216

Sean R. Knapp, St. Jude Golf Club

72

71

74

217

Nicholas Reach, Glenmaura National Golf Club

68

74

75

217

Jeff Osberg, Llanerch Country Club

69

75

74

218

Ross P. Pringle, The Country Club of Meadville

71

72

75

218

Eric W. Williams, Honesdale Golf Club

69

72

77

218

Brandon M. Matthews, Fox Hill Country Club

70

75

74

219

Matt Moot, Windber Country Club

74

69

76

219

Gregor A. Orlando, The Kahkwa Club

75

71

74

220

Arnie Cutrell, Greensburg Country Club

71

73

76

220

Nelson A. Hargrove, Merion Golf Club

72

75

74

221

Jim B. Markovitz, The Club at Nevillewood

74

71

76

221

Greg Jarmas, Philadelphia Publinks GA

72

73

77

222

James Kania, Jr., Overbrook Golf Club

70

73

79

222

Scott McLaughlin, Commonwealth National Golf Club

70

73

79

222

Nathan Sutherland, Oakmont Country Club

70

78

74

222

Michael R. Brown, Lookaway Golf Club

73

74

75

222

C.G. Mercatoris, IV, Pinecrest Country Club

69

75

79

223

David DeNunzio, Greensburg Country Club

72

75

77

224

Zachary C. Herr, Jericho National Golf Club

74

74

76

224

Craig J. Hornberger, Lancaster Country Club

72

74

78

224

Michael Kania, Overbrook Golf Club

71

74

79

224

Tucker Koch, RiverCrest Golf Club & Preserve

67

78

79

224

Greg Podufal, Lake Shore Country Club

72

74

78

224

Ben B. Boyle, Longue Vue Club

74

74

76

224

Ross Brown, Huntsville Golf Club

73

76

75

224

Spencer R. Mellon, Oakmont Country Club

75

70

80

225

Justin P. Miller, Oakmont Country Club

72

78

75

225

Cory M. Siegfried, Philadelphia Country Club

69

79

77

225

William R. Miller, St. Clair Country Club

74

72

80

226

Brandon Dalinka, PGA Individual Member

74

74

79

227

David W. Pompey, Jr., Country Club of Scranton

74

74

81

229

Jason D. Sauder, Lancaster Host Golf Resort

76

74

81

231

Jeff L. Frazier, Carlisle Country Club

76

74

81

231

Stephen Seiden, Llanerch Country Club

74

75

82

231

Ian P. Bangor, Sewickley Heights Golf Club

74

75

82

231

David Shields, Philadelphia Publinks GA

78

72

82

232

John A. Brennan, Spring Ford Country Club

74

73

85

232

Joe Bevevino, Huntsville Golf Club

74

75

84

233

Glenn Smeraglio, PGA Individual Member

72

78

WD

WD

Failed to qualify

Rnd 1

Rnd 2

Total

David L. Denlinger, Lancaster Country Club

69

82

151

Zak Drescher, Lancaster Country Club

73

78

151

Grant M. Martens, Wildwood Golf Club

76

75

151

Patrick D. Ross, Elmhurst Country Club

75

76

151

Nicholas D. Tornetta, Chambersburg Country Club

76

75

151

David Brown, St. Clair Country Club

72

79

151

Daniel R. Charen, Makefield Highlands Golf Club

68

83

151

JD Dornes, Meadia Heights Golf Club

76

76

152

Nicolas Milito, Greensburg Country Club

73

79

152

Christopher Storck, Moselem Springs Golf Club

73

79

152

Bobby Svigals, Radnor Valley Country Club

73

79

152

P. Chet Walsh, Philadelphia Country Club

74

78

152

Chris G. Esbenshade, Bent Creek Country Club

77

76

153

Stephen L. Hudacek III, Glenmaura National Golf Club

77

76

153

Scott J. McNeil, Philadelphia Publinks GA

75

78

153

Christopher L. Schultz, Schuylkill Country Club

76

77

153

Jon E. Thomas, Pittsburgh Field Club

76

77

153

Alex Urrea, The Club at Nevillewood

76

77

153

Christopher Crawford, Spring Mill Country Club

75

78

153

Jeffrey L. Griest, Waynesborough Country Club

75

79

154

Cameron T. Liebert, White Manor Country Club

73

81

154

David G. Mecca, Emanon Country Club

76

78

154

Todd Berglund, Oakmont Country Club

76

78

154

Ronald DeNunzio, Greensburg Country Club

74

81

155

Joseph W. DiMuccio, New Castle Country Club

75

80

155

Ryan J. Gelrod, Commonwealth National Golf Club

81

74

155

Andy Gibbons, Pine Meadows Golf Complex

73

82

155

Craig S. Kliewer, Meadia Heights Golf Club

76

79

155

Jordan Shuey, PGA Individual Member

78

77

155

Oliver White, Manufacturers Golf & Country Club

77

78

155

Kyle R. Williams, Glen Oak Country Club

75

80

155

Jimmy C. Wolfe, Bellewood Golf Club

77

78

155

Griff Basehore, Country Club of Harrisburg

79

76

155

Benjamin Cooley, Huntingdon Valley Country Club

80

75

155

Barry Erenrich, The Club at Nevillewood

73

83

156

Artie Fink, Jr., Sinking Valley Country Club

78

78

156

Ryan Kline, Golden Oaks Golf Club

73

83

156

Connor J. McNicholas, Commonwealth National Golf Club

75

81

156

Vince A. Scarpetta, Glenmaura National Golf Club

76

80

156

Kyle T. Davis, Fieldstone Golf Club

76

81

157

Brady M. Goodling, Lebanon Country Club

79

78

157

Sean Sweithelm, Indiana Country Club

81

76

157

Eric S. Aeppli, Glenmaura National Golf Club

76

82

158

Rodney L. James, Five Ponds Golf Club

76

82

158

Greg Matthias, Hartefeld National

77

81

158

Luke Miller, St. Clair Country Club

77

81

158

Trevor Pope, Crossgates Golf Club

82

76

158

Brian T. Corbett, Huntsville Golf Club

82

76

158

Dan J Joseph, South Hills Country Club

76

83

159

Matt Smith, Lancaster Country Club

81

78

159

Kurtis A. Straw, Sunnehanna Country Club

78

81

159

Eric Urda, Allegheny Country Club

78

81

159

Byron W. Whitman, Golden Oaks Golf Club

77

82

159

Peter J. Eiler, Commonwealth National Golf Club

78

82

160

Adam J. Harrington, Penn State Golf Courses

80

80

160

Russell K. Hartung, Doylestown Country Club

82

78

160

Edward H. Knoll, Deer Run Golf Club

79

81

160

Joey Manzinger, Sewickley Heights Golf Club

81

79

160

Steven V. Scarpetta, Glenmaura National Golf Club

85

75

160

James P. Bea, Spring Mill Country Club

79

81

160

Kevin B. Ellison, Dauphin Highlands Golf Course

81

80

161

Zachary E. Johns, First Tee of Pittsburgh Golf Club

80

82

162

Lynn T. Kilduff, Huntsville Golf Club

81

81

162

Heath Davidson, Carlisle Country Club

79

83

162

Matthew A. Kachurak, Wyoming Valley Country Club

79

84

163

Timothy P. Anderson, Commonwealth National Golf Club

85

78

163

John E. Barry, Lancaster Country Club

84

79

163

Jud Gemmill, Lancaster Host Golf Resort

75

90

165

Rob Rowe, Bent Creek Country Club

82

83

165

Daniel Costenbader, Blue Ridge Country Club

83

82

165

Mark Czerniakowski, Blue Bell Country Club

82

83

165

Clayton W. Davidson, Carlisle Country Club

76

89

165

Mike Sugden, Lancaster Country Club

79

88

167

Connor Coldwater, Glenmaura National Golf Club

84

84

168

Chad J. Dechowitz, Blue Ridge Country Club

84

86

170

WD-withdrawal
[ Back ]