John Rodney Fires Back-to-Back 69's
to Take 52nd Senior Amateur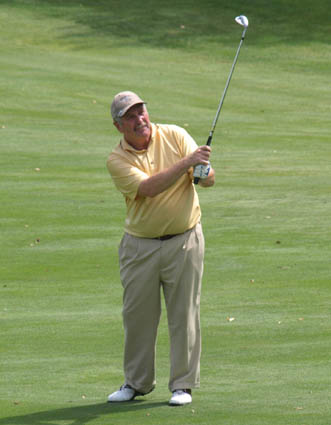 John Rodney, Diamond Run Golf Club
Pittsburgh, PA; A leaderboard of the "who's who" in Pennsylvania Senior Golf was taken by surprise by a relative newcomer in John Rodney, Diamond Run Golf Club. Rodney and the returning champion, Paul Schlachter, The Club at Nevillewood, were tied for the lead with first round scores of three-under-par, 69's. Lurking a few shots behind was Craig Scott, Huntingdon Valley Country Club, and Robert Ockenfuss, Indian Valley Country Club, and then a host of formidable competition was just a shot or two back from them.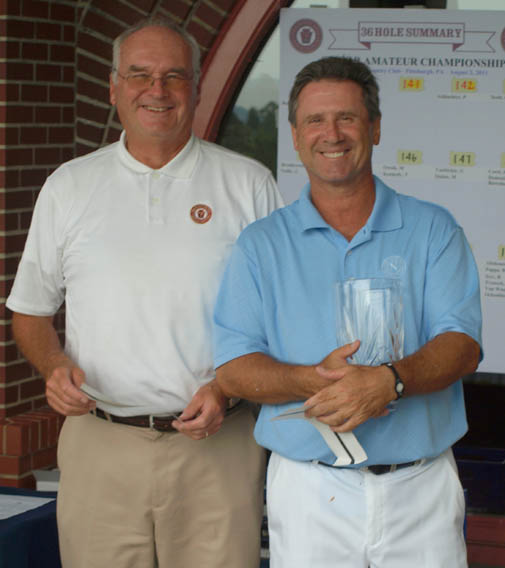 Paul Schlachter (right) with Association Vice-President
John McMurdy
There was sure to be some fireworks, but they came from a player who was competing in just his second PA Senior Amateur Championship. Rodney is just 56 years old, a "young buck" in these competitions. Les Neilly, Edgewood Country Club, the hometown favorite, was not to be outdone in the early stages of the second round. Neilly proved to be a force to be reconned with as he posted a front nine score of 4-under-par, 32. His first nine holes included four birdies and five pars.
Neilly was one shot back of the leader, Rodney, after 27 holes as they stood 4-under-par and 5-under-par, respectively.
Schlachter did not have the start that he had envisioned, and stood 5 shots back of the leader after his first 27 holes. He would not let that stop him, however, as he made a late charge on his final holes with three birdies to finish alone in second place.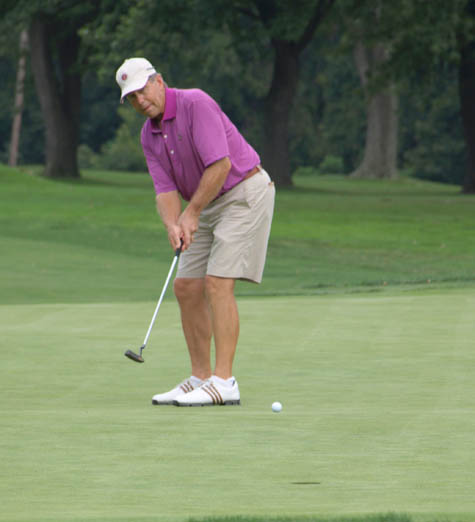 Craig Scott
David Brookreson, Huntingdon Valley Country Club, tried to scare the field back to him with a great round of 2-under-par, 70, which included four birdies. He and fellow HVCC member, Craig Scott, who finished alone in third place with rounds of 71 - 72, were able to pull off the Team Championship portion of the event by two shots. They teamed up with Brian Nelson to win the "best 2 scores of 3, per day" Championship.
After holing out his approach on the first hole for an eagle 2, maybe it was just his day. Rodney finished the event with three eagles and five birdies to stride to the finish line with a 4 shot victory.
Super-Senior Division
The Howson Three-Peat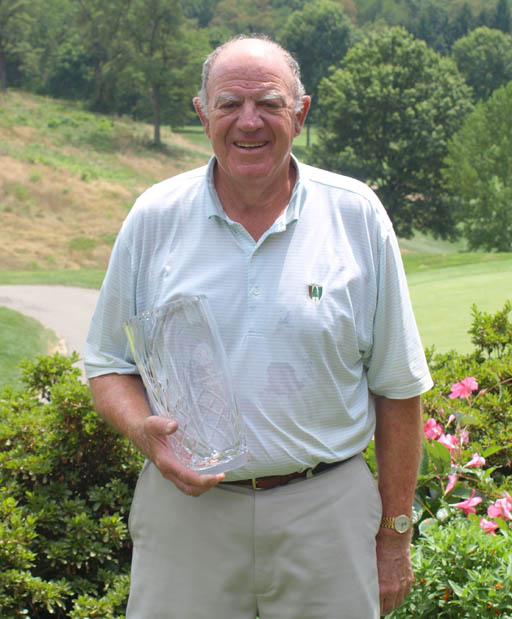 Jay Howson
Jay Howson, St. David's Golf Club, continued his dominance of the Super-Senior field with his third victory in a row. His birdie-birdie finish was enough to outlast Lee Lykens, Clearfield-Curwensville Country Club, by two shots. Howson had a 12 foot bending putt on the 18th green that he knew he just needed a two putt to secure the win. Needless to say he rolled it in for the two shot victory.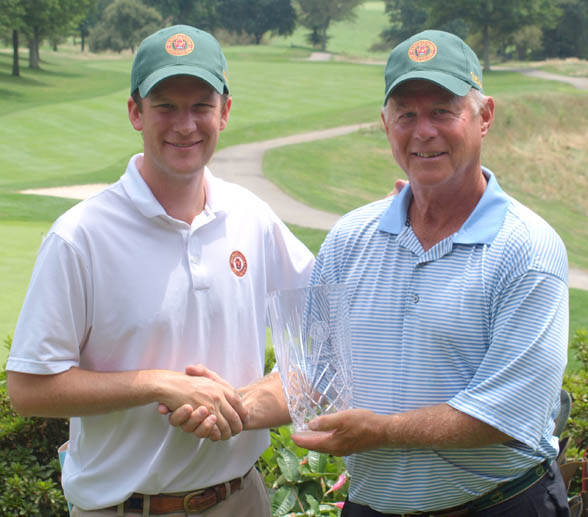 Lee Lykens (right) with Association Director of Competitions
Tyler Riggin
Howson finished with four birdies in his final round, and Lykens made his run with three birdies.
John Pagana, Susquehanna Valley Country Club, held the first round lead with a score of 73 in the first round. He was unable to hold the lead, but finished alone in 3rd place.
The Super-Senior Team Championship was won by Chester Valley Golf Club members: Tom O'Rourke and Mike Civitello.
A special "Thank You" to the staff at Edgewood Country Club and their leadership under Head Golf Professional, Pete Micklewright, Golf Course Superintendant, Stan Heidenger, and Interim General Manager, Warren Wall.
[ Back ]