Wind, Rain, & Gahman No Match for Knapp
Sean Knapp (right) shakes hands with Scott McNeil
and Travis Gahman (left)
Championship Division Scorecards
Follow us on Twitter: @PA_Golf
Downingtown, PA – On a day that even Mother Nature was confused, Sean Knapp knew exactly what he had to do to win his third Dressler Trophy in four years. Coming into the final day of competition Knapp knew that the title was his to lose. Having amassed a seven shot lead over group member Scott McNeil, Knapp knew that if he could play his game that he would once again be taking home the Dressler trophy.
The final group teed off shortly after noon and had to deal with blustering winds for most of the front nine. Knapp started his championship campaign off by bogeying six of the front nine holes to turn in a disappointing forty. Travis Gahman and McNeil each bettered Knapp on the front nine with Gahman turning in a thirty-nine, and McNeil an optimistic thirty-five.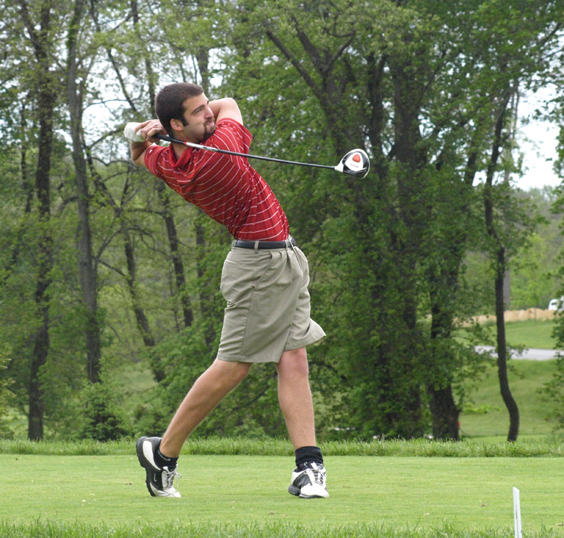 Travis Gahman stripes his drive on the first hole
After the front nine Knapp admittedly knew that these two gentlemen were a serious threat to his title opportunity. Knapp wasted no time on the rain soaked back nine by promptly birdieing holes ten and eleven putting him back in the driver's seat with a five shot lead over Gahman. But again Knapp let some shots slip, double bogeying the par five twelfth, eking out pars at thirteen and fourteen, and bogeying the fifteenth going into the dreaded sixteenth.
The par five fifteen held no challenge for Gahman as he hold out for an even par placing him three shots back of Knapp, with only three left to play. Knapp stepped up to the tee and drilled what he called a "bad drive" into the left-side fairway bunker. With only a three shot lead Knapp made a, "mature decision" and played a short iron shot out of the bunker. Gahman had an aggressive drive and then a gorgeous short iron shot into the green that ensured him a makeable putt for birdie. Knapp recovered with a delicate bump and run on a downhill lie to get him within three feet for his bogey five. Gahman hit his putt, from the fringe, to bring him within ten feet of the hole. Gahman pushed his par putt to the right of the hole leaving him with a bogey five and Knapp with what seemed a convincing three shot lead going into eighteen.
The eighteenth was what Knapp described as a "microcosm of my day." He played his drive down the left side rough leaving him an awkward lie for his approach. Gahman crushed his drive down the middle leaving him a chance for a possible wedge into the green. Gahman was left with an eagle chip, hole-high left, to tie Knapp, but was unsuccessful in converting, leaving Knapp with a nervous three footer for the championship. With no trepidation Knapp sunk the three-footer to secure the 79th Dressler Championship.
PUBLIC LINKS TEAM CHAMPIONSHIP
Three Dauphin Highlands members: Jordan Shuey, Matt Plummer, and Nicholas Lombardi combined for a score of 303. The format for the team portion was a best 2 scores of 3 for each day. They were able to edge the team from The Philadelphia Public Links Golf Association by 3 shots. PPGA was represented by Scott McNeil, Michael Brown, and David Shields.
SENIOR DIVISION
A Charging Harpster Not Enough to Oust Janeski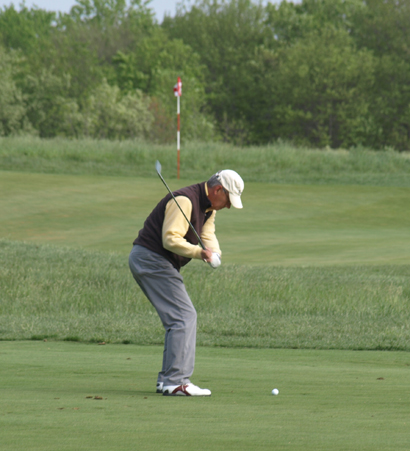 Janeski hits this approach shot on the first hole.
Jerry Janeski started the day two shots ahead of Tim Harpster and just as confident as he was when he left the course Monday. Janeski's front nine saw him leave just one shot on the course turning with a solid one over thirty six. Contrary to Janeski, Harpster left the front nine wanting more, finishing with a less convincing thirty-nine.
The back nine would prove to be where the Dressler champion would have to earn their trophy-ware. Janeski started his back nine off having left the front nine posting one under through the first five holes. Harpster started his back nine off scoring one over par and an uphill battle through what seemed to be Applecross' toughest holes yet to play.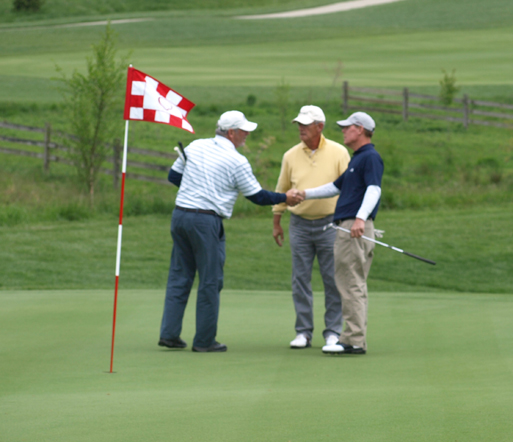 Tim Harpster (left) shakes hands with Mike Owsik (right)
and the Senior Champ, Jerry Janeski
Harpster played the last four holes magnificently, ending with a birdie four on eighteen and challenging Janeski to take the championship. Janeski started his last four holes shakily by going bogey, double bogey, and bogey. Janeski was left with the par five eighteenth to solidify his championship. Janeski crushed his drive down the middle of the fairway and finished with a convincing par putt that gave him the Senior Dressler Championship.
PUBLIC LINKS SENIOR TEAM CHAMPIONSHIP
The members from The Lancaster Host Resort were able to post a two day total of 311. The team consisted of Jim Mastromatteo, Jerry Janeski, and Andy Tompos. In second place was the team from Honeybrook Golf Club: Mark Leaman, Bernard Morris, and Buzz Rothweiler.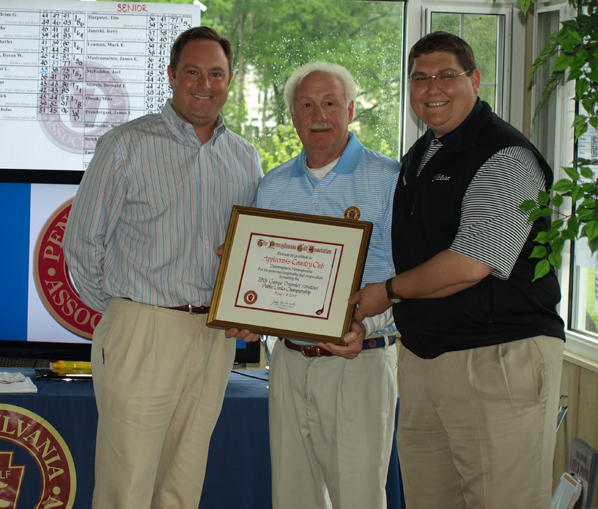 King Knox, Association Vice-President, presents a gift
to the staff at Applecross: Justin Meyers (left) and Jason Sparhawk
Special thanks to Justin Meyers, Jason Sparhawk, and Doug Rae for their superb professionalism and production of a true Championship test.
[ Back ]