Fricke wins playoff for first state championship at 74th Dressler Public Links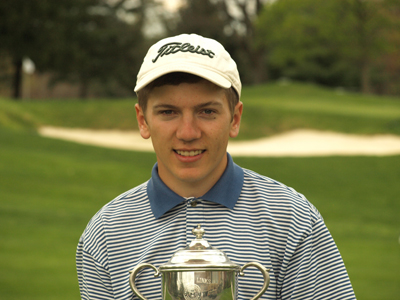 Aaron Fricke poses with the George Dressler Trophy
Harrisburg, Pa. – The 2014 championship season got off to a soggy start, but spectators and officials were treated to some spectacular golf on Thursday and Friday, May 1-2, at Colonial Golf & Tennis Club. Aaron Fricke, playing out of Honeybrook Golf Club, defeated Brian Fisher, of Philadelphia Publinks Golf Association, on the second playoff hole to capture his first state championship at the 74th Dressler Public Links championship, presented by The Allegheny Health Network.
Nearly three inches of rain drenched the Harrisburg area on Tuesday and Wednesday prior to the championship, but golf course superintendent Rebecca Clark and her crew did an amazing job to get the Arthur Hills/Steve Forrest track in competition condition. After day one, Michael Brown, of Philadelphia Publinks GA, found himself at the top of the leader board after a 1-under-par 71. Scott Micklewright, of Blue Ridge Country Club, and Fisher were each one stroke back at even-par 72 and joined Brown in the final pairing on Friday morning. David Shields, of Philadelphia Publinks GA, also carded a first round 72, and joined a group of 10 players within three shots of the first round lead.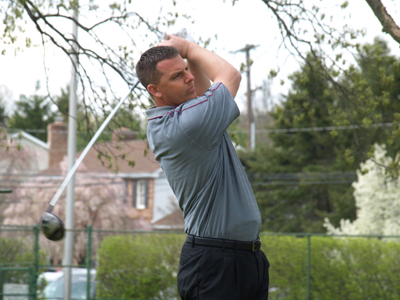 Scott Micklewright started hot in round two going birdie-birdie-par-birdie
Micklewright came storming out of the gate in the final round, as he birdied three of his first four holes. Birdies on No. 1 (par 4, 391 yards), No. 2 (par 5, 545 yards) and No. 4 (par 4, 285 yards) had Micklewright three shots clear of the field after his fast start. However, two bogeys on 5 (par 3, 163 yards) and No. 8 (par 4, 347 yards) shrunk his lead to just one going out. Micklewright sandwiched a bogey at No. 12 (par 3, 197 yards) in between birdies at No. 11 (par 5, 529 yards) and No. 13 (par 4, 408 yards) to stay in the mix, but bogeys at No. 17 (par 3, 165 yards) and No. 18 (par 4, 402 yards) would dash his championship hopes as he would finish in a tie for third at even-par 144.
Brown got off to a slow start on the final day and made the turn at 2-over-par for the championship. He attempted to will himself back into the mix with birdies at No. 10 (par 4, 382 yards) and No. 15 (par 4, 383 yards), but would ultimately finish in a tie for third with Micklewright by making birdie on the 18th.
Travis Gahman made the turn at even-par for the championship, tied with Fricke as they played in the same group. A birdie at 10 would put him in a tie for the lead, but then a two-shot swing occurred on 11, as Gahman made bogey and Fricke made birdie. Gahman couldn't recover and would finish in seventh place at 2-over-par 146.
Fricke, a 19-year-old freshman on the Lackawanna College golf team, is also J. Wood Platt Caddie Scholar through Lancaster Country Club. He played in the penultimate pairing on Friday along with Shields and Gahman, of Philadelphia Publinks GA. Fricke fired a 1-over-par 73 in the first round. In the final round, after a par on the first hole, a birdie at the second (routine up-and-down from just short of the green), and seven pars on the rest of the front nine, Fricke turned at even par for the championship. He was just getting loose. Even with the wind picking up during the latter part of the round, bogey was not in Fricke's vocabulary. He would go on to birdie the par 5 11th via a two-putt from the fringe, No. 13 (9-iron to 7 feet), and No. 15 (pitching wedge to 20 feet) to card a clean, bogey-free 4-under-par 68 for a two round total of 3-under-par 141.
"I've been playing well all season and was confident coming in. My ball-striking was consistent on both days, but I just made a few more putts on Friday. I drove the ball well and avoided trouble off the tee, so it was relatively stress free. The keys to the round were up-and-downs for par on No. 7 and No. 14, and then the 20 foot putt for birdie on No. 15 was my best of the day," said Fricke, as he summarized his final round.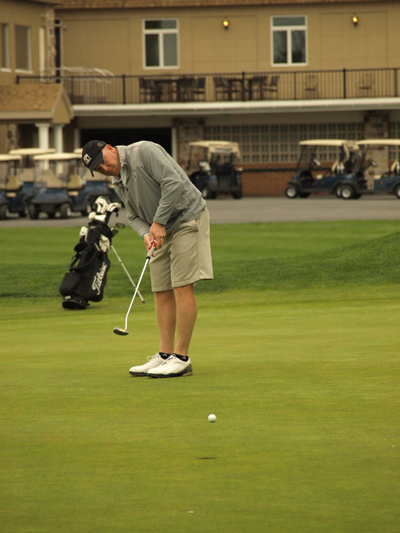 Brian Fisher drains a birdie at the 18th to force a playoff
Brian Fisher had something to say about all of this. After a birdie at No. 2, and a bogey at No. 7, Fisher turned at even-par for the championship. Following four straight pars on the back nine, leader boards let Fisher know that he would need to make a charge to catch Fricke. He responded with birdies on two of his next three holes (No. 14 and No. 16) and made par at No. 17. Fisher knew he needed birdie at No. 18 to force a playoff. His approach shot finished 18 feet from the hole, and he buried the birdie putt to force OT.
The playoff began at No. 18, and both players exchanged pars and headed to hole No. 1 to continue. Fricke split the fairway as Fisher found trouble off the tee. Fisher was forced to punch out to about 60 yards short of the green as Fricke played his second shot onto the green with a sand wedge from 100 yards to 6 feet for birdie. Fricke proceeded to drain the birdie putt to clinch his first state championship.
The team portion of the event was won by the Philadelphia Publinks GA squad of Travis Gahman, David Shields and Michael Brown. In the best two of three score format, they posted a 1-over-par total for the 36-hole competition.
Senior Division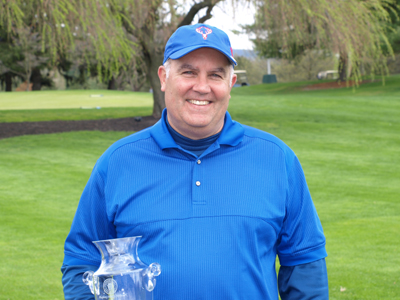 Bill Chase poses with the Senior Division Crystal
Bill Chase, Deer Run Golf Club, came from one stroke behind after day one to win the Senior Division over Byron Whitman, of Golden Oaks Golf Club. Jim Prendergast, of Philadelphia Publinks GA, joined Chase and Whitman in the final pairing of the Senior Division at Colonial Golf & Tennis Club.
Going into the final round, Whitman lead by one stroke over Chase, and two over Prendergast, Tim Harpster, of Bucknell Golf Club, and Bob Dietrich, of Loch Nairn Golf Club. Dietrich held the lead briefly with a birdie at hole No. 13 (par 4, 320 yards), but a double-bogey at No. 17 (par 3, 125 yards) spelled doom for his title chances as he settled for a tie for third.
Standing on the 14th tee in round two, Chase knew he and Whitman were tied atop the leader board. "None of us did much on the front nine, as our scores obviously reflect. Jim got off to a slow start but then birdied No. 10 and No. 11 and that got the group going a little. I played well from No. 14 on, and had nice birdie chances on each hole coming in," said Chase.
Chase hit 7-iron from 158 yards to within a foot for birdie on 15 (par 4, 353 yards), and that would end up being all he would need to secure the win. The final three holes were not without drama, however, as Whitman had birdie chances that just slid past the hole.
On the 36th hole of the championship, Chase played his approach to the par 4, 318 yard finishing hole to 10 feet for birdie. Whitman had just five feet for birdie. Chase's birdie bid slid about four feet past the hole, while Whitman burned yet another edge and had to settle for par and a solo second place finish. Chase calmly drained the 4-footer for par, and the win.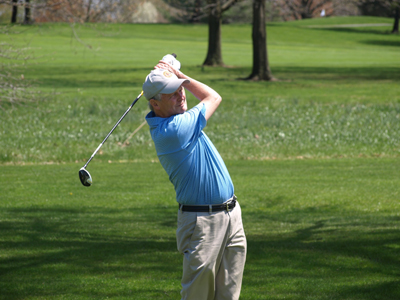 Buck Jones fired a 1-over-par 73 on Day 2
Buck Jones, Philadelphia Publinks GA, didn't seem to be bothered by the cool, windy conditions and shot the low round of the final round in the Senior Division with a strong 1-over-par 73 to finish in a tie for third with Prendergast, Harpster and Dietrich.
Special thanks go out to Pete Micklewright, General Manager, Rick Gibney, Head Golf Professional, and Rebecca Clark, Superintendent, and the entire staff and membership at Colonial Golf & Tennis Club for their superior service and hospitality.
[ Back ]