Logue Goes Wire to Wire for Amateur Victory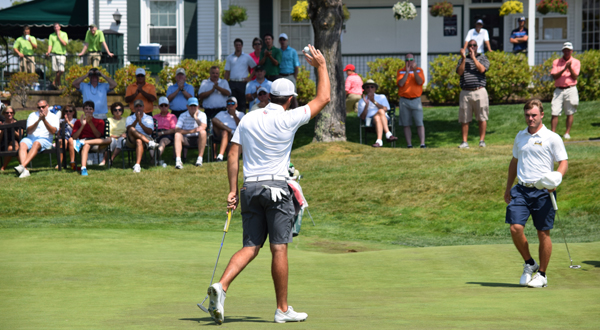 Isaiah Logue salutes the gallery behind the 18th green at CC of Scranton
CLARKS SUMMIT, Pa. - Isaiah Logue started the third and final round of the 102nd Pennsylvania Amateur Championship today with a two-shot lead over PJ Acierno and a three-shot lead over Chad Warmbein. Fast forward to about an hour into the round. Warmbein posted two birdies and an eagle in the first four holes to vault into a share of the lead. But Logue was able to bear down and wait out the competition, posting a pair of clutch birdies down the stretch to claim the championship, presented by Allegheny Health Network, with a 54-hole total of 207 (-6) at the Country Club of Scranton. Logue's wire to wire victory represented his first Pennsylvania Golf Association major championship.
"Chad's start definitely made me a little nervous," said Logue, a PAGA Individual Member. "PJ played great all day as well. I was able to wait for them to make a couple of mistakes and just let the lead come to me."
Logue, of Fairfield, Pa., played a very steady final round. A birdie on the par-5 fourth hole allowed him to keep pace with Warmbein's hot start. He then made nine straight pars while Warmbein made four bogeys over the same stretch. But after Logue carded back to back bogeys on the 14th and 15th holes, his lead was a mere two shots over both Acierno and Warmbein. That set up the par-4 16th. Logue hit a hybrid club down the fairway, then his approach to about five feet before dropping the birdie putt to extend his lead. After a par on 17, he headed to the 18th and final hole with a three-shot edge on Acierno. That's when the eventual champ closed it out in style, rolling in a birdie putt on the 18th to finish at 6-under. Acierno also birdied 18 to complete a stretch that, combined with an eagle on No. 14, saw him go three-under on the last five holes. Acierno and Logue were the only two golfers to play all three rounds at par or better on the historic par-71 layout.
"I came in not expecting a lot, to be honest with you," Logue said. "I hadn't played very well up to this point thus far this year. I'd been working hard and waiting for a breakthrough and fortunately it came at this tournament."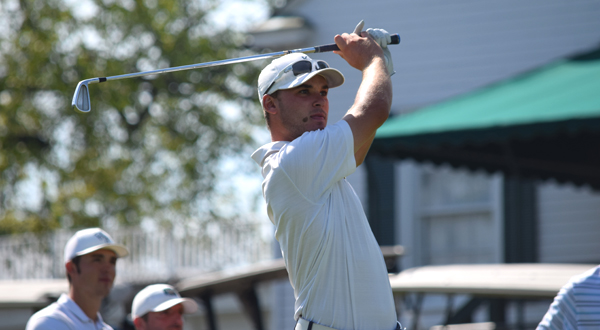 PJ Acierno played solid to earn Runner-up honors
Acierno, who competes for the LaSalle University golf team and plays out of Sandy Run Country Club, was strong all week. He carded 15 birdies and one eagle over the 54 holes en route to his highest finish in a PAGA event. Warmbein, meanwhile, vaulted up the leaderboard with a second round 68, and after the early red numbers in his third round, it looked like he might make a run at the title. The Hickory Heights Golf Club member still held his own with a final round 71 to finish in third place.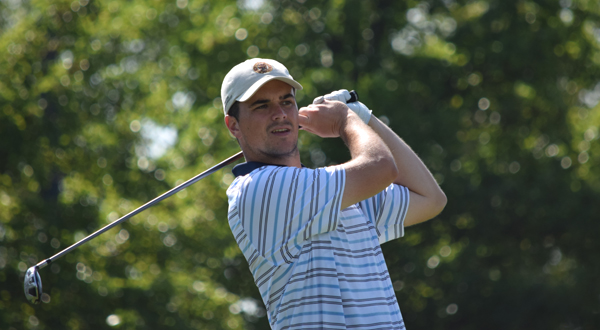 Chad Warmbein applied early pressure by starting 4-under through four holes in the final round en route to third place
Coming in fourth was St. Clair Country Club's Luke Miller, who sandwiched rounds out 73 and 72 around yesterday's score of 68 to come in at even par. Finishing in a three-way tie for fifth place with a score of 215 (+2) were the trio of Alex Blickle (LedgeRock Golf Club), Matthew Hardman (The Links at Gettysburg) and J.D. Dornes (Meadia Heights Golf Club).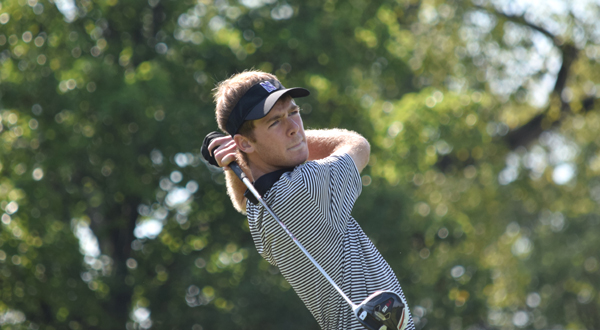 Luke Miller finished at even par for the championship to earn fourth place
At a tie for 8th place was the duo of Scott McLaughlin (Commonwealth National Golf Club) and Oliver White (Manufacturers Golf and Country Club), both with a score of 216 (+3). Rounding out the top ten was a group of five golfers at +4, including Nathan Smith (Pinecrest Country Club), Gregor Orlando (Philadelphia Cricket Club), Derek Evans (South Hills Country Club), Michael Brown (Philadelphia Publinks) and Anthony Sebastianelli (Glen Oak Country Club).
Among the group at +5 were the two winners of the other biggest amateur championships in the state this year. West Penn Amateur champion Easton Renwick and Golf Association of Philadelphia Amateur champion Cole Berman each had a round in the 60s but fell victim to the course's many pitfalls on occasion en route to the score of 218 (+5).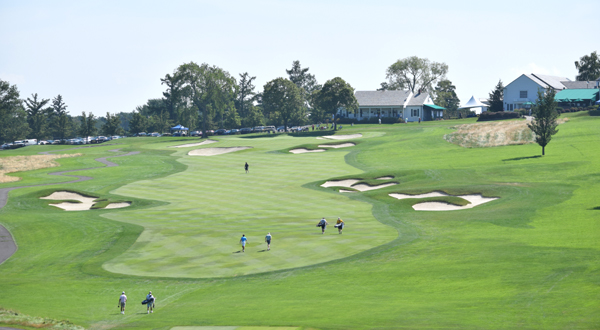 The championship course was very well received amongst the competitors, with champion Logue remarking that it "was incredibly beautiful, and a true championship test". The Pennsylvania Golf Association would like to thank the staff and membership of The Country Club of Scranton for their kind hospitality in hosting the event, and to Allegheny Health Network for it's loyal sponsorship of the Association.
[ Back ]