Brent Will powers to victory at 75th Dressler Public Links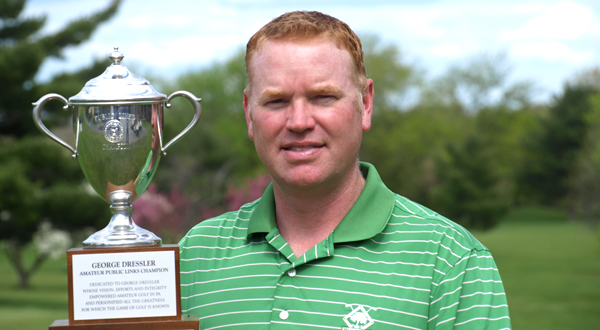 Brent Will poses with the George Dressler Trophy

Harrisburg, Pa. – Brent Will, a long-baller from Deer Run Golf Club, played two rounds of solid golf to claim a two stroke victory in the Allegheny Health Network 75th George Dressler Public Links Championship hosted by Colonial Golf & Tennis Club. Will posted the clubhouse lead early during the first round with a 3-under 69, which featured six birdies against three bogeys. In round two, he was going along in similar fashion and enjoyed a nice four-shot cushion before a hiccup on the par 3, 17th where he found the water hazard and carded a triple-bogey that cut his lead to just one over Easton Renwick, the eventual Runner-Up from Punxsutawney Country Club. Will was able to make a routine par on the par 4, 18th and secure the win as Renwick made bogey.

Asked to sum up the day and his emotions throughout, Will said, "I felt good all day, our group was very talkative with Easton and Brian, and we kept it loose and had fun out there. I saw the leader board there on 16 and realized the four-shot lead, and got a little defensive there and on 17 and just made a couple bad swings. Luckily I was able to recover enough to hold on for the win. I had a set number of birdies I thought I needed to make today to win, and fortunately I was able to do it. When Easton missed his putt for par on 18, that took the pressure off."

Brian Ulanowicz, Jr., an employee at Fox Chapel Golf Club, tied Will for the first round lead at 3-under, and a second round 4-over 76 gave him a solo 5

th

place finish.

Public Links stalwart Tom Timby, The Bucks Club, played even-par golf for the championship and finished in a tie for 3

rd

with Jonathan Ross, from nearby Dauphin Highlands Golf Club.

Alexander Hofstrand, Cool Creek Golf Club, bounced back from a round one 5-over 77 with the low-round of day at 2-under 70 on the 6,653 yard layout.

Hofstrand finished tied for 6

th

with Scott Mayne, Deer Run Golf Club, and Ed Gunkle, Bucknell Golf Club.

The Team Competition of the event was won by Deer Run Golf Club, comprised of members Brent Will, Scott Mayne, and Kevin Haag.

In the best two of three scores per day format, the Deer Run contingent carded an even-par 288, three shots clear of second place finishers Colonial Golf & Tennis Club, and members Scott Micklewright, John Dimler, and John McNair.


Senior Public Links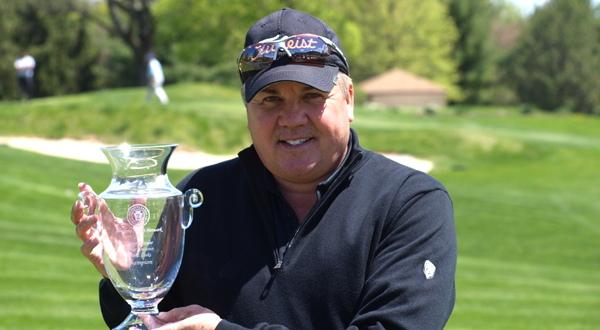 Greg Adams claimed the Senior Public Links Championship
Greg Adams fired a blistering 6-under 66 in the first round to distance himself from the rest of the Senior division and was able to put it in cruise control in the final round, en route to a 3-over 75 and a nine-shot victory. Tom Fleig, Colonial Golf & Tennis Club, finished Runner-Up with rounds of 76-74 and a 150 total.
In round one, Adams made five birdies against one bogey on the front nine to go out in 4-under 32, then made eagle when he holed out from the left greenside bunker on the short par 5, 11th, which really got things going. He would go on to make another birdie and a bogey to card the round of the tournament.
Asked to sum up his play, Adams said, "I started out great, actually missed a short one in the beginning there or it could have been five at the turn. Then obviously holing the bunker shot on 11 really made my day. I hit it really solid for the first day, drove it long and straight, and when you do that here, you can score pretty well. Today in the final round, I didn't have my best stuff and wasn't really into it, but thankfully closed it out for the win, it's great."
Special thanks to our sponsor, Allegheny Health Network, as well as the entire staff and membership at Colonial Golf & Tennis Club for being gracious hosts for the 75th George Dressler Public Links Championship. Many thanks to golf professional Rick Gibney, Superintendent Rebecca Clark, General Manager Peter Micklewright, and owner John Brown. The Dressler will undergo an eligibility change in 2016 as it will be open to any amateur member of the Pennsylvania Golf Association.
[ Back ]