McNeil Claims 22nd Middle-Amateur Crown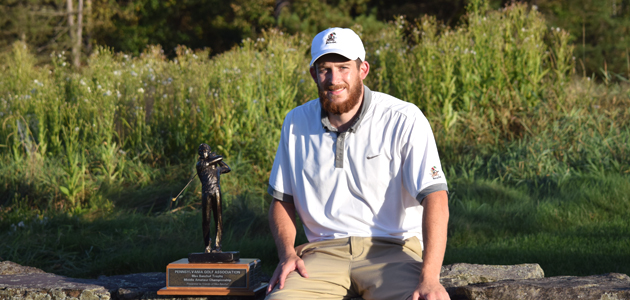 SHAVERTOWN, Pa. - After 35 holes at the challenging Huntsville Golf Club, Scott McNeil and Zach Fischl were tied at 5-under par. With a two-stroke cushion between them and third place Arnie Cutrell, it was likely that the championship would come down to those two golfers. McNeil hit his approach to about 20 feet below the hole, while Fischl missed to the short side left of the green. After Fischl chipped up to about five feet, McNeil just missed his birdie try. But after Fischl's par putt just burned the edge, McNeil's par was good enough to claim the victory in the 22nd Pennsylvania Middle-Amateur Championship, presented by Allegheny Health Network. The par gave McNeil a second round score of 72 and a two-round total of 139 (5-under) for the championship.
"I knew Zach's putt would be tough from where he was at," said McNeil, of Bala Golf Club. "I was trying to make my putt but really I just wanted to make sure I didn't jam it too far past the hole."
With the win, McNeil became the first golfer to ever win the Pennsylvania Middle-Amateur and the Golf Association of Philadelphia's Middle-Amateur in the same season, as he captured the GAP Mid-Am in May at St. Davids Golf Club. It wasn't a bad way to bookend the season for McNeil, who showed his familiarity with the Rees Jones layout at Huntsville GC.
"I have plenty of local knowledge here," said McNeil. "I've played here plenty of times, and it showed this week."
McNeil began the second round of the 36-hole championship one shot back of Fischl, who shot a 66 in the opening round. Both men birdied the first hole, while Fischl added another birdie at the fourth hole to extend his lead to two shots. But McNeil took the lead for the first time on the afternoon when he birdied the par-4 7th hole, and that combined with back to back bogeys for Fischl gave McNeil a one-shot lead. However, the two men were tied again after McNeil made bogey on the par-4 8th hole. McNeil again took the lead with an eagle on the ninth hole, while Fischl stayed close by making birdie. At that point, it looked like the rest of the field was playing for third place at best.
But Fischl and McNeil made it interesting. McNeil went bogey-triple bogey on holes 11 and 12 and Fischl went double bogey-bogey on holes 13 and 14. Suddenly it looked like there was a real opportunity for Cutrell, who had posted a second round 70 and a total of 141 (3-under).
"Zach and I were going along thinking we were the only ones in it and then the mistakes we made on the back were pretty detrimental to that cause," McNeil said.
However, McNeil steadied himself with a birdie on No. 14 and Fischl did the same with a birdie on No. 16, setting the stage for the final hole to decide the championship.
"I left that just short for eagle, but it was big for me to make birdie there," McNeil said of the 14th hole.
Fischl, of Allentown Municipal Golf Course, finished at 140 (-4) to claim solo second place. Cutrell was a shot back in third place. Five-time event champion Sean Knapp of Pittsburgh National Golf Club tied for fourth with Hickory Heights Golf Club's Jimmy Ellis with a score of 142. The other player to finish under par was Lancaster Country Club's Ty Krieger, who shot 143 (-1).
The team competition was won by the duo of Jimmy Ellis and Chad Warmbein, of Hickory Heights Golf Club. Warmbein and Ellis also teamed up to win the team portion of competition during the 102nd Amateur Championship at CC of Scranton in July.
The Pennsylvania Golf Association would like to thank the staff and membership of Huntsville Golf Club for their hospitality during the championship.
[ Back ]