Super-Senior Flight Scorecards
Graciano Captures First Senior Amateur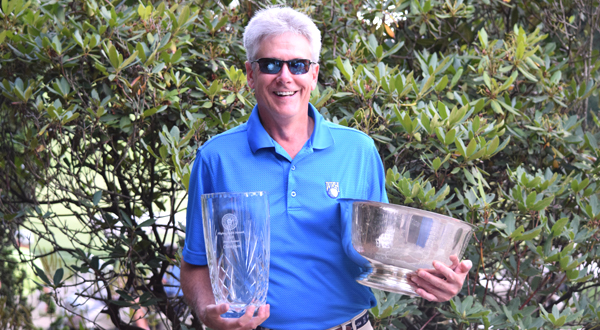 VERONA, Pa. - For Perry Graciano, the 56th Pennsylvania Amateur Championship presented by Allegheny Health Network at the Longue Vue Club was a homecoming of sorts. The 58-year old from Edgewood Country Club made it a memorable one by capturing the Senior division championship with a 36-hole total of 141 (+1).
"I consider this place my second home," Graciano said. "I've been coming here a long time and I love this place."
Graciano was the leader on Monday after play was suspended, and upon the Tuesday morning completion of the first round, he held a two-shot advantage. After an early bogey on the par-4 second hole, he countered quickly with a birdie on par-5 fourth. After another birdie on No. 7, he made the turn at 35 (-1). On the par-3 10th hole, he stuck his tee shot six feet away and converted the birdie putt. Then on the par-3 12th, his tee shot ended up on the front left corner of the green. From 60 feet away, up and over a ridge, Graciano dropped the long putt to move to 3-under for the day.
"That was a big moment for me," Graciano said. "That was a tough spot to be in so to make that putt was a big boost. It was nice to get back at the par 3s today because I was three-over on them yesterday and two-under today."
But as any golfer knows, the game can quickly change fortunes. On the next hole, Graciano hit what he termed "my best drive of the day". However, his approach came up just short of the green. His third shot ended up back over the green on the opposite side, and he three-putted for a double bogey. Just when it looked like he might be coming back to the field, Graciano bounced back with a birdie on the par-4 14th hole.
"I hit three really good shots there," Graciano said. "It felt good to bounce back from No. 13 to get a shot back on No. 14."
For Graciano, it continued a strong season, as he won the Western Pennsylvania Golf Association's Senior Amateur Championship in May.
"I didn't hit it well on the range at all today," Graciano said. "But I'm glad I started to hit it better once I got out on the golf course. This is such a great place and I'd like to thank the members of Longue Vue and the superintendent and his staff for giving us such a great course to play."
Thomas Bartolacci of Saucon Valley Country Club made a valiant effort to catch Graciano, but came up just short. Starting the day two strokes back of Graciano, Bartolacci made birdie at No. 1 and No. 4 to get within a shot of the lead. After a setback with a bogey on No. 11, he rallied to convert his birdie attempt on No. 13 to once again get within a shot of the lead. But Bartolacci bogeyed No. 15 and made double bogey on No. 16 to end up at 145 (+5) for the championship, marking the third time he'd finished as the runner-up.
"This is a fantastic golf course," Bartolacci said. "But it's one you really need to play a couple of times to get a better feel for it."
Bartolacci's fellow Saucon Valley member Robin McCool fell short in his bid for a third consecutive Senior Amateur championship. McCool finished one shot back of Bartolacci in third place overall, at 146 (+6). However, he and Bartolacci captured the event's Team Championship with a 36-hole team combined total of 291.
The Pennsylvania Golf Association would like to thank the staff and membership of the Longue Vue Club for their hospitality during the championship.
[ Back ]