Steady Timby Takes Dressler Crown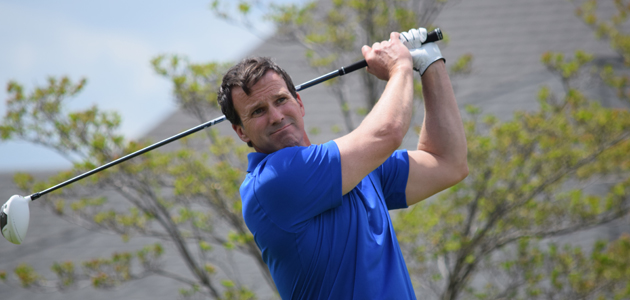 CARLISLE, Pa. - Thomas Timby had never played Carlisle Country Club until yesterday's opening round of the 76th George Dressler Memorial Championship, presented by the Allegheny Health Network. It's safe to say he wouldn't mind a return trip to the classic layout, as he shot a 1-under par for the second straight round to claim the title with a score of 140 (-2).
"I knew this was going to be a tough golf course today," Timby said. "My goal today was to shoot the same score as yesterday because I figured that would be enough."
Timby's prediction proved true, as his repeat round of 70 put him two shots clear of home club hopeful JD Hughes, who fired his second consecutive even par 71 to record 142 for the event.
Timby's steady round started with eight straight pars. He then closed it out with a birdie on No. 9 to record a front nine score of 34.
"I made a lot of nice up and downs on the front," said Timby, of The Bucks Club. "I was just trying to hit centers of greens."
Timby's back nine began with a setback after a three-putt at No. 10. But he immediately got the shot back by making a birdie 3 on the 11th hole. After another pair of pars, he came to the 14th hole. On the 406-yard par 4, Timby's approach shot from 138 yards was pulled left of the hole into no man's land. Staring at the possibility of a big number on the hole, Timby's flop shot went in the hole for a birdie 3. Momentum had been restored.
"I should have never been over there in that spot," Timby said. "I was really fortunate to make that."
After a bogey on the 17th hole, Timby headed to the par 5 18th with a two-shot lead. Knowing his place on the leaderboard, he safely navigated the final few shots and knocked in his par putt to card a 1-under 70 and claim victory in the event.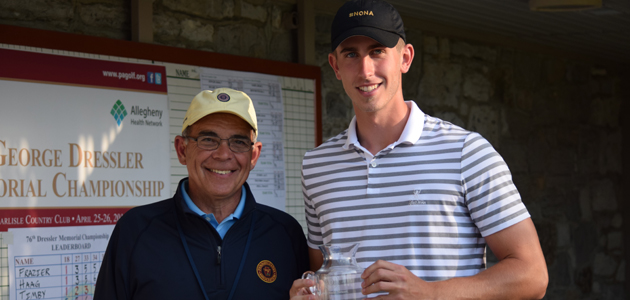 President Jim Parsons presents the Runner-Up crystal to JD Hughes
Hughes, meanwhile, bounced back from an early double bogey on No. 3 and a bogey on No. 8 to birdie four of the final 10 holes. He finished five shots ahead of fellow Carlisle CC member Jeff Frazier. One of the first round leaders, Frazier shot a 77 today to tie for third place with Huntsville Golf Club's Todd Vonderheid.
Carlisle Country Club team members JD Hughes, Jeff Frazier and Brent Will took home the best two of three team competition of the event, edging out the duo of Jimmy Ellis and Chad Warmbein of Hickory Heights Golf Club.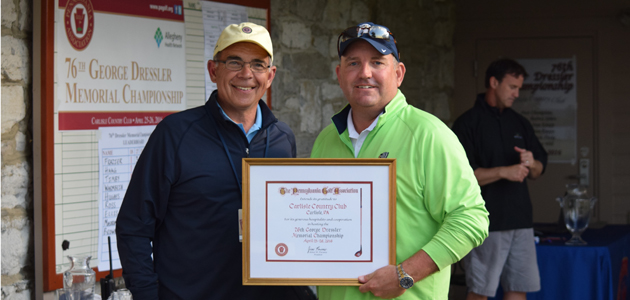 Association President and Carlisle Country Club member Jim Parsons presents the appreciation scroll to Head Professional Chip Richter
The Pennsylvania Golf Association would like to thank Head Professional Chip Richter, Course Superintendent Greg Fantuzzi, General Manager Kris Shultz, and Food and Beverage Manager Cathy Walters, along with the entire staff and membership at Carlisle Country Club for the hospitality shown this week.
[ Back ]