Gradwell Blows Away the Competition for Dressler Title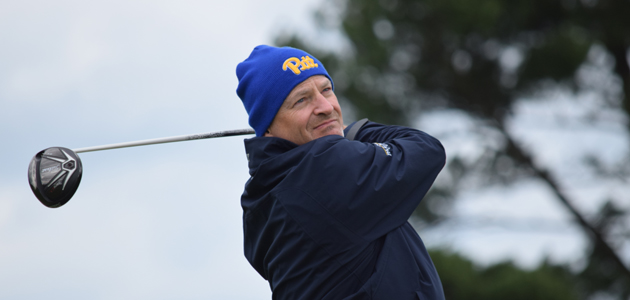 Doug Gradwell, Indiana Country Club, tees off during final round
INDIANA, Pa. - The two days of competition in the 77th George Dressler Memorial Championship, presented by LECOM, were full of rain and heavy winds. It certainly would not have qualified as ideal golfing conditions. In fact, Doug Gradwell, playing at his home course at Indiana Country Club, said he typically wouldn't play in conditions like the competitors faced on Monday and Tuesday. But luckily for Gradwell, he did tee it up, shooting outstanding rounds of 69-71 for a two-round total of 140 (-2) to win the Dressler title by seven shots over Rick Stimmel.
"I don't remember playing in gusts like that here," said Gradwell of the wind, which gusted up to 40 miles per hour during the event. "I definitely wouldn't have teed it up on a normal day here in conditions like this."
Gradwell's steady play throughout the 36-hole championship enabled him to cruise to victory down the stretch. Not bad for someone who didn't exactly plan on a seven-shot victory when he arrived at the first tee on Monday morning.
"My expectations were not real high," Gradwell said. "I didn't play very well this weekend leading up to the tournament."
Gradwell was the beneficiary of a relatively calm morning weather-wise on Monday, draining four birdies versus just two bogeys for a 69 that tied for the low score in the opening round. But playing in the morning had another advantage, as he was among the roughly 60 percent of the field to finish all 18 holes Monday before heavy rains forced a stoppage in play, while the remainder of the golfers had to come back early Tuesday morning to complete the opening round in blustery conditions.
"I was really hoping you'd call it today after I had the lead," Gradwell said with a laugh.
After the solid opening round, Gradwell wasn't sure of how scoring conditions would be for round two, with heavy winds changing ball trajectories all over the Willie Park, Jr. layout. But after he saw friend David Myers, he felt encouraged.
"Before I teed off, I spoke to Dave and he said he shot 38 on the front so I thought it was doable. I knew then that you could still score," Gradwell said.
Gradwell made the turn at 1-under 35, extending his lead. But he was not scoreboard watching, noting that the conditions could still allow for fluctuation down the stretch.
"The conditions were so rough that I was just trying to swing 80 to 85 percent and keep it under the wind. Because of the weather, anything could happen on the back nine," Gradwell said. "With the water combined with the high winds, I knew things could change in a hurry."
But for Gradwell, he finally found out on No. 16 that he had a four-shot lead over Stimmel. He then hit a nice approach that he converted to a birdie on that hole, and followed with another birdie on the par-3 17th, setting up an easy time on the 18th hole on his way to his first Pennsylvania Golf Association victory.
Gradwell also was a part of the winning team in the competition. For the team honors, the three lowest scores from a club were teamed together, and the two lowest of the three scores in each round were counted. Indiana Country Club claimed the top honors with the squad of Gradwell, Cole Hughes and Sean Sweithelm.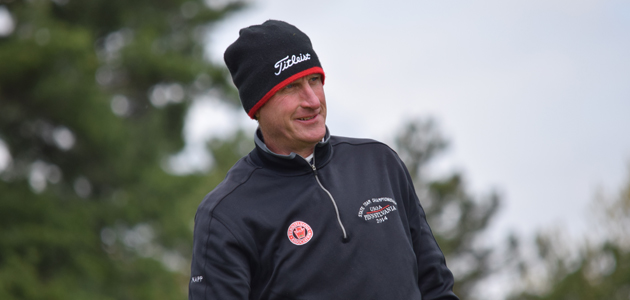 Sean Knapp was victorious in his first eligible Senior event
In the Senior division, PAGA Individual Member Sean Knapp held off a trio of competitors to capture the prize. Knapp shot 73-77 for a 36-hole total of 150 (+8). Knapp's score of 73 was the lowest Senior mark in the opening round, but the extreme conditions on Tuesday kept the field close. Ed Podufal of The Kahkwa Club was three back of Knapp after the first round, but led the division with a 75 on Tuesday for a total of 151, coming up a shot behind Knapp. Home club hopeful Don Erickson, III and Jeff Poet of the Country Club of York each shot 155 in the championship to tie for third place.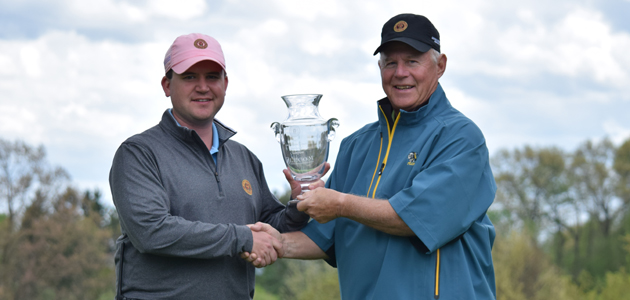 Lee Lykens, Indiana Country Club, accepts Super-Senior crystal from Cory Reighard, Director of Competitions
For the Super Senior division, Indiana Country Club's Lee Lykens squeaked by Paul Schlachter of the Club at Nevillewood to win the title. Lykens and Schlachter were playing together, and Lykens shot an opening round 69 for a three-shot lead. After struggling through the first 12 holes on Tuesday, Lykens birdied No. 14 and No. 17 to build a three-shot lead heading into the final hole. However, drama ensued as Lykens ended up making double bogey and Schlachter had a look at birdie that would have put him into a tie for first place. The putt didn't fall, however, and Lykens' victory meant that the home club claimed three of the four titles in the event.
The Pennsylvania Golf Association would like to thank the staff and membership of Indiana Country Club for their support and hospitality during the event.
[ Back ]