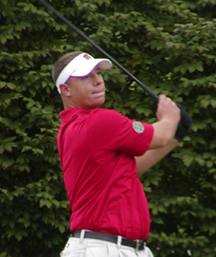 Peffley wins PA Amateur by five
Pittsburgh, Pa. - Blaine Peffley, 19, of Lebanon CC captured his first Pennsylvania Amateur Championship by firing rounds of 65 and 67 today at the par-70 Fox Chapel Golf Club. Sean Knapp of Longue Vue Club was runner-up for a third time after posting rounds of 67 and 70. Peffley started the day three strokes back of first round leader Chip Zimmerman but after shooting a five-under 65 in the morning's second round he stood only one stroke back. Peffley, playing in the group in front of Zimmerman, started out slowly in the afternoon but caught fire on the back nine with birdies on four of his last five holes.
"After two years of struggle [at college], it finally all came together. I'm happy to be home, comfortable." Peffley plans to transfer to the University of Maryland after spending two years at the University of Arizona. "I feel more comfortable on the East Coast." His record in the Amateur, 4th in 2002 at Oakmont CC and tied for 12th last year at CC of Scranton, certainly back that statement up as does his course record 61 on his home course last week.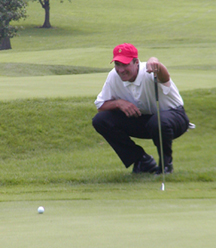 Asked why he didn't use a caddie this week, Peffley responded with a chuckle, "Can't afford one. How's that [for a reason]?" Peffley also turned down the opportunity to play a practice round and he thinks it may have benefited him. "The course played completely different than it did over the weekend. They said it was hard and fast."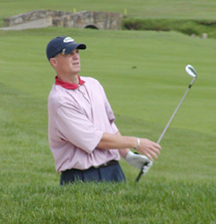 Both Knapp, the 1997 champion, and Zimmerman struggled in the afternoon. Neither player was able to string together enough birdies to catch Peffley. Arnie Cuttrell of Totteridge GC finished in third place with rounds of 67-69-69. Zimmerman finished in fourth place and Rich Berglund of Oakmont CC rounded out the top-5 finishing at 3-under par 207. Greg Pieczynski posted the low round of the afternoon with a 66 and Michael Bancroft had the only hole-in-one of the week on the 156 yard, par-3 11th hole.
This was the seventh time the PA Amateur Championship was hosted by Fox Chapel GC with the last time coming in 1992. Next year's Amateur Championship will be held at Huntingdon Valley CC outside of Philadelphia.
Results to follow
| | | | | | | |
| --- | --- | --- | --- | --- | --- | --- |
| Name | Club | Rd 1 | Rd 2 | Rd 3 | Total | +/- |
| Blaine Peffley | Lebanon CC | 68 | 65 | 67 | 200 | -10 |
| Sean R Knapp | Longue Vue Club | 67 | 67 | 70 | 204 | -6 |
| Arnold K. Cutrell | Totteridge GC | 67 | 69 | 69 | 205 | -5 |
| Chip Zimmerman | Pittsburgh Field Club | 65 | 67 | 73 | 205 | -5 |
| Rich Berglund | Oakmont CC | 68 | 69 | 70 | 207 | -3 |
| Gregory Pieczynski | Irem Temple CC | 70 | 73 | 66 | 209 | -1 |
| Jarred Texter | Lancaster CC | 71 | 68 | 71 | 210 | Even |
| Dan Walters | Conestoga CC | 70 | 68 | 72 | 210 | Even |
| Perry Graciano | Churchill Valley CC | 70 | 70 | 71 | 211 | +1 |
| John Sawin | Philadelphia CC | 72 | 69 | 71 | 212 | +2 |
| Eric Williams | Honesdale GC | 70 | 73 | 70 | 213 | +3 |
| Curt Coulter | Oakmont CC | 71 | 73 | 69 | 213 | +3 |
| Clint A. Deibert | Doylestown CC | 68 | 75 | 71 | 214 | +4 |
| Scott Micklewright | Blue Ridge CC | 68 | 69 | 77 | 214 | +4 |
| Stan Namola Jr. | Seven Oaks CC | 73 | 74 | 68 | 215 | +5 |
| Chad A. Bricker | Waynesboro CC | 71 | 75 | 71 | 217 | +7 |
| Andy Hay | Shannopin CC | 71 | 73 | 73 | 217 | +7 |
| Scott Phillis | The Country Club | 71 | 72 | 74 | 217 | +7 |
| Matt Guyton | DuBois CC | 71 | 72 | 74 | 217 | +7 |
| Michael Foster | Fox Chapel GC | 73 | 74 | 71 | 218 | +8 |
| Chris Lange | Overbrook GC | 73 | 76 | 69 | 218 | +8 |
| Shawn Hall | Four Seasons GC | 72 | 74 | 72 | 218 | +8 |
| Gerard F Ascolese | North Hills CC | 72 | 73 | 73 | 218 | +8 |
| Andrew Turner | Four Seasons GC | 73 | 73 | 72 | 218 | +8 |
| P. Chet Walsh | Philadelphia CC | 72 | 70 | 76 | 218 | +8 |
| Artie Fink | Sinking Valley CC | 73 | 73 | 73 | 219 | +9 |
| Lynn T. Kilduff | Huntsville GC | 72 | 78 | 70 | 220 | +10 |
| Garrett Basalyga | Talamore at Oak Terrace CC | 73 | 74 | 73 | 220 | +10 |
| Timothy Moynihan | Oakmont CC | 72 | 72 | 76 | 220 | +10 |
| Michael Moffat | Commonwealth National GC | 73 | 73 | 74 | 220 | +10 |
| Jon Pratkanis | Kittanning CC | 70 | 82 | 69 | 221 | +11 |
| Steve Savor | Alcoma GC | 73 | 76 | 72 | 221 | +11 |
| Glenn Smeraglio | Yardley CC | 73 | 78 | 71 | 222 | +12 |
| William Smith | Chambersburg CC | 72 | 76 | 74 | 222 | +12 |
| Ben Smith | Fox Chapel GC | 72 | 74 | 76 | 222 | +12 |
| Alex Knoll | Bethlehem GC | 70 | 75 | 77 | 222 | +12 |
| David DeNunzio | Totteridge GC | 72 | 72 | 78 | 222 | +12 |
| Frank Fairman | Totteridge GC | 71 | 79 | 73 | 223 | +13 |
| Bill Mullen | Plymouth CC | 72 | 75 | 76 | 223 | +13 |
| Michael Bancroft | Conewango Valley CC | 69 | 79 | 76 | 224 | +14 |
| Stephen Arnold | Yardley CC | 71 | 82 | 72 | 225 | +15 |
| John Michael Pelet | Wyncote GC | 70 | 78 | 77 | 225 | +15 |
| Patrick Hardin | Northampton CC | 73 | 80 | 73 | 226 | +16 |
| Jonathan Thomas | Pittsburgh Field Club | 71 | 77 | 78 | 226 | +16 |
| Jonathan Johasky | Hill Crest CC | 72 | 76 | 78 | 226 | +16 |
| Mike Lebow | Spring Ford CC | 73 | 76 | 78 | 227 | +17 |
| Richard Baloh | Totteridge GC | 73 | 75 | 79 | 227 | +17 |
| Frederick Taggart | Meadia Heights GC | 72 | 77 | 79 | 228 | +18 |
| Christian Breed | Waynesboro CC | 72 | 83 | 73 | 228 | +18 |
| Max Muller | Manufacturers G & CC | 73 | 82 | 73 | 228 | +18 |
| Patrick Slovonic | Youghiogheny CC | 72 | 83 | 74 | 229 | +19 |
| John W. Robinson | Commonwealth National GC | 73 | 78 | 81 | 232 | +22 |
| Jim Rattigan | Schuylkill CC | 73 | 79 | 80 | 232 | +22 |
| | | |
| --- | --- | --- |
| Missed Cut | | |
| Kevin Lynch | Bucknell GC | 74 |
| Robert Lent | Bulter CC | 74 |
| T.J. Ostrom | Copper Beach CC | 74 |
| Adam Layden | Downing Municipal | 74 |
| Jeremy Graham | Frosty Valley CC | 74 |
| John K. Sweeney | Lancaster CC | 74 |
| Louis Jesiolkiewic | Lindenwood Golf Club | 74 |
| John G. Jones | Oakmont CC | 74 |
| Chris Gallagher | Penn Oaks GC | 74 |
| Scott Shoup | Shannopin CC | 74 |
| Brian Gillespie | St. Davids GC | 74 |
| Christopher R. Zamias | Sunnehanna CC | 74 |
| Brandon Antus | Totteridge GC | 74 |
| Jason Cohan | Ace Club | 75 |
| Tom Williams | Berwick GC | 75 |
| Mark Johnson | Cedarbrook GC | 75 |
| Christian Davis | Glenmaura National GC | 75 |
| Doug Fugate | Lake View CC | 75 |
| James J Bryan | Latrobe CC | 75 |
| Brock Bergman | Oakmont CC | 75 |
| Malcom Spatz | Oakmont CC | 75 |
| Logan Terry | Plymouth CC | 75 |
| Joseph Adiano | Pocono Farms CC | 75 |
| Robert Voltz | St. Jude GC | 75 |
| Ben Spence, Jr. | Berkleigh CC | 76 |
| Gary Stewart Jr. | CC of York | 76 |
| Joseph M. Cordaro | Edgewood CC | 76 |
| Mike McGuire | Hannastown GC | 76 |
| Brian Corbett | Huntsville GC | 76 |
| Don Erickson, III | Indiana CC | 76 |
| Richard Thon | Springhaven Club | 76 |
| John Benson | Totteridge GC | 76 |
| Rick Scott | West Shore CC | 76 |
| Marc Mandel | White Manor CC | 76 |
| Peter Toole | Fox Chase GC | 77 |
| Zack Amole | Galen Hall CC | 77 |
| Steven Scarpetta | Glenmaura National GC | 77 |
| James M. Gardas | Honesdale GC | 77 |
| Thomas Amendola | Kahkwa Club | 77 |
| K.J. Stutz II | Meadia Heights GC | 77 |
| Chick Wagner | Oakmont CC | 77 |
| Gregory Ferguson | Sinking Valley CC | 77 |
| Bobby MacWhinnie | St. Clair CC | 77 |
| Patrick Marshalek | Whitford CC | 77 |
| Chris Smedley | Coatesville CC | 78 |
| Patrick Rice | Edgewood CC | 78 |
| Michael Shevlin Sr. | Llanerch CC | 78 |
| Bret Middleswarth | Shade Mountain GC | 78 |
| Matthew Maurer | Bent Creek CC | 79 |
| Patrick Rutter | Berkleigh CC | 79 |
| Corey J. Gast | Meadia Heights GC | 79 |
| Mike Namey | Oak Tree CC | 79 |
| Paul Mazeski | Oakmont CC | 79 |
| Arthur J. Kania, Jr. | Overbrook GC | 79 |
| Wesley Turiano | Scotch Valley CC | 79 |
| John Brennan | Spring Ford CC | 79 |
| Ronald DeNunzio | Totteridge GC | 79 |
| Doug Stadler | Treesdale G & CC | 79 |
| Warren Choate | Williamsport CC | 79 |
| Charles W Dennis | Elkview CC | 80 |
| Mike Danner | Lu Lu CC | 80 |
| Alex Urrea | The Club at Nevillewood | 80 |
| John Alterman | Commonwealth National GC | 81 |
| William B. Weihenmayer, Jr. | Huntingdon Valley CC | 81 |
| Harvin Groft | State College Elks CC | 81 |
| Chris Walzer | Frosty Valley CC | 82 |
| Edward Mesko | Great Bear G & CC | 82 |
| Michael Capotis | Lake View CC | 83 |
| Marc DeLong | Golden Oaks CC | 84 |
| Nayson Avery | Lords Valley GC | 84 |
| Chuck Tait | Hershey GC | 86 |
| Fred Stern | Alcoma GC | WD |
| Chris Esbenshade | Fairview GC | WD |
| Dario Cipriani | Lake View CC | WD |
| Joseph O'Donnell | Longue Vue Club | WD |
| Kevin Lazzaro | Nemacolin CC | WD |
| Perry Rende | Schenley Park GC | WD |
| David Brown | St. Clair CC | WD |
| Ed Blechschmidt | Whitemarsh Valley CC | WD |
[ Back ]