Sizzling Schlachter Takes Super-Senior Crown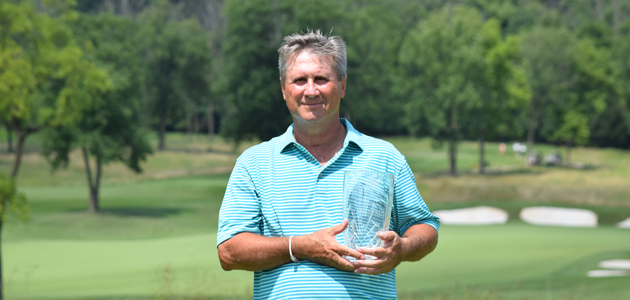 FLOURTOWN, Pa. - Paul Schlachter not only added his name to another Pennsylvania Golf Association championship list, but he did it in style. The four-time Senior Amateur champion shot a blistering second round 66 to win the 16th Pennsylvania Super-Senior Championship, which was held at Philadelphia Cricket Club's Militia Hill course and presented by LECOM. Schlachter's two-round total of 136 (8-under par) is a new record winning score for the event. That's not bad for a player who was seeing the golf course for the first time.
"Most of us amateur golfers never quite know what we're going to have when we get to the golf course," Schlachter said. "I can't say that I was planning to do this or do that, but it worked out today."
With the win, Schlachter became the first golfer to win the Pennsylvania Amateur Championship, Pennsylvania Middle-Amateur, Pennsylvania Senior Amateur Championship and the Super-Senior Championship. In total, he has laid claim to 16 Pennsylvania Golf Association titles in his career. Wednesday's second round also marked the 19th time that the 69-year old has shot his age or better.
A PAGA Individual Member from Bridgeville, Pa., Schlachter started the second round trailing Whitemarsh Valley Country Club's Frank Polizzi by a shot. But a 20-foot birdie putt on No. 5 fell to give Schlachter his third red number among the opening five holes and put him in the lead for the championship.
He ran into his only real trouble of the day on the next two holes. On the 505-yard par 5 sixth hole, Schlachter hit a nice drive in the middle of the fairway about 235 yards from the green. He attempted to get close but his second shot drifted right and next to a patch of high grass that restricted him from making a full swing. After struggling to advance it out of that lie, he left himself short-sided and couldn't get up and down and made a bogey that dropped him to 4-under par for the championship.
Polizzi, who began the second round at 3-under par, birdied the 6th putt to pull back into a tie for the lead. On the 375-yard seventh hole, Schlachter had a 9-iron approach shot and caught it a tad heavy, leaving him about 50 feet from the flag. His birdie putt ran 10 feet past, and he was looking at the possibility of ruining his hot start with back to back bogeys. But he was able to convert the huge par save and the momentum was once again back on his side.
"That putt restored my sanity," said Schlachter.
As the duo made the turn, Schlachter had a one-shot lead over Polizzi. However, Polizzi bogeyed three of the first four holes on the back nine, and Schlachter took advantage, draining a nice putt for birdie at No. 10 and parring the next three holes. Heading to the 14th, he was at 5-under par and in good shape for the win. But he didn't get complacent, as he birdied three of his last five holes including the clubhouse birdie on the 18th to finish with a sizzling 66 and another statewide win.
"Fairways and greens is what I was thinking today," Schlachter said. "I putted really well today. I actually putted well yesterday but didn't make anything, and today they went in, including a few long ones."
Schlachter was impressed with his first foray onto the Militia Hill course.
"These fairways were so perfect," he said. "It's just a terrific place to play golf. The greens were very challenging but they rolled nicely."
Polizzi finished with a two-round total of even par 144, safely in second place. In third place was PAGA Individual Member Vincent Scarpetta, Jr., who shot 72-74 (+2). Two former PAGA champions tied for fourth - Lookaway Golf Club's Roc Irey and Indiana Country Club's Don Erickson - at a score of 148 (+4).
The Pennsylvania Golf Association would like to thank the staff and membership of Philadelphia Cricket Club for the hospitality in hosting the championship.