Knapp Claims 16th State Title at Senior Am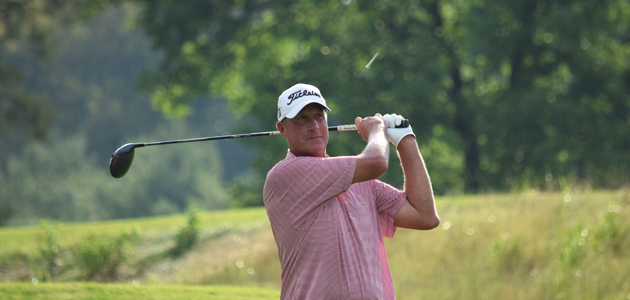 FLOURTOWN, Pa. - Sean Knapp's decorated golf career added another chapter Wednesday, as the Oakmont, Pa. resident continued his dominant run through the senior golf world, shooting a two-day total of 5-under par 139 to win the 59th Pennsylvania Senior Amateur Championship, held at the Militia Hill course of the historic Philadelphia Cricket Club. The event, sponsored by LECOM, was the 16th Pennsylvania Golf Association championship of Knapp's career.
Knapp's win followed his triumph in last year's USGA Senior Amateur as well as a win in the West Penn Amateur to go along with the 2018 Pennsylvania Senior Match Play title.
"It takes breaks to win a golf tournament and I got a number of them today," said the 56-year old Knapp, who won the event despite Tuesday's first round being his first time on the grounds of the Cricket Club. "I put a premium on winning at historic, traditional golf courses so that makes this even sweeter."
For Knapp, the day started off well due to his pairing group. He shot a 69 in Tuesday's opening round and was paired with defending champion Glenn Smeraglio of Lu Lu Country Club (70 in round 1) and St. Clair Country Club's David Brown (71 in round 1).
"Look, I think so much of how things go depends on who you play with," Knapp said. "I was with Dave, a lifelong friend, and Glenn, who I've known a long time. I know how good they are and that meant that there were going to be tough moments for me today even though I started out with the lead, but I wanted that challenge."
The challenge came early in Wednesday's second round from Brown, who birdied three of his first four holes to move to 4-under par and into the lead.
"Dave kind of took the bull by the horns there early," said Knapp, a PAGA Individual Member. "He got me going and kind of punched me in the gut with that start."
Knapp had an uneven start, with two pars followed by a birdie then a bogey. But he was able to sink birdie putts on the fifth and sixth holes to move back into the lead for good. On the par-5 sixth, he was out of position with his approach but was able to make a birdie. And then on No. 7, with momentum on his side, his approach was short side in the left rough. But the veteran sank a 15-foot putt to save par. Then on No. 8, he hit the ball into the bushes on the right side and had to take an unplayable. Scrambling from there, he again saved par from about 15 feet.
After an early birdie on the back nine from about 20 feet on the 10th hole, Knapp had a lead of four shots at 6-under par. But it wasn't over. Smeraglio wasn't going to give up his crown easily. He birdied No. 11 and No. 14 while Knapp played that stretch in 1-over par. The three-shot swing put Smeraglio within two shots. Unfortunately for Smeraglio, that was as close as he would get the rest of the day.
"I played pretty well but I just wish I could have applied a little more pressure to give myself a chance going into the last hole," Smeraglio said.
The final effort to topple Knapp came at the par-5 17th hole. Knapp was at -4 and Smeraglio was at -2. But as he did for most of the 36-hole championship, Knapp took advantage of the par-5 to stretch his lead, making a birdie while Smeraglio made par to put the margin at a nearly insurmountable three strokes heading into the last hole.
For the championship, Knapp made six birdies and two pars on the par 5s. Obviously being 6-under par on those holes during an event where he finished 5-under made the difference.
"Yes, that was such a key," Knapp said of the par 5s. "It wasn't always that I hit great drives that were super long, either. There were a couple of times where I hit it in the rough and had to lay up and was able to get up and down for birdie."
Knapp followed that birdie on the penultimate hole with a par on the 18th to card a second round 70 (-2) to win the Senior Amateur for the first time. He adds that to his list of PAGA championships that include the Amateur (one time), Art Wall (three times), Middle-Amateur (five times), Dressler (four times), Dressler Senior (one time) and Senior Match Play (one time).
Now, he's off to enjoy the fruits of his success from 2018. He is heading to Northern California for next week's US Amateur at Pebble Beach Golf Links before heading to Oregon to defend his US Senior Amateur title at Eugene Country Club at the end of the month. For now, he'll take another win in the Commonwealth at one of its most storied clubs.
"I really liked the golf course," Knapp said. "It was a great host for this championship."
Smeraglio finished second at 142 (-2), followed by Overbrook Golf Club's Oscar Mestre (-1). Tied for fourth were Brown and home club hopeful Michael Anderson, at even par 144.
The Pennsylvania Golf Association would like to thank the staff and membership of the Philadelphia Cricket Club for the hospitality in hosting the event, and to LECOM for its sponsorship of the championship.